In most companies, the billing records generated in a billing cycle are billed as-is. These records can be projects with hourly, recurring, fixed fee or other contract type. As they often require no billing decisions—no adjustments, no exclusions, no editing—batch billing is the fastest way to create multiple invoices at the same time. With BillQuick, batch processing and printing invoices has never been easier!
To batch bill many billing records: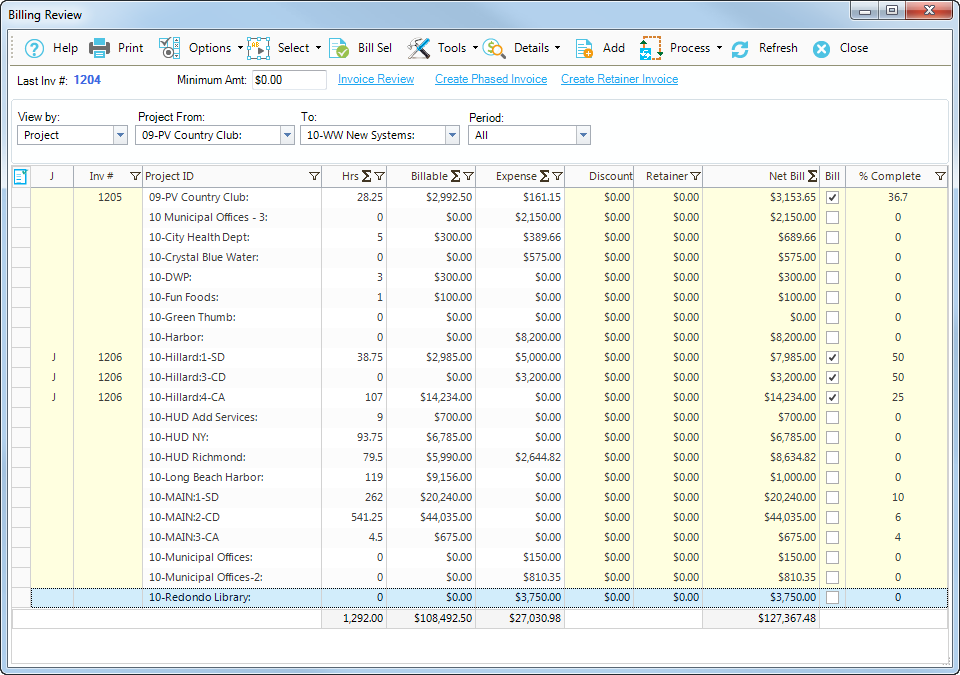 Open the Billing Review screen in BillQuick.
Click to open the Field Chooser and show the Contract Type column in the grid.
Enter the View By mode and other criteria to generate the billing records; then click Refresh.
In the grid, click the Type column header once to sort the records by it.
Select the billing records that do not require any special billing decision. Typically, Fixed and Recurring project contracts fall into this category.
Click 'Bill Sel' to check the Bill box for the selected rows. BillQuick pre-fills these rows with the invoice numbers. If you have entered a common identifier in the J column for records you want to combine on a joint invoice, BillQuick assigns the same invoice number to those.
Click Print to print a billing report or directly click Process to process these billing records. These records appear as processed invoices in the Invoice Review screen.
When you have finished, click Close.
For more BillQuick billing tips, read this blog article for how to "Slash Your Time per Billing Cycle".