In this age of "app ease" and speedy accessibility of information, the Dashboard and Widget are front and center, both literally and figuratively.
A dashboard is a snapshot of current activity. A widget is a smaller, "mini" application within a larger application that displays encapsulated or general information. This grab-and-go style of delivering and viewing information is proving popular with many apps, sites and software.
Derived from the look and feel of the automobile dashboard because of its grouping or "cluster" of instruments that are easily viewed, the application dashboard serves essentially the same purpose. It displays various types of information at a glance for easy consumption.
In many applications, widget technology is replacing the rather antiquated, main-menu style of options that once greeted a user upon login.
At BQE Software, we make full use of these two features within ArchiOffice. Its visually appealing dashboard is comprised of a dozen different widgets, each with its own separate and distinct purpose.
There are navigational tabs to move throughout the application and its modules, but the "laundry list" of options and buttons on a main menu has been replaced by an assemblage of handy, mini-applications. These mini-applications provide succinct, yet pertinent and useful information. ArchiOffice Dashboard widgets can be displayed or removed, minimized to free up visual space or rearranged in any desired order. The information displayed on widgets can even be modified and customized to display specifically desired data.
You no longer have to launch completely separate programs like Excel or PowerPoint to view statistical charts, graphs and other aggregate information.
From the ArchiOffice dashboard, users can view time and expense entries, monthly invoice totals and hours worked that are both charged and not charged. You can also view a list of contact persons, active projects and the performance and profitability of a particular project. The dashboard also displays a To Do List, project Appointments and Milestones and there's even a handy news feed of information.
The dashboard is a convenient and useful overlay to the extensive, function-built modules and robust features that make up ArchiOffice.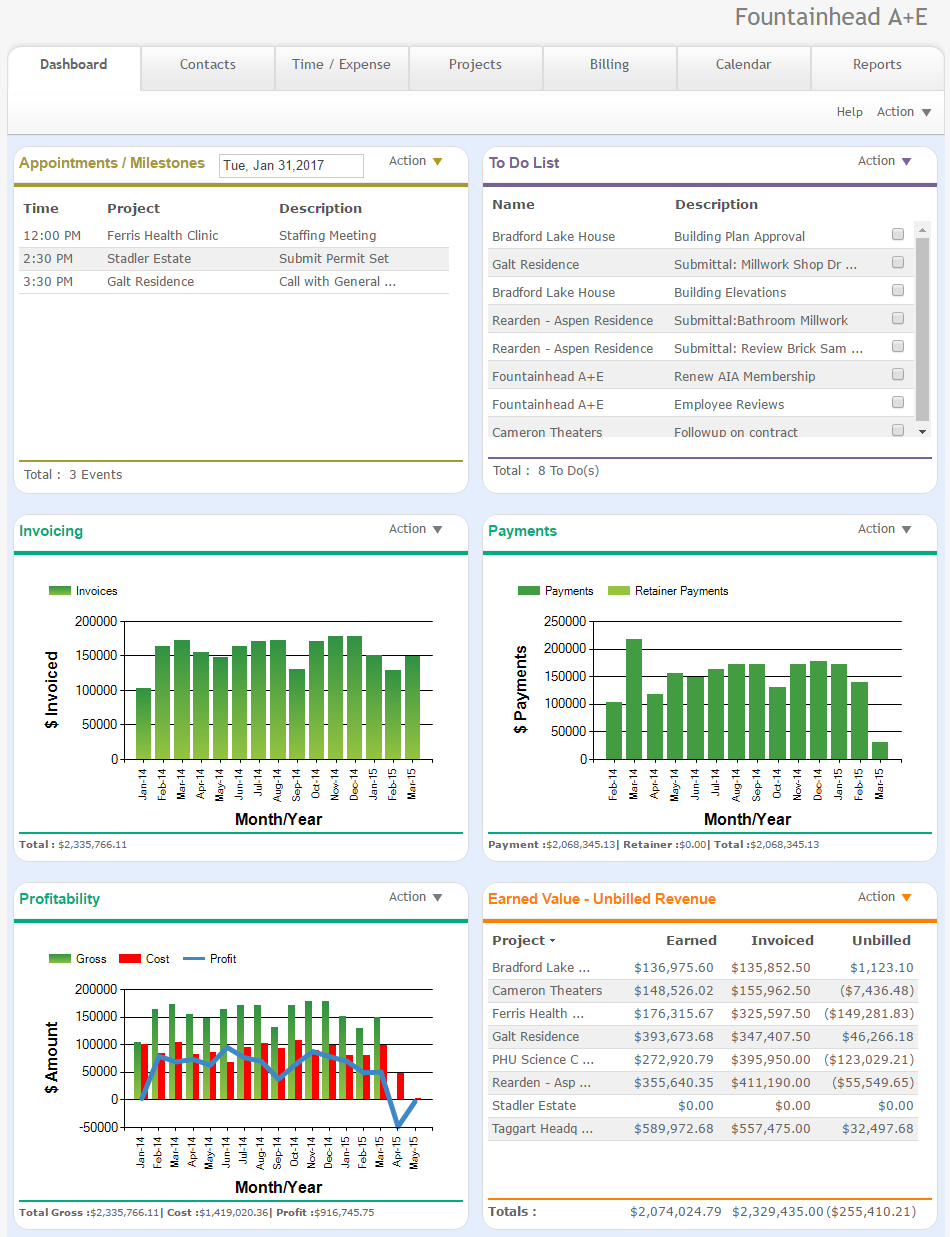 To learn more about ArchiOffice or schedule a walk-through demonstration today, please visit www.ArchiOffice.com or email us at sales@bqe.com