In order to escalate profits, every top dog must maximize billings and minimize costs. The Project Cost Multiplier report in BillQuick displays your margins per project (billings versus costs). We recommend you run it periodically over the life of a job and for a post-project analysis.
The Project Cost Multiplier is computed as revenue (billings) divided by your total job costs. Your goal is two-fold:
1. Achieve high project cost multipliers (loaded costs significantly lower than the billings).
2. Achieve project cost multipliers greater than your overhead multiplier (total expenses divided by your total payroll costs). For more information on calculating overhead multipliers, please see attached blog link.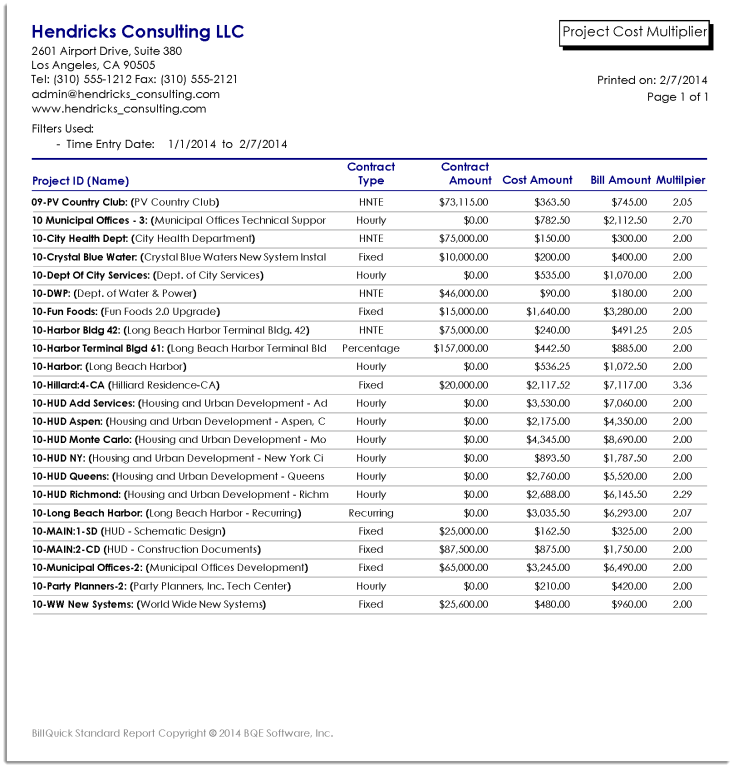 The Project Cost Multiplier report evaluates individual jobs and phases. In addition to comparing it to the Overhead Multiplier, also compare it to a company benchmark, say 2.5. This identifies projects costing more than they should. These are the ones you analyze first to answer the critical question: Why?
Here are the 10 common items to think about:
Was a higher cost person (e.g., principal) managing or working on the project to cover for a lower cost person (manager or professional)?
Is scope creep a problem?
Is the right person managing this type of a job?
Should you train managers and staff to improve productivity and effectiveness?
Is competency an issue for managers or staff?
Are certain project types or industries a factor in achieving higher multiples?
Do you need to hire or fire people?
Do you need to increase bill rates?
Do you need to improve negotiation with customers or subcontractors?
Do you need to purchase materials in bulk to lower costs?
When analyzing jobs, it is important to compare apples to apples–the same manager, the same industry type, and so on. Also, look at the trends for managers and industry types. Causes are rarely one item. It may be a combination of new competition factors and the age-old processes embedded in your company's culture that cause lower than desired multiples.
Bottom line: Top dogs pay attention to this big picture report, Project Cost Multiplier. Periodically (biweekly, monthly or quarterly), you must review it and adjust activities to bring projects in line with the company benchmarks. Post-project, managers analyze the report, go into deeper details, and review their project journal notes to find out what went well and what didn't to find more ways to improve profitability.