Attention BQE customers and friends: PSMJ needs your help in bench-marking A/E industry compensation strategies as well as financial performance and it doesn't cost you a thing. You'll get a complimentary, abridged and customized PSMJ Benchmark Tool simply for participating. Not only will you get this valuable resource for free, you'll learn how your firm compares with others in the A/E industry.
Please click here to complete the PSMJ A/E industry compensation survey by February 28, 2014 and the financial performance survey by April 11, 2014.
Participating in the survey is the only way a firm can be eligible for membership in the prestigious Circle of Excellence--a group of the most successful A/E firms demonstrating outstanding achievement (based on 13 key performance metrics). There's also a fantastic public relations opportunity since PSMJ Circle of Excellence winners are announced in an annual press release seen by publications across the United States and abroad. Furthermore, you can purchase the informative Peer Group final report, which includes a variety of categories such as firm size, practice area, types of client served, geographic region, and market sectors.
Besides compiling reliable surveys for the A/E industry, PSMJ holds a plethora of seminars and interactive programs on various topics to provide valuable insights and help A/E firms achieve stellar results. In addition, if firms are having specific challenges, PSMJ can certainly help bolster your business performance with their knowledge, expertise, decades of consulting experience, and PSMJ Strategic Planning Wheel curriculum for goal attainment initiatives. This Planning Wheel includes Strategic Planning, Business Development, Financial Management, Project Management, HR Strategies & Tactics, Ownership & Leadership, Mergers & Acquisitions. Please see chart below and contact PSMJ for a consultation if you're interested in learning more about any of these business areas.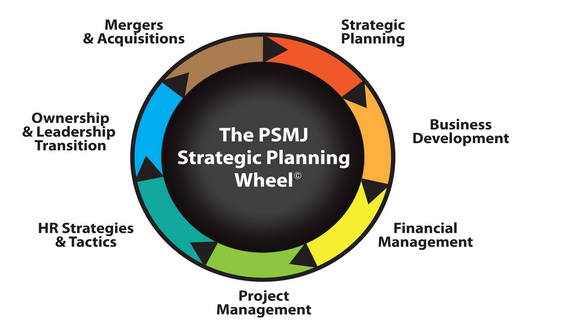 Source: PSMJ Website