Financial budgets are high-level estimations and calculations used to internally predict and allocate the income and expenses of a business. Setting up financial budgets for your business allows you to define cost and revenue benchmarks, which can help you identify financial strengths and weaknesses and set budget-related notifications. As the year progresses, you can run a comparison report to see how the company's finances are pacing against what you have budgeted.
The Power of Financial Budgets in BQE CORE
With BQE CORE, not only can you track your financial budgets, but you can also compile all of this information into specified reports so that you can share data critical to the success of your company. Over time, CORE will help you establish a deeper understanding of the relationship between your earning and spending. It will also help you predict future budgets and growth modeling by providing historical data of past company performance.
The more detailed the financial budgets are, the more they allow you to set and compare performance at the account level. CORE pulls the profit or loss data of each account from the reference year and compares those actual values to the current budgeted values. This comparison helps create more accurate budgets for the future. CORE also tracks each account in the budget and informs you about the actual amount earned or spent, and whether the account is over-budget or under-budget.
Why use Financial Budgets in CORE?
Financial budgets are very informative for accountants, CFOs, project managers, and executives who need accurate financial information for forecasting, planning, budgeting, and setting projections for future financials. They help your company plan ahead so you can stay on top of your expenses and revenue. Financial budgets can be created and set monthly, quarterly, or annually.
Although you can create financial budgets at any time, now is a great chance to start planning for the year ahead.
Setting up a Financial Budget in CORE
Financial budgets are created either from scratch or from an existing budget.
To create a new financial budget from scratch:
Open the Financial Budgets screen from the main menu > Accounting > Financial Budgets.

Click Create New on the top-right of the page view and select From Scratch.
On the Create Financial Budget screen, complete the process by filling in the information fields: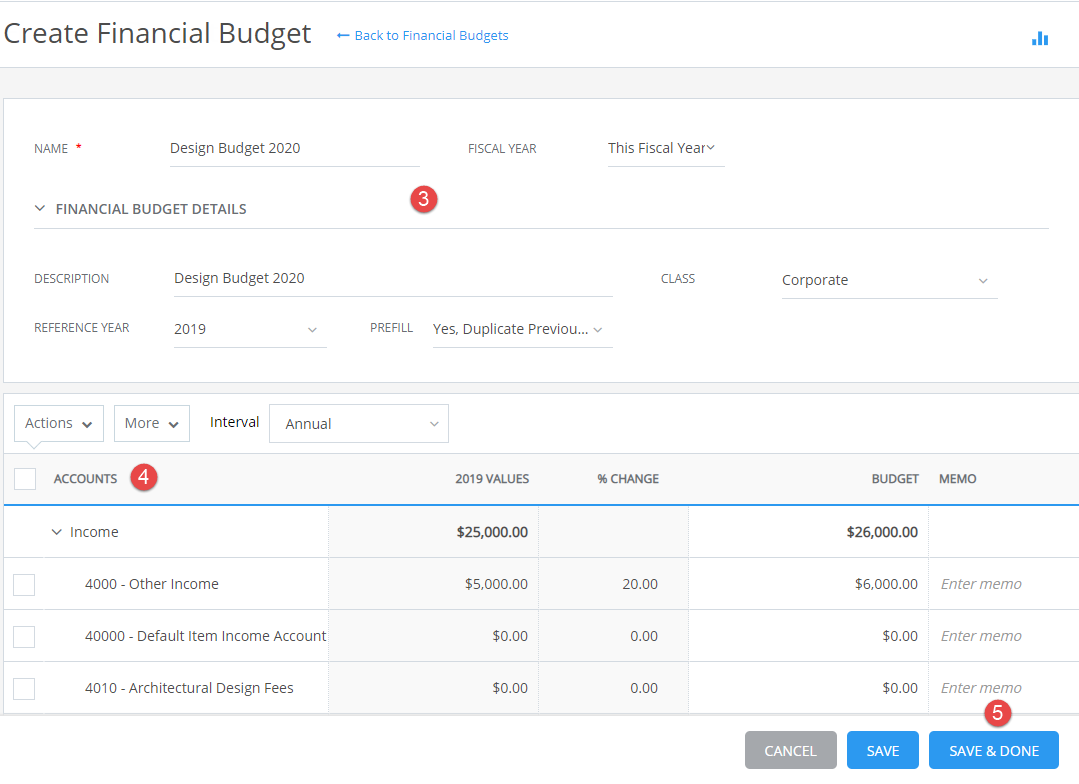 2. There are multiple fields required to set up your new financial budget.
Name: Label the financial budget. For example, "Quarter 2 Budget 2020."
Fiscal Year: Identify the Time Period for which the financial budget is being created. Either choose the Fiscal Year or any custom date range. Selecting a CORE-defined fiscal year sets the start date automatically as January 1st and end date as December 31st of the selected year. With a custom date range, you can choose the appropriate start and end date.
Description: Additional information added to give greater understanding as to the purpose of the financial budget.
Class: Assign a Class to identify separate areas within your company where you'll monitor spending, such as location, department, or type of work.
Reference Year: Period of time or time range used as the frame of reference for the budget comparison. Use defaults or create a custom date range. Reference Year options remain blank if there is no previous data to reference.
Prefill: Allows you to prefill the budget grid with the actual values from the selected reference year.
% Change: The percentage by which you want to increase or decrease the budget amount from the reference year's actual amount for the selected accounts. You can adjust the values for your newly created financial budget by changing the percent.
Interval: This determines if the financial budget is broken down into intervals, such as monthly, quarterly, or yearly. By default, the interval is set to Annual.
3. Enter the relevant budget details into the grid. Use the Reference Year values, which displays the profit or loss data of each account, to direct your decision making for the current budget.
4. Click Save and Done.
Inside CORE's Financial Budget Reports
To pull a general report for a financial budget, go to Reports > Financial > Financial Budget to access an overview of the financial budgets set in your company's CORE file. This report is organized by budget name and will display information, such as description, start date, end date, budgeted income, budgeted expenses, profit, class, etc.
Besides the general financial budget reports, CORE also offers some in-context, individual budget-level reports that can be accessed from the row-action menu > View Reports directly on the Financial Budget screen. You can choose a report and then decide whether to preview, export, print, or email the information.
Review reports regularly to stay on top of your company's financial health. Information about performance is updated in real-time in CORE, especially when related to time and expense entry, as well as the sending of invoices and receiving of payments. Knowing your cash flow helps your organization make better real-time decisions and take a more proactive, rather than reactive, management approach.

Manage Your Financial Budget or it Will Manage You!
The winning strategy of any company or organization is to evolve your operations to be better, faster, and more efficient. Without good data, managers cannot measure growth or success. Likewise, companies cannot see opportunities to tighten operational productivity and increase profits. Either you manage your budget or your budget will manage you.
For additional information on financial budgets in CORE, please refer to the CORE Help Center, our video library, or connect with CORE support for guidance. Want to level up your financial management? Schedule an open training session with one of CORE's consultants today.