It is well understood that in order for projects to be profitable, they must be completed on time and budget. This is easier said than done.
Most professionals are acutely aware of their project deadlines and know instantly if they are going to hit the target. However, when it comes to budgets, this is far less obvious. Most firms don't have tools that allow their professional staff to have real-time visibility into the financial performance of their projects.
Firms that use BQE CORE can access a robust budgeting tool that ensures your team will never be surprised by project overruns.
Putting Budgets to Work
Budgets are the workhorse of BQE CORE. Project budgets can be your friend or enemy. If you are within budget, it's indeed your friend, but when you are over budget, not so much. Our goal is to make you friends with your project budgets by keeping you on time and under budget
If you set up a budget for your projects, you can effortlessly and in real-time, review if you are under budget, close to exceeding your budget, or have completely blown it. Your power lies in the analysis.
Budgets are set up to define cost and revenue amounts and can be used to track this information against your actual numbers. You can have a budget for jobs, cash flow, or even marketing.
The Budgets Comparison report in BQE CORE displays actual hours versus money spent in real-time. It is often reviewed by managers, principals, and partners to see which line items are exceeding the allocated budget to ensure the job doesn't get out of hand.
Budgets can also take on even more power. They can be imported into task allocation, which gets inherited further by Time and Expenses. You can also assign the same budget to multiple projects. A winning combination.
Creating a Budget
In BQE CORE, Budgets are located under the Project options. Every budget must have its own unique budget ID.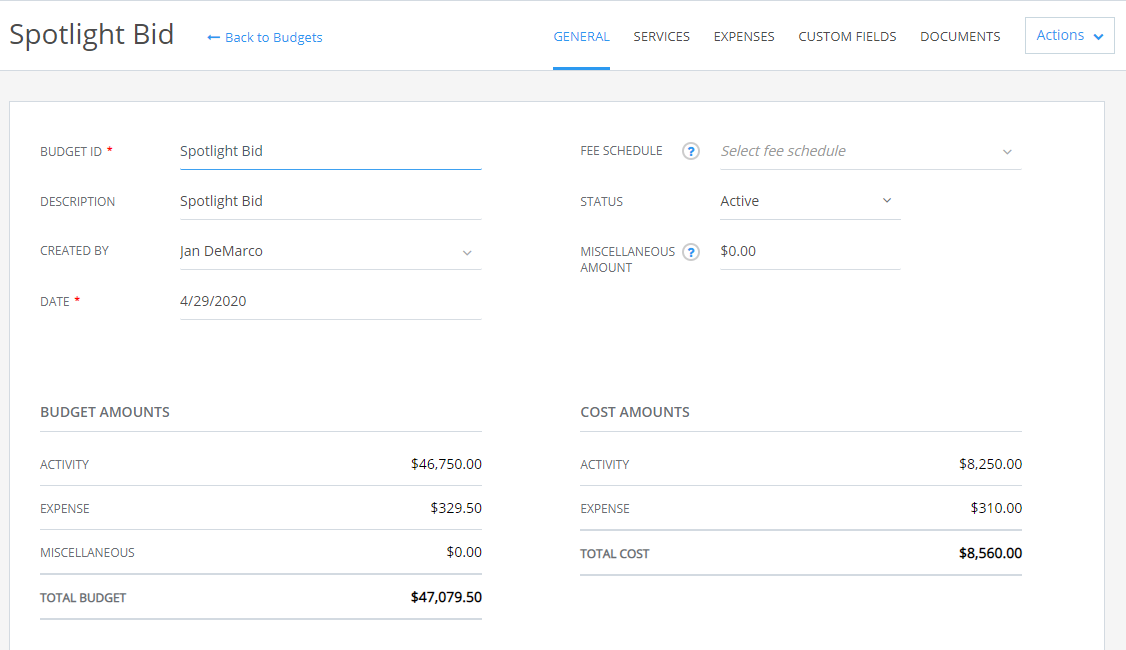 Using the Services and Expense tabs, you can budget your employees' tasks and hours. For each task budgeted, you will also have a Bill Rate and Cost Rate. These are used to calculate the Budgeted values and Cost values for all services and expenses located on the General tab of the budget.
If budgeting specific activities is not your style, you can also budget one or all employees to one or all activities. The choice is yours.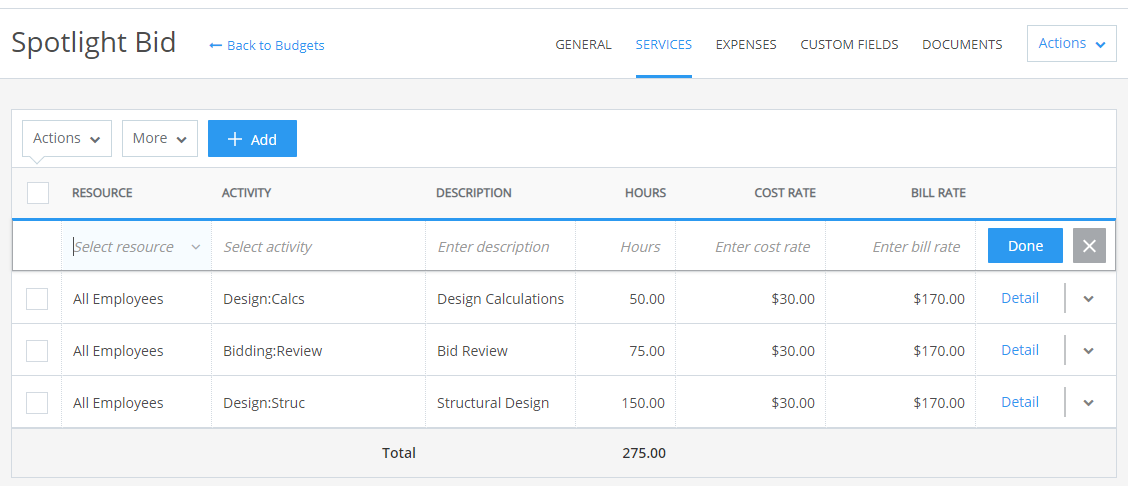 Assigning Budgets to Projects and Phases
Budgets can be assigned to individual phases or the main project. We recommend setting the budgets by phase because it allows budget comparison for that particular phase as well as the project overall. This helps you use the data to really see which phase you might be going over budget on. And by pulling a Budget Comparison report, you can go down to the line item of the budget.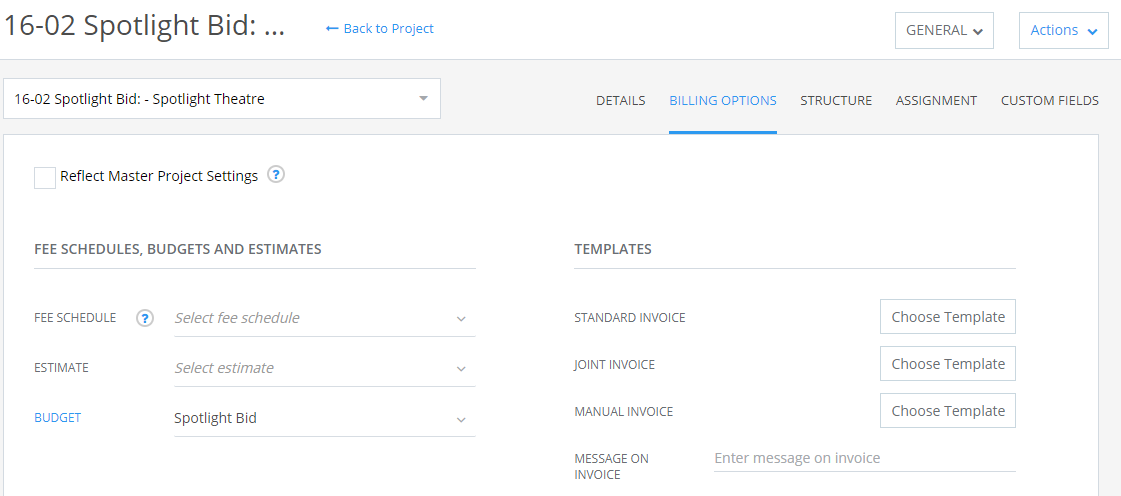 If you assign a budget to an individual phase, you can go into the Performance tab (of that phase) to see how you are doing against the budget.


It's All in the Analysis
You can also go into the Performance tab of the parent project to see how you are doing against the budget overall.


At the project/phase level, you see how you are performing from a dollar standpoint against the budget. You can also pull a Budget Comparison report, which will go down to the line item, displaying not only dollars but also hours budgeted and spent. It will also show, very clearly, if you are over or under budget for that item.
This helps you investigate why you may be going over budget on a particular phase by allowing you to look at the line items.
Did you budget enough hours?
Are your employees working efficiently?
Do you need to budget more in the future?
Do you need to train your employees on how to work more efficiently?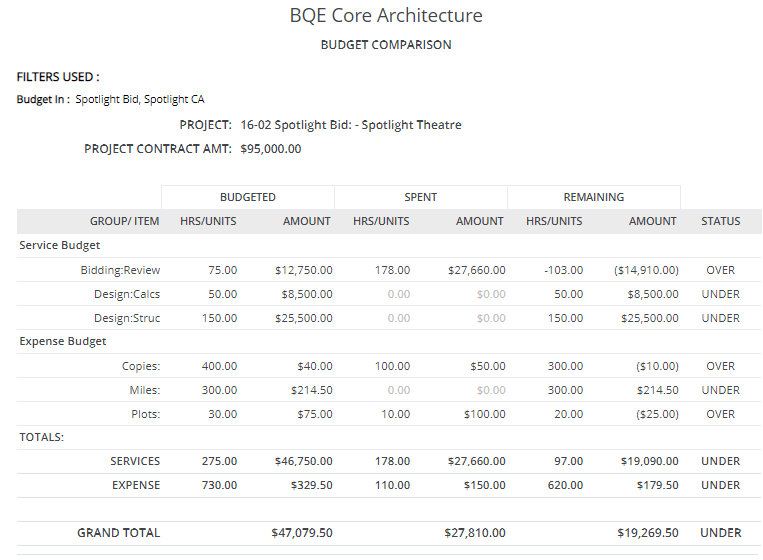 Another great project analysis feature within BQE CORE is the Dashboard. On the Dashboard, you can use many different widgets to manage your projects.
Specifically for Budgets, there's a Project Status widget. Here you can review your project numbers based on contract amount and budget amount. You will also see billed dollars, spent dollars, work in progress, and open AR for each project and phase.
This is a really great feature because, at a glance, you can see how your projects and phases are performing.

The red circles indicate which projects/phases have exceeded budget.
Budgets are a very valuable tool that, when used properly, can really help you do your job more efficiently, make the most money possible, and spend less. Managing budget and cost amounts translates to CHA CHING CHA CHING: profits!
If you are interested in learning more about how budgeting in BQE CORE can help you, please contact your account manager today. They will be happy to get you signed up for a one-on-one training with our product experts. They are ready to help you track your projects and make more money!