Firm Operations
How Automation Can Help Shift Your Focus So You Can Get Paid Faster
Rather than waiting for the bill to go unpaid, you can take action earlier in the process.
---
After you've completed the work for your client, your job is done, right?
Well, not if you want to get paid for all of that hard work. What happens if they don't pay on time, or pay slowly, or don't pay at all?
For many professional service firms, the collection process doesn't start until client payments are already past due, as evidenced by an accounts receivable aging report. But there is a better way to handle this process.
Rather than waiting for the bill to go unpaid, you can take action earlier in the process.

Shifting The Focus
In order to improve your collection experience and to speed up client payments, you need to examine your processes – while paying particular attention to the steps you take at the beginning of the process – not at the end.
If you consider the full process of proposing on a client engagement, completing the work, and then collecting the payment from that client, it looks something like the graphic below. Note the traditional focus on increased communication as seen by looking at the Aging Report and focusing on those invoices that are already past due.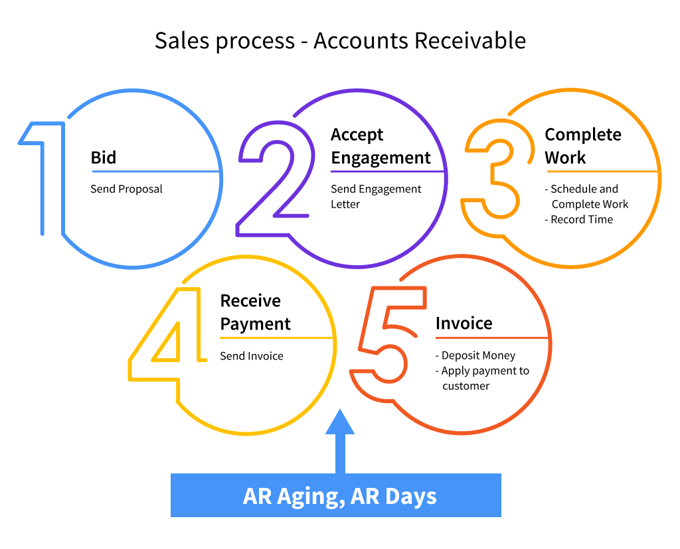 By shifting the focus to the beginning of the process and considering customer experience at each step along the way, it is possible to improve cash flow and collection timing before the invoice is past due. The right technology can improve each aspect of this process, leading to a vastly improved customer experience and ultimately better cash flow.

Where to Look For Improvements

1. Bidding, Quotes and Proposals
Automate the quote/proposal process, including customer signatures to eliminate delays in accepting and approving client engagements. The more clearly the scope is defined in the proposal process, the more likely you are to get paid timely- with fewer billing surprises for your client.


How automation can help: You need a system that will help you monitor and manage any outstanding proposals while allowing you to create proposal templates that are unique to your business.
2. Engagement Letter and Acceptance
After the engagement letter is created from the proposal, it can be used to further define the engagement expectations, including client and preparer responsibilities. The greater the clarity around each party's role, the higher the likelihood of timely payment at the completion of the project.


How automation can help: Engagement letter templates take the guesswork out of sending client engagement letters and make it easier to manage the task for administrative support teams.

3. Complete the Work (Manage Time and Scheduling)
When the work begins, it is important to capture time and progress against the project, while keeping the client informed about any expected delays or changes in scope. By having open communication and eliminating surprises, you are improving client satisfaction- and your chances of timely collection.


How automation can help: Mobile timekeeping enables members of your team to quickly and easily track the time spent on client engagements. Engagement dashboards help leaders keep track of projects across the firm, allowing leaders to intervene in the case of delays, scope creep, or schedule changes.

4. Invoice
The closer the delivery of an invoice is to the completion of the work being done, the more likely the invoice is to get paid and faster. Don't wait until the end of the month to send an invoice.


How automation can help: Select a system that converts time to invoices in one simple step and supports alternate ways of billing, like retainers, subscriptions and more. Don't let your billing options be tied to antiquated systems that limit your cash flow.

5. Receive Payment
The easier it is for your client to pay you, the faster you are likely to get paid. Be sure to take advantage of online payment options that allow your client to pay via their preferred method, whether that is by credit card, ACH, or manual check.


How automation can help: Select a system that includes integrated payment tools that provide payment options designed with your client in mind. (BQE CORE ePayments feature.)

The time to focus on improved cash flow is at every step in the process. By carefully considering each interaction with your client and seeking opportunities to improve the client experience, you can improve overall satisfaction with your work, eliminate surprises, and improve your collection experience and cash flow.

Get more actionable tips from Geni Whitehouse on speeding up your client payments in our live CPE webinar How to Get Paid Faster for Client Services on Thursday, November 12, 11:00 am - 12:00 pm PST. Register now to save your spot!