Project Management
Excel Spreadsheets vs. Project Management Software: Why You Need to Make the Switch
Switching from Excel to project management software can help your firm work more productively and accurately while gaining insight into how to improve KPIs.
---
Microsoft Excel is still a popular project management tool, but it lacks the automation, customization, and collaboration of project management (PM) software. While making the switch to a more technologically advanced platform may seem daunting, the learning curve is less than you'd expect.
Excel has many relevant use cases, but it wasn't built to support efficient and collaborative project work. In contrast, project management software, like BQE CORE, was built specifically for architectural, engineering, and professional firms to manage, monitor, and improve client-facing projects.
Project Management Software vs Excel Spreadsheets
Backed by customer service assistance and made to be user-friendly for everyone on your team, PM software leads professional firms to fewer mistakes, automatic reporting, and real-time data you can harness to improve your project delivery.
Read on to learn why PM software is an excellent alternative to using Excel to run your projects.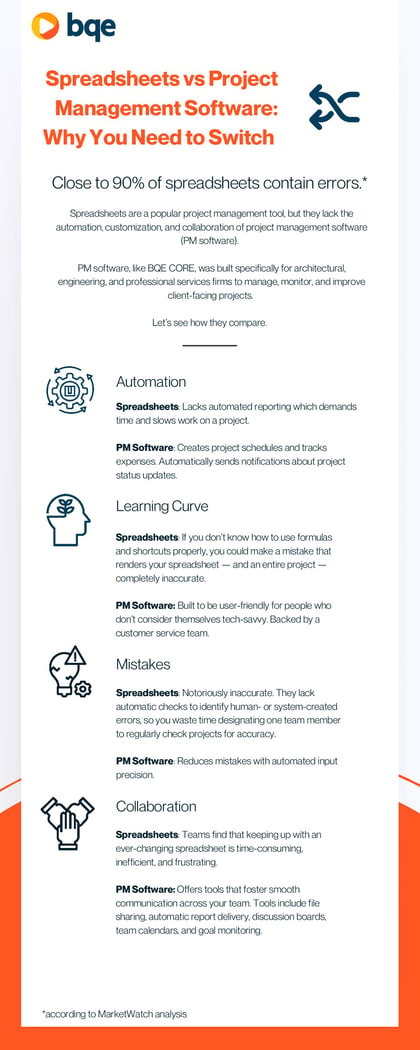 Automation
Excel isn't capable of automating your tasks, but PM software is. You can use spreadsheets to create project schedules and track expenses, but with software, you level up both of these use cases by automatically receiving notifications about project status updates and automating your reports related to expenses and cash flow.
Automation offers busy firms the productivity boost they desperately need. ​​With 59% of project managers running between 2 and 5 projects at once, you're busy and need a little support in adding efficiency to your day.
Learning Curve
Excel is dependent on manual entry and more error-prone than software, which performs checks for accuracy. If you don't know how to use Excel formulas and shortcuts properly, you could make a mistake that renders your spreadsheet — and an entire project — completely inaccurate. Imagine how much money and time could be lost fixing issues because one spreadsheet cell contains an error?
While it might seem like business software comes with a steep learning curve, most programs are built to be user-friendly for people who don't consider themselves tech-savvy. They are also backed by plenty of support articles, FAQs, and a customer service team. That said, be sure to receive a demo or trial of the software before you purchase it, and make sure it's suitable for every team member who needs to use it.
Creates More Mistakes
Excel is notoriously inaccurate. In fact, a commonly cited report found that 88% of spreadsheets contain errors. Back in 2012, JPMorgan admitted that a formula mistake in Excel led to a $6 billion loss! Even if you don't lose billions due to a miscalculation, you shouldn't lose a cent because of an ineffective project management tool.
With several different people contributing to a project and updating its data, you want a centralized record of each task, which project management software makes accessible to all collaborators. With a shared document manager and unified reporting dashboards, it's easier to coordinate and communicate across a large group and keep track of the most recent file version.
Project management software also clarifies who is responsible for which task, the next milestone, and when the final deadline will occur. Because it's easy to know what has been done and what's still to come, your team is less likely to accidentally overlook a check-in or deliverable date, keeping you organized and on track.
Reporting
Like using Excel spreadsheets to track your time, you can also use them to create reports, but neither are done for you automatically or help you spot mistakes. You don't necessarily have to build your reports from scratch, as there are many Excel templates that you can customize to report on profitability, revenue, and budgets, but you do have to populate those sheets yourself and maintain them over time.
Automation means less manual work is required from your team, and there's more time for them to focus on tasks that serve clients. With a solution like BQE CORE, more of this is done for you based on actions you take within the platform, such as completing a task, submitting an expense, and logging your hours. You can view all of your reports from your easy-to-understand reporting dashboard.
When it comes to reports containing sensitive company information, a digital platform has more advanced security than Excel, which does not protect these details. And as a spreadsheet increasingly gets passed from one team member to another, it proves difficult to ensure accuracy and create accountability for any errors. Project management software provides a changes log, so you know who's responsible for each update.
When reporting is done for you, and you know it's precise, you feel more confident making critical decisions for your firm. You have real-time knowledge of your resources, cash flow, costs, overhead, and other essential activities. With CORE, automated sharing options keep all designated collaborators in the loop so they have this information too.
Collaboration
Excel wasn't built for collaboration, but project management software is. With spreadsheets, it's challenging to be sure you have the most recent version of a file and positive that the last person who worked on it didn't make a mistake. Keeping up with an ever-changing Excel file is time-consuming, inefficient, and frustrating. It can even lead to control issues and tension between team members.
With task management built into your project management platform, the hierarchy of a task or project and who's responsible for each piece is completely clear. You don't have to bother other employees to ask for a status update because PM software notifies you of what has been done and visualizes what's next. There are no more versioning issues and your team has data they can use to improve project performance.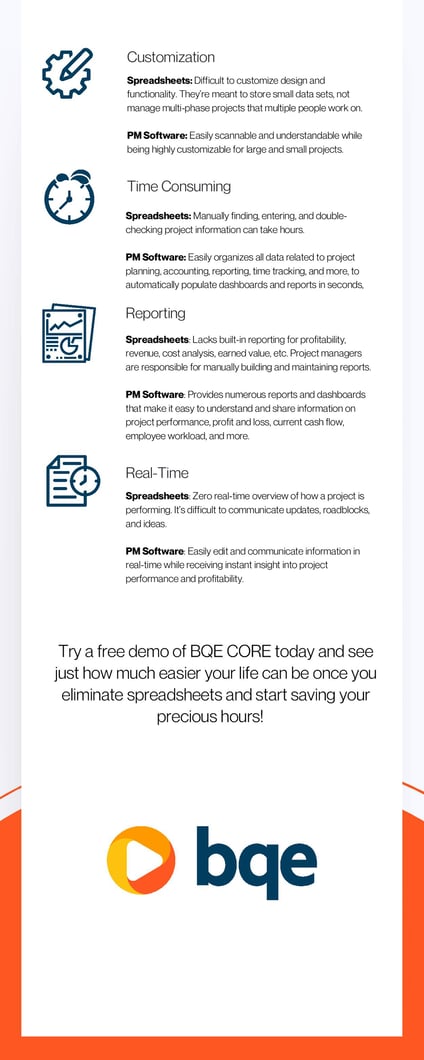 Customization
A blank Excel sheet seemingly offers you a lot of freedom in how you want to use it, but its customization options are limited compared to what software allows. Your firm's needs are specific and project delivery is complicated. For even the most straightforward project, Excel is cumbersome when trying to customize its design and functionality. After all, it's meant to store small data sets, not manage multi-phase projects that multiple people work on.
Instead of manipulating a generic template into something it isn't meant to be, or paying someone a lot of money to build a better one from scratch, you'll save time and stress by adopting a solution that's actually meant for team communication, resources tracking, and analytics reporting. Project management software also makes it simple to create rules for approval processes and multi-tiered reviews.
Time Tracking
While working on a project, especially when billing clients for their time, you need a 100% accurate log of each task. There's no built-in timer or tool for working in Excel that allows you to track the hours you've spent on something.
With project management software, you can take advantage of easy-to-use timers that can be paused and played throughout the day and automatically generate daily, weekly, and bi-weekly timecards that also streamline your firm's payroll. Instead of manually tracking your time within an Excel spreadsheet, PM software gives you shortcuts so you copy existing timesheets and customize them to save on manual time entries.
BQE CORE's Project Management Software
Spreadsheets are clunky, while BQE CORE is seamless, powerful, and intuitive. If you're still relying on Excel to manage your projects, you're missing out on shortcuts for optimal productivity and insightful reporting that helps your firm meet its goals. BQE CORE sets up your team and its projects for user-friendly collaboration and automation that reduces everyone's workload.
Get your free demo of BQE CORE today and see just how easy it is to transition from Excel to an integrated project management platform to harness data tracking, custom analytics reporting, and task management.