Firm Operations
Filters—Zipping Your Way Through Large Data
Filters—Zipping Your Way Through Large Data - BQE Software
---
One of the most loved and useful feature in BillQuick are the filters. Filters reduce the laborious task of finding specific data and hence help you to focus and view the exact information you want. No time is wasted in unnecessary scrolling and scanning hundreds or thousands of items in a long list. It is a simple yet powerful way to increase your efficiency by cutting down the time needed to find, view, and analyze any data in BillQuick.
You can limit the number of records displayed in the grids and drop-down lists using the filters. For example, if you would like to view only the employees whose IDs range from A through M, you can just select that range. The best part is that filters help in selective data viewing not only in the grids and drop-down lists, but also on reports.
BillQuick comes with regular filters on various Filter screens besides two additional types – Filter by Selection and Funnel Filters on various grids.
Filter by Selection
A special 'Filter by Selection' option is available on the shortcut menu in some screens such as Activity Codes, Expense Codes, Time Entry Sheet View, etc. It allows you to filter the records by the contents of a selected cell.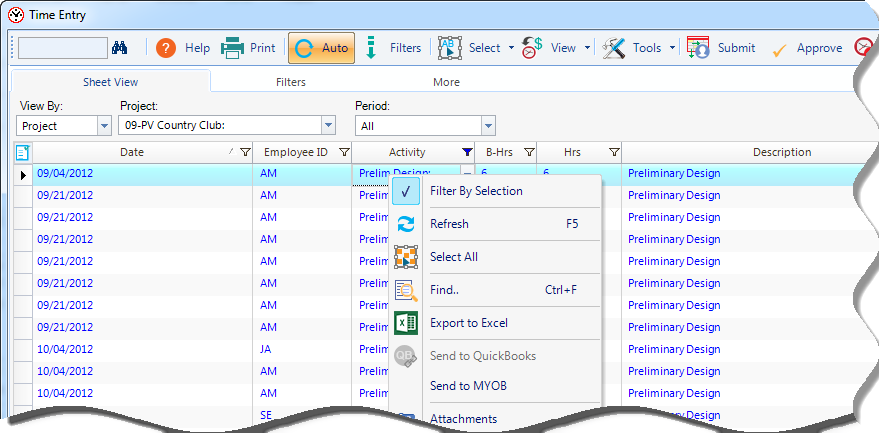 Funnel Filter
Many BillQuick screens have Excel-like funnel filters. You can find them in Reviewer, Project Control, Sheet View, Expense Log, etc. These filters allow you to be more specific as to what discrete items or numbers to display in the grid—All, Custom, Blanks, Non-Blanks, etc.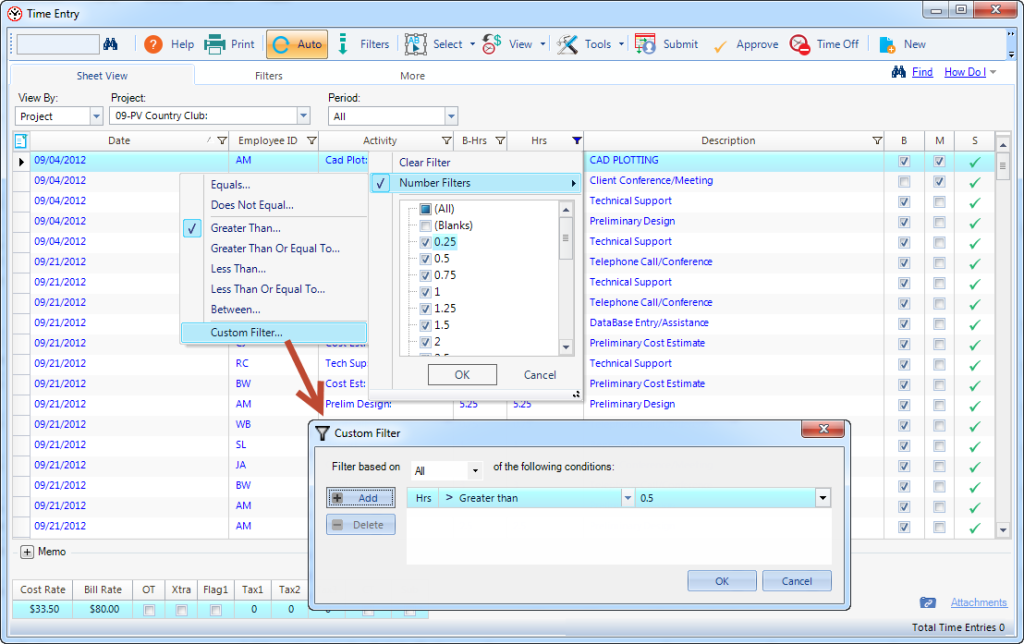 For instance, if you select Blanks, those records display which have no value for the selected cell. Similarly, if you select Non-Blanks, only those records display which have some value for the selected cell. If you select Custom, you can choose advanced options such as multiple filters with conditions.
All these filters provide an easy and quick way to display relevant and required information, saving you a lot of time and effort.