Technology
Your Complete Guide to Employee Time Tracking Software
Compare employee time tracking software to help your firm save time accurately tracking employee hours, billing clients, and boosting profits.
---
Cloud-based employee time tracking software allows employees to record the time they spend on projects and tasks. Companies love it for its ability to measure performance and simplify how to manage workers' time, organize projects, and calculate profitability. It allows project managers to understand exactly how time is spent and which activities slow down the organization. For employees, it saves the hassle of manually recording their time and ensures they're paid accurately.
A time-tracking solution can help you identify and fix tasks that hurt productivity and profits while automating more aspects of your payroll and invoicing processes. Approximately 38% of US employees still use paper timesheets, which are slow and error-prone. The companies still using paper billing report that they need to correct 80% of timesheets received due to errors.
The Best Employee Time Tracking Software
Tracking time solves this issue and others that lead to financial problems, client dissatisfaction, and low employee morale. For project managers and business owners, a cloud-based time-tracking solution answers many crucial questions, including:
Is your company correctly calculating billable vs. non-billable time spent on every project?

Are you accurately charging clients for your work?

Is your staff logging the proper hours?

Are you paying staff correctly?

With the benefits of time tracking software established, which platform should you use? We reviewed six of the most popular time-tracking tools to determine which is most effective in helping you save time and money, execute better projects, strengthen relationships, and improve profitability.
BQE CORE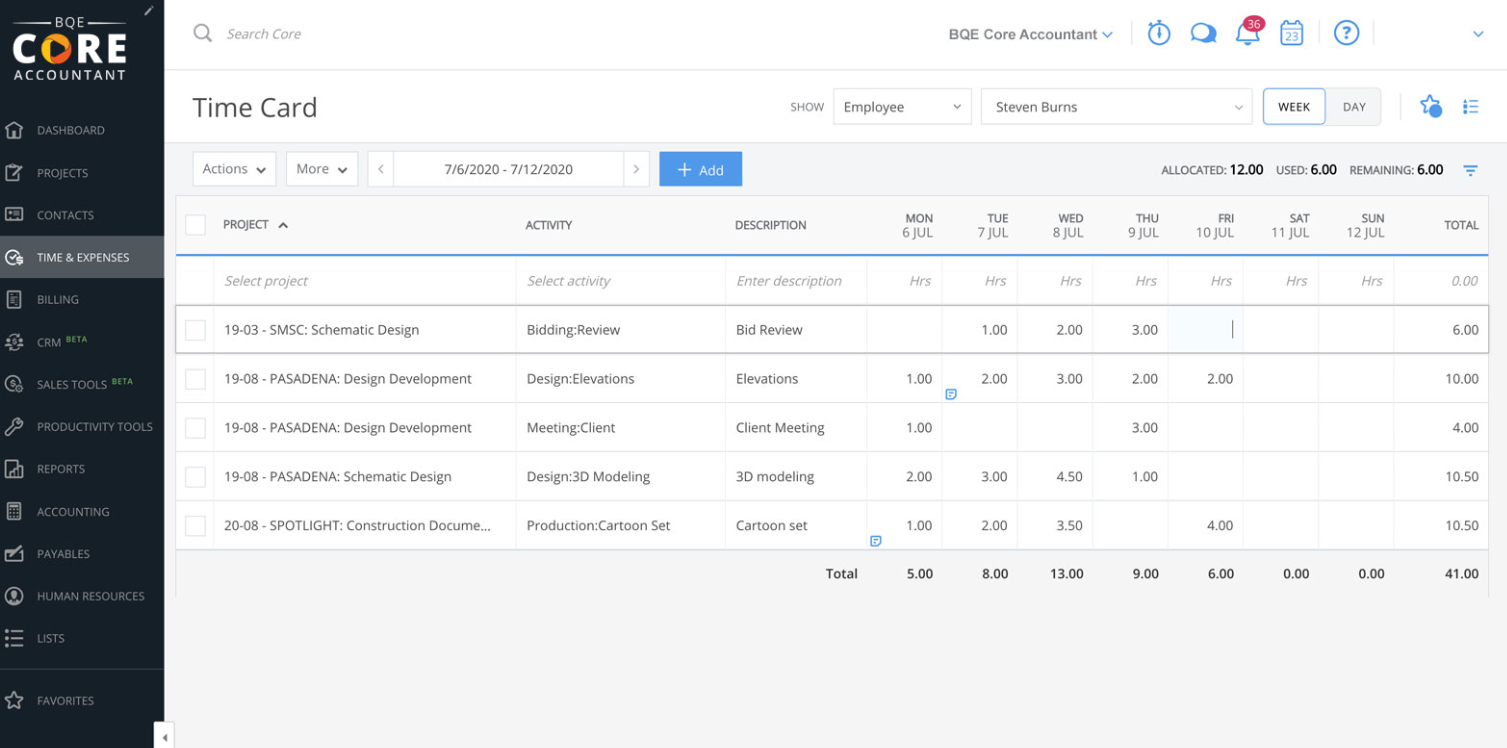 Time tracking with BQE CORE is easy. The automated employee time tracking software takes minutes, sometimes only seconds, of an employee's time to record and report their work. Whether they're in the office, on a site visit, or taking a client call from home, using BQE CORE on mobile or desktop makes it effortless to capture time accurately.
The platform's dashboards offer a detailed view of all hours worked each day on both the individual and collaborative level. It displays projects and activities as predefined fields that auto-populate employees' timesheets. Submitting and approving timesheets with BQE CORE takes only a few clicks.
With BQE CORE's employee time tracking software, you receive correct timesheets on time without chasing down your employees and contractors. Time tracking data helps surface which employees are most efficient on specific tasks, leading to better resource allocation and empowering your employees to focus on the areas where they excel.
On the client side, you always know you're billing each client for the correct amount, with a detailed log of the precise time you've spent on their project. The insights you gain from BQE CORE help pinpoint your most profitable clients and project types so you prioritize the work that drives the most revenue.
Even better, BQE CORE is so much more than just a time tracker. It allows companies to centralize time and expense tracking, billing, accounting, project management, and human resources. It's easy to leverage the data you gain from BQE CORE's time and expense tracking to improve your budget management and project estimates while removing bottlenecks.
To learn more about BQE CORE and to see it in action, try a free demo today.
ClickUp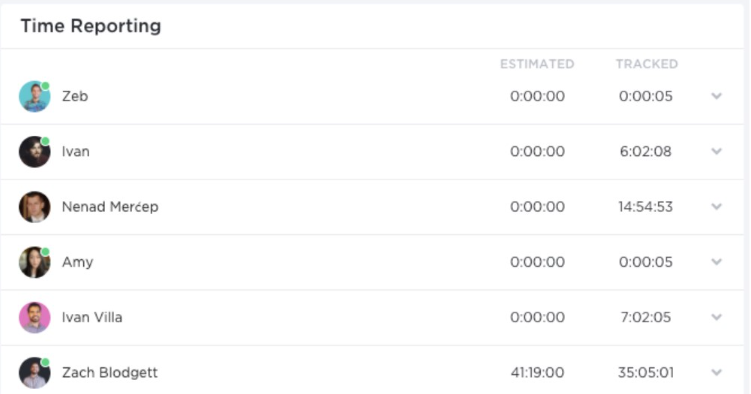 ClickUp touts itself as "one app to replace them all," meaning it automatically imports your team's work from other tools for a centralized, less disparate collaboration. It provides collaboration features like whiteboards and chat, real-time reporting, and time management, which includes time tracking.
ClickUp lets you track time via mobile, desktop, or web browser. Organize and explain your time entries using notes and labels, which let you categorize and reference what you were working on. ClickUp offers other standard functionality, like tracking billable vs. non-billable time and comparing actual time vs. predicted time. These learnings help improve resource allocation and profit forecasting on future projects.
ClickUp users appreciate its "Free Forever" plan, which grants access to its popular features but has limitations, including a storage limit. Though it integrates with several other time trackers, including Harvest, ClickUp's native time tracking tool isn't as robust as others. So, while ClickUp may be a suitable solution for your organization's other project management needs, you may want to look elsewhere if you need a powerful time tracker.
Harvest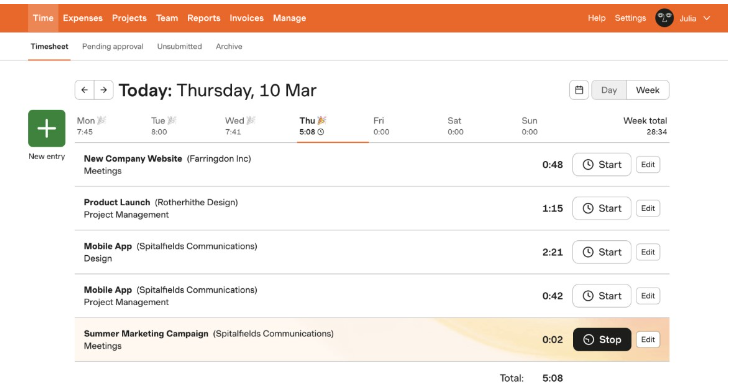 Harvest is a cloud-based employee time tracking software for freelancers and small businesses to capture time, record expenses, and manage invoices on the go. Team leads can easily see what individuals are working on and who has capacity versus who has too much work. Harvest allows you to save time on billing by automatically turning billable time entries into invoices. Features like automated reminders ensure that teams regularly and accurately track time, so you don't have to worry about hunting them down with manual reminders.
Unlike other platforms on the list, Harvest doesn't offer a generous number of features for project management, accounting, and HR. It's limited to only time tracking, reporting, and invoicing. When you search for Harvest, you'll quickly find poor user reviews about its mobile app, with users complaining about interface issues, trouble saving time entries, slow server response time, and lack of reporting filters.
BigTime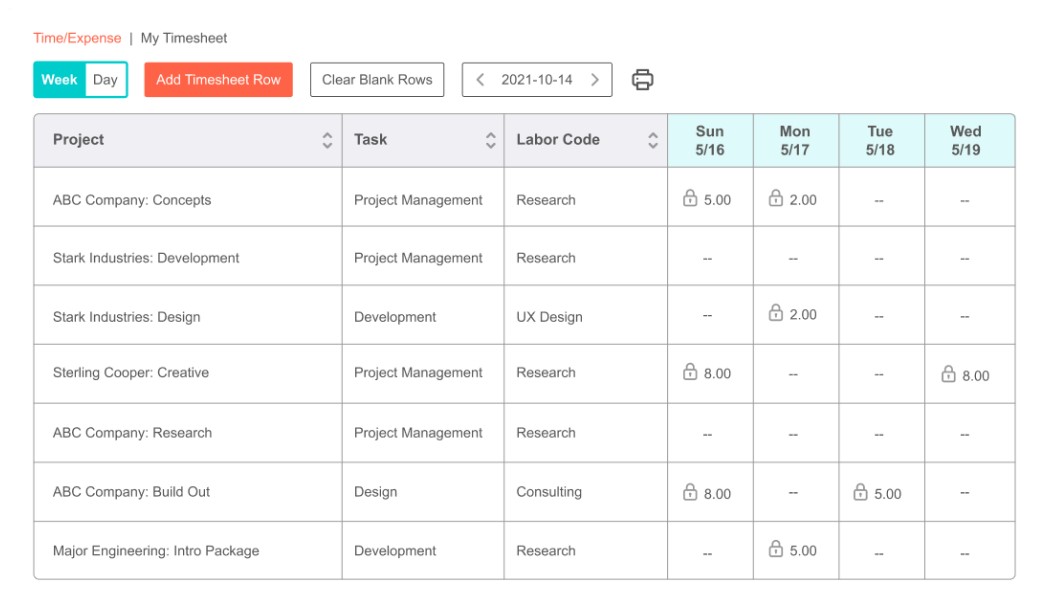 BigTime is a Professional Services Automation (PSA) software that enables firms to create and manage projects, track time and expenses, create invoices, and report on metrics. It offers smart timesheets that auto-complete the repetitive details of time tracking to speed up the process and minimize errors.
BigTime makes it easy to establish hierarchy and processes by letting managers set custom permissions for each user. You can set up required fields that employees must complete before submitting, so you get all the information you need to understand performance, bill clients, and pay workers. The platform includes a variety of project workflows, resource management, and billing and invoice features that professional service companies look for, but it also has some shortcomings.
While several BigTime users note how easy it is to record time and expenses using the app, they complain about issues submitting timesheets, customizing reports, and importing data from other systems, specifically QuickBooks.
Wrike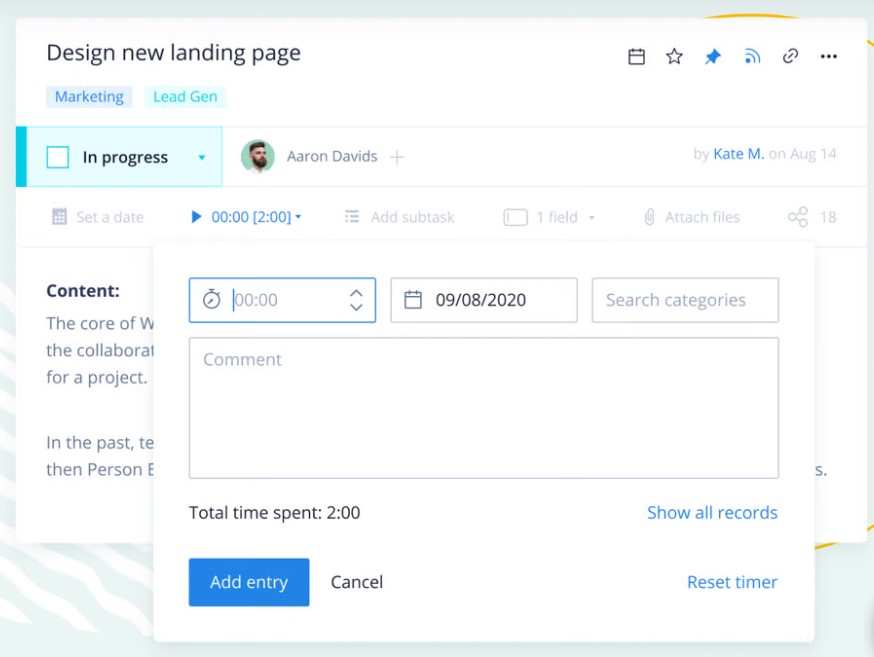 Wrike is a project management platform that offers a bit of everything, including manual and automatic time-tracking functionality. Unlike other platforms in this comparison, Wrike includes features for marketing campaigns, content calendars, and asset design, which may exceed the needs of most professional service firms.
If you don't want to create a manual time log to record time on a project, you can use a Wrike pause-and-play timer to keep track for you. Of course, the issue with a pause-and-play timer is if you forget to pause it as soon as you finish your work, your time entry is inaccurate.
Overall, Wrike's time-tracking capabilities fall short of the others on this list. Time tracked is limited to hours and minutes, not seconds, and you can only track time for one task at a time. There's no auto-save function, so if you discard a time entry without saving, that data is lost. In contrast, BQE CORE timers are not deleted even if you forget to save a time entry.
Wrike may be a solid solution for marketing agencies, but its strength does not lie in its time-tracking and invoicing offerings.
ClickTime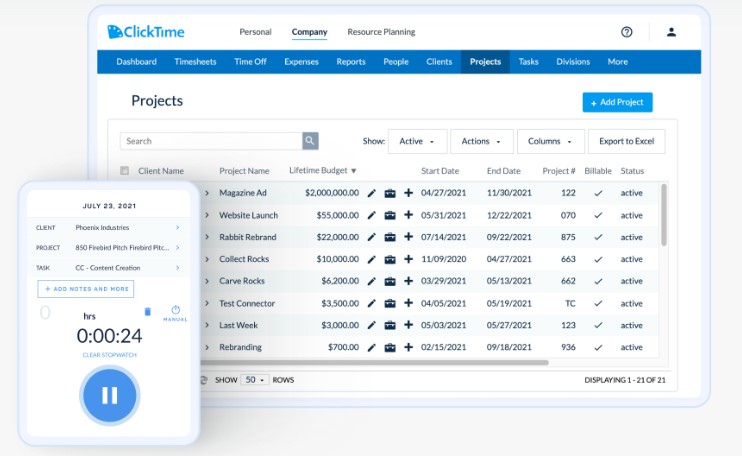 ClickTime is a time management tool that helps you maximize the value of your team's time. According to ClickTime, companies often underestimate how much time it takes to complete projects, and its software aims to measure how much a project truly costs and surface hidden costs that hurt profit margins.
ClickTime's features include automatic time tracking, resource management, job estimation, overtime tracking, business intelligence, expenses, and time off. Its stopwatch feature is an improvement on Wrike's pause-and-play timer, because ClickTime will send employees a notification to remind them that their time is still being recorded, but it's not as sophisticated as other software in this comparison.
Like BQE CORE, ClickTime is built for project-based teams, but it falls short in ease of use and flexibility. Many ClickTime reviews report struggling to learn the platform without training and continuing to face issues generating custom reports. Even viewing past timesheets is confusing for users.
BQE CORE Makes Employee Time Tracking Software Easy to Use
Employee time tracking software is one of the most effective methods to boost your firm's profitability, avoid billing errors, improve client relationships, and save time. If you're ready to start getting the most value out of your team and projects, BQE CORE is the best employee time tracking software for firms doing project-based work. The best part is, you can get started right away when you schedule a free demo to learn how to strengthen your firm's time tracking.