Simply searching "project management software" will provide you with many results, so many in fact that it can take hours to go through them all and determine the best software for your firm. However, not all project management software performs in the same way, especially when it comes to your industry's needs. As an architect or engineer, you need to stay on top of your project's progress while remaining organized. To get the most use out of your project management software, you need to invest in the right tools and processes so you can achieve better results.
In this article, we've put together a list of some of the best project management software for architects and engineers. Some platforms are for general industries, while others are designed specifically for the A/E industry.
What is Project Management Software for Architects and Engineers?
Project management software for architects and engineers is designed to help you manage your projects including reporting and analytics, time and expense tracking, billing and invoicing, payment processing, and more.
Project management software for the A/E industry is not to be confused with architecture or engineering software that helps with drafts and models. Instead, it's the software that helps your A/E firm run successfully so you can focus on what you love doing the most- your projects.
Let's look at some of the available project management software for architects and engineers:
1. BQE CORE
BQE CORE was designed by an architect and engineer for the A/E industry. Unable to find a platform that solved their own project-based firm's needs, the founders decided to build one themselves that would be a perfect fit for architects and engineers. Their goal with the platform was to streamline manual processes and allow you to see projects in real-time so your firm can maximize productivity and profitability while having superior customer support at your service.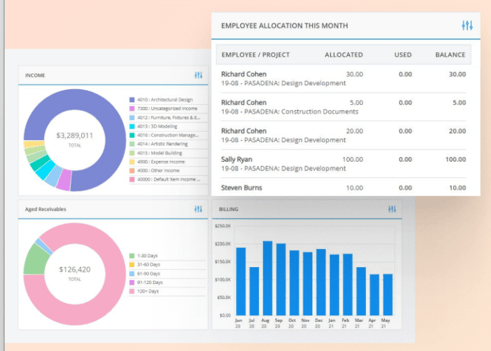 Customers in the A/E industry say BQE CORE feels like it intuitively understands their needs. This is because it simply does. BQE CORE takes a customer-driven approach to innovation and continues to evolve to meet the competitive demands in the A/E industry.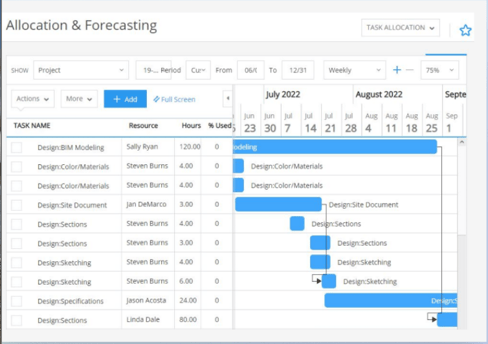 Features:
Seamlessly connect teams, budgets, and schedules for every project.

Easily manage time, to-do lists, and costs from a single dashboard.

Track your team's project performance and progress through built-in digital reporting.

Measure project profitability with integrated project accounting and management tools.

Use real-time insights to keep projects on-time and on-budget.

Understand costs and schedule for each phase of a project with phased billing.

Automatically calculate current metrics like overhead, GA, fringe, and profitability.

Manage teams, budgets, tasks, time, costs, and schedules in one location.

Optimize team utilization with resource allocation tools and interactive Gantt charts.

Automate project tracking reporting.

Track progress and budget to instantly monitor a project's pulse and course correct before minor issues become major ones.
Try a free demo of BQE CORE today.
2. BigTime
BigTime's software helps clients run their firms more efficiently by providing time tracking, billing, and project management features. Their flagship product is a SaaS-based system custom-built for the professional services industry with a focus on accounting, architecture and engineering, consulting, creative, government contracting, IT services, and law firms.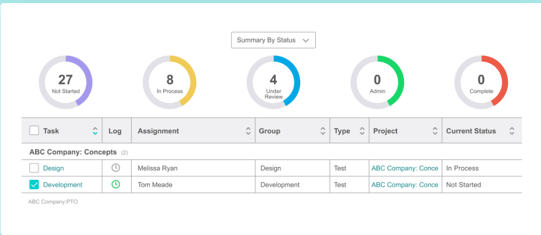 Features:
Compare projected budgets vs. actual hours

Set up tasks for each project and assign hourly, fee, and expense budgets

Keep track of project budgets, POs, or Not to Exceed amounts

Visualize timelines with dependencies, critical paths, and milestones

Empower project managers with a clear path to success and a quick view of potential roadblocks

Analyze gaps in the chart to increase productivity of staff's time and resources

More accurately estimate and plan project deliverables and timelines

Track multiple projects at once and know if you're on schedule

Assign certain staffers to project tasks and set due dates
3. Monograph
Monograph's system was built by architects for architects. The software is designed to track the financial health of your firm by helping you plan projects, resource staff, log time, invoice, and get paid quickly.
The founders realized architects needed more support for the half of their job that isn't drawing details or walking through job sites. Thus, they created their software to help manage the complexity of project delivery and your firm's back office.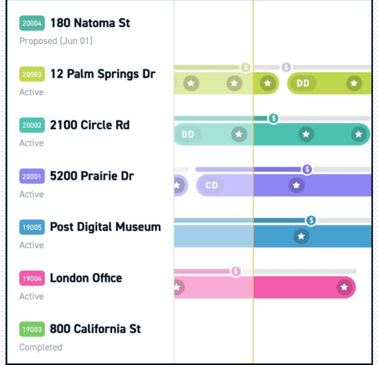 Features:
Get a bird's-eye view of your projects, budgets, and tasks

Share project timelines with your clients with a single click

Set up and manage phases and milestones

Build a budget and schedule

Resource your team based on project plans

Forecast project needs for hiring & staffing

Track time online easily and efficiently

Review individual workloads and work distribution

Log expenses and overhead to inform financial reporting

Turn timesheets into invoices

Get insight into the financial status of all your projects

See real-time reporting on profitability, projects, and billable hours
4. Deltek Ajera
Deltek Ajera is a combination of project management and accounting software developed in 2004 for the A/E industry. Comprehensive budget and project scheduling tools give project managers the ability to edit and analyze the information they need all in one easy dashboard.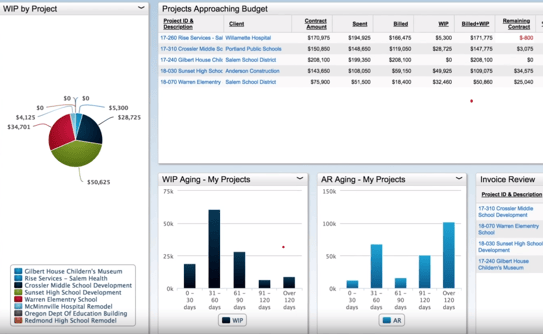 Features:
Real-time dashboards

Accounting tools

Billing tools

Payroll services

Mobile app

Tracking project time and expenses

Viewing staff data like utilization and forecast workloads
5. Deltek Vantagepoint
Deltek Vantagepoint was built specifically for professional services firms looking to improve productivity, boost collaboration and increase profitability. The software addresses the most common challenges for project-based firms such as overburdened staff, inaccurate forecasting, and cash flow delays.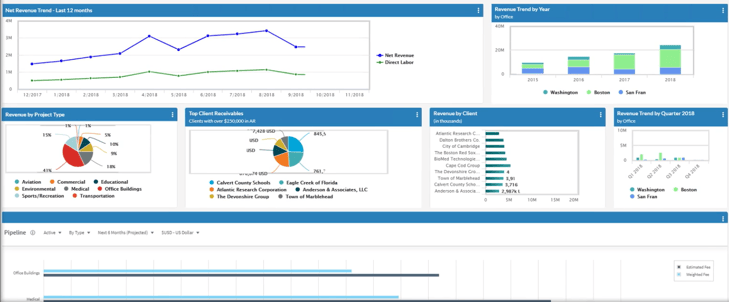 Features:
Manage every aspect of the project or engagement from a single hub

Gain visibility into complete project lifecycle

Avoid cost and schedule overruns by tracking progress toward deliverables

Use alerts to inform project managers of potential risks

Manage contracts and compensation amounts

Notify team members of new project assignments

Monitor planned hours vs. actual hours

Add planned hours to timesheets

Expedite invoice review and approval

Use dashboards for a quick view of project financials

Leverage past project history
6. Mosaic
Mosaic is ideal for firms with 10 or more staff members. The software is the next-generation project and resource management software purpose-built for architecture, engineering, and design firms. Mosaic's interface shows what each teammate is doing by integrating with the firm's existing ERP or financial software.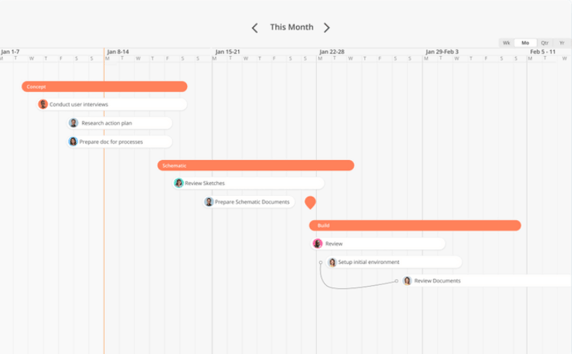 Features:
Automated timesheets

Planners

Project scheduling

Time and expense tracking

Task monitoring

Real-time budgeting

Comprehensive AI-powered reporting
7. Wrike
Wrike is a collaborative work management platform designed for creative agencies. It's used to plan, manage, and complete work at scale. While the platform is more general toward the creative industry, it can be used by the A/E industry as well. But if you're looking for something geared specifically toward architects and engineers, you may want to look at other options.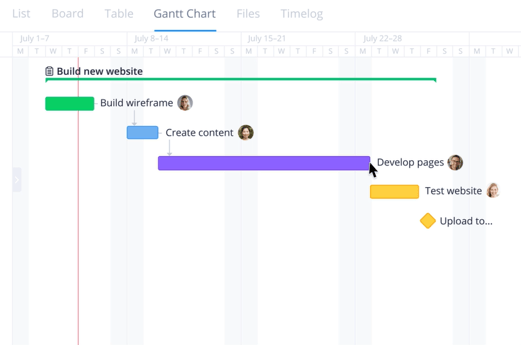 Features:
Custom workflows

Custom dashboards

Process streamlining

Discussion boards

Document management

Version control
Wrike has a time tracking tool built in but lacks billing and invoicing capabilities.
8. Archisnapper
ArchiSnapper is project management software used for onsite work management. It's essentially a construction project management tool. The software is used to manage construction and architectural projects. If you're looking for more back-office focused project management software, you'll want to look at the software suggestions ranked higher on this list.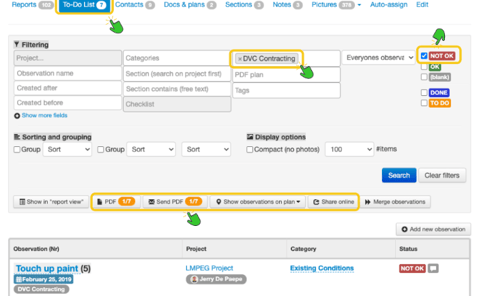 Features:
Progress observing, note making and report generation

Template checklists and blueprints

Create new reports using previous ones

Uploads all data to the cloud

Information sharing and working with others
‍9. NetSuite OpenAir
NetSuite's cloud-based project management software provides real-time access to all your project's data. The software supports your firm's entire services organizations with real-time visibility and anytime access to the tools and information you need.
NetSuite was the world's first company dedicated to delivering business applications over the internet, so their platform can be expected to contain a full suite of cloud-based ERP applications, including financials, inventory management, HR, professional services automation and omnichannel commerce.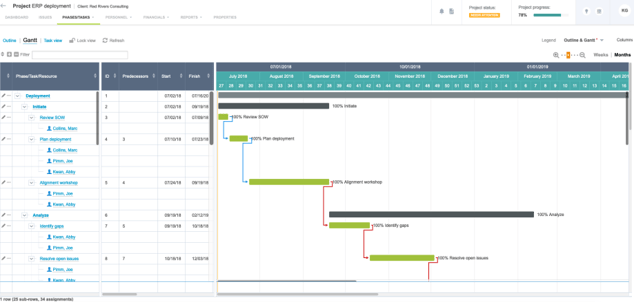 Features:
API

Activity Dashboard

Billing and Invoicing

Budget Management

CRM

Calendar Management

Document Management

Time and Expense Tracking

Invoice Processing

Mobile Access

Performance Metrics

Progress Reports

Resource Management, Allocation, and Planning

Task Management

Timesheet Management



10. Unanet AE
Unanet AE is a cloud-based ERP solution designed for the A/E industry that allows project managers to leverage real-time project information to drive more proactive decision-making. The software fosters collaboration across the accounting and project management teams to improve project performance and enable more growth.
Unanet is a leading provider of ERP and CRM solutions for AEC, Government Contractors, AEC, and Professional Services.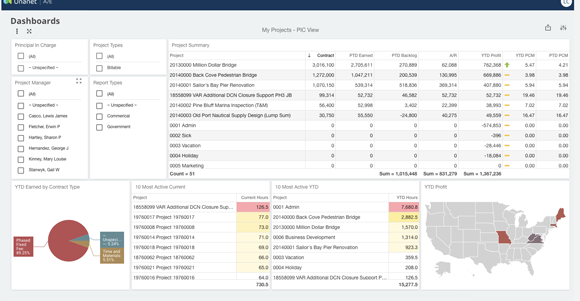 Features:
Easily create projects, plans, and opportunities with flexible business rules

Manage projects in a familiar planning style

Manage budgets/schedules at the project and resource level

Estimate opportunity value to improve company forecasting

Streamline project management processes

Track change orders with built-in approvals

Reduce effort for revenue recognition

Review historical project results

Easily track ETC, Percent Complete, and Earned Value

Gantt Chart view allowing you to manage multiple project schedules
Which Project Management Software is Right for You?
There are a lot of choices when it comes to choosing the right project management software for architects and engineers. When you choose the best project management software for your firm, you'll be able to save time and get back to focusing on the projects you love. You'll create a stronger working environment amongst your team while also staying on track and on budget.
At BQE, our project management software for architects and engineers is an all-in-one dashboard that is easy to use and easy to implement thanks to our award-winning customer support. We want you to succeed at project management, that's why our software eliminates the need for multiple platforms while giving you all the tools you require for success.
To learn more about our project management features, visit our website today. We also host webinars full of inside project management tips for our customers.
Ready to get started? Try a free demo today!