Company performance and KPIs are often discussed from a superficial overview of what managers should know, identify, and use as drivers to lead company success. However, these data points are only valuable when the data analyzed is comprehensive and accurate.
High-level overviews and calculations are often used for the internal predicting and allocating the income and expenses of a business. And as time progresses, the comparative data increases, allowing companies to produce comparison report(s) to see how the company finances are keeping pace with how you and your team have performed in various key areas.
BQE CORE Helps You Track and Monitor Project Performance and KPIs
With BQE CORE, not only can you track all of this, but you can also compile all of this information into specified reports so that you can share data critical to the success of your company. Over time, CORE helps you establish a deeper understanding between company KPIs, project KPIs, employee KPIs, and even client and vendor KPIs. This data, combined with an understanding of the working relationship between each entity, will have a deep and lasting impact on the decisions and growth of your company.
However, first you must break down the overview to its designated pieces. Then, reassemble the data to gain an understanding of how the parts operate as a whole within your organization. This helps you make more accurate decisions today and in the future.
CORE tracks each level of performance (top-down) for all aspects of your business. This data is made available through dashboards, performance tabs, and reports. By using data-driven leadership, companies have the opportunity to identify weaknesses, create growth, and maximize opportunities within the organization.
Project Level KPIs
Projects (also called engagements, jobs, or matters, depending on the service industry) are the framework around which service providers do business. There are many metrics that you should regularly check to ensure that everything is on track. If you have to track and calculate everything on your own, through spreadsheet after spreadsheet, staying on top of it can be difficult. Even if your firm has implemented technology to assist in this effort, some of the most sophisticated project management software doesn't make data access and analysis as easy as it should be.
With a solution like CORE, project management is easier, helping you to keep track of a range of key project performance indicators. CORE provides several ways to interface with that data, allowing project managers the flexibility to engage with the data in a way that is best suited to drive results for the company and team.
14 Key Performance Metrics to Track in CORE Tabs
CORE's project screen gives you a brief and clean overview of your current projects as well as high-level financials. You can see what's ready to bill, your work in progress, and what's overdue.

After you click into a project, you can move over to the "performance" tab on the top right. Then, select a date range to focus your analysis.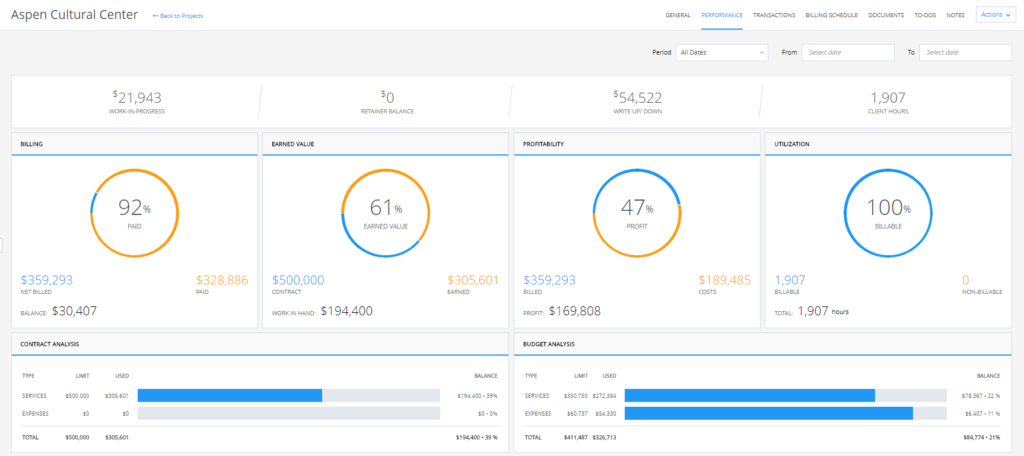 This screen shows you everything you need to know about the state of your project including:
1. Work in Progress: This covers the billable time and expenses that are completed but have not yet been billed. It not only tells project managers how far along work is, but it gives a clear indication of upcoming cashflow.
2. Retainer Balance: The remaining part of your project's retainer—if it has one, of course—is helpful in assessing whether or not your project is on track. If you have used up a significant portion of the retainer and still have a significant amount to complete, you know to request an additional amount and/or the project may need greater attention by management to be completed on time and within budget. This information is especially useful for principals, partners, accountants, billing users, and project managers.
3. Write-Up/Down: This is the total write-up or write-down on your billable time entries. This is helpful because you might want to bill the client more or less than the actual billable amount in order to manage your project's budget. This is an illustration of a project manager's ability to manage the scope of the project.
4. Client Hours: Knowing the total of logged billable time gives you a sense of whether or not you're sticking to your allocated hours.
5.Earned Value: Earned value displays the project plan, actual work, and the value of completed work in order to help you determine whether or not a project is on track. We calculate it as the amount earned (actual work) divided by the contract amount. When you can see a snapshot of the earned value, you will quickly have a
6. Billing: Knowing your billing breakdown helps you assess your relationship with your client. You can see what percentage and dollar value of your project invoices have been paid—or not. Of course, you would also want to look at your AR aging to know how late the client payments are, but this field gives you one view of your outstanding payments.
7. Profitability: This metric allows you to see your costs versus what has been billed and the resulting profit. Knowing your project's real-time profitability—while everything is still underway—helps you make decisions to keep you on track. It is the ultimate gauge of what you should and shouldn't do next time.
8. Utilization: This metric is crucial if you're billing hourly or hourly-not-to-exceed. It is very useful information even if you are working on a fixed-fee project. You will gain a clear picture of your project's efficiency in terms of billable versus non-billable hours.

9. Contract Analysis: This gives you additional insight into what is remaining in your contract. You get a comparison between the contracted amount, what has been spent, and what is remaining. This way, you'll understand ahead of time whether or not your project will exceed your contract amount.
10. Budget Analysis: Similarly, your budget analysis shows the breakdown for your services and expenses in terms of what's been used and what your limits are. You'll get a quick picture of whether your project is over budget or approaching budget.
11. Earned Value: Earned value displays the project plan, actual work, and the value of completed work in order to help you determine whether or not a project is on track. We calculate it as the amount earned (actual work) divided by the contract amount. When you can see a snapshot of the earned value, you will quickly have a reliable projection of the future success of your project in terms of time and budget.
You can also see your earned value in a different display on the first row of widgets.
12. Billability Analysis: The billability analysis aids you in assessing the billability and productivity of a project. It gives you a breakdown of your services and expenses in terms of billable, billed, unbilled, and non-billable. When you compare billable versus billed, you get a picture of what's been earned and what work is lined up or expected.

13. Margins: The margins chart lets you analyze your profit or loss on a project. It displays billable or billed services and expenses plus their profit/loss margins. You can also view any extra services or expenses performed on your project. Marking an item "Extra" in CORE allows the project manager to see the work performed that is considered to be out of scope of the original project.
14. Retainers: This section shows you all the information about the retainers associated with a project and client. You're able to instantly view what you've received versus what has been used and what is left.
While you might not use every metric for every project, it is important to have a clear understanding of what opportunity exists within each data point. And if you are calculating information on your own or using cumbersome software, it's extremely helpful to have a comprehensive list of what metrics you need to check.
When you use CORE, these metrics are calculated in real-time per project, as a whole, and phase-by-phase. These indicators—if checked throughout the life of your project—will help ensure that things come together on time and on budget.
The Value of CORE Performance Reports
The Report Center in CORE offers many valuable reports for employees spanning every level of an organization. The Project Reports in CORE give you an overview of every aspect of the project status and performance.
Each report can be filtered and customized to focus on performance by project manager, project, phase, date range, client, and so much more. And all reports are simply a click away. Moreover, reports can be memorized for easy access or scheduled to be automatically delivered via email to your team.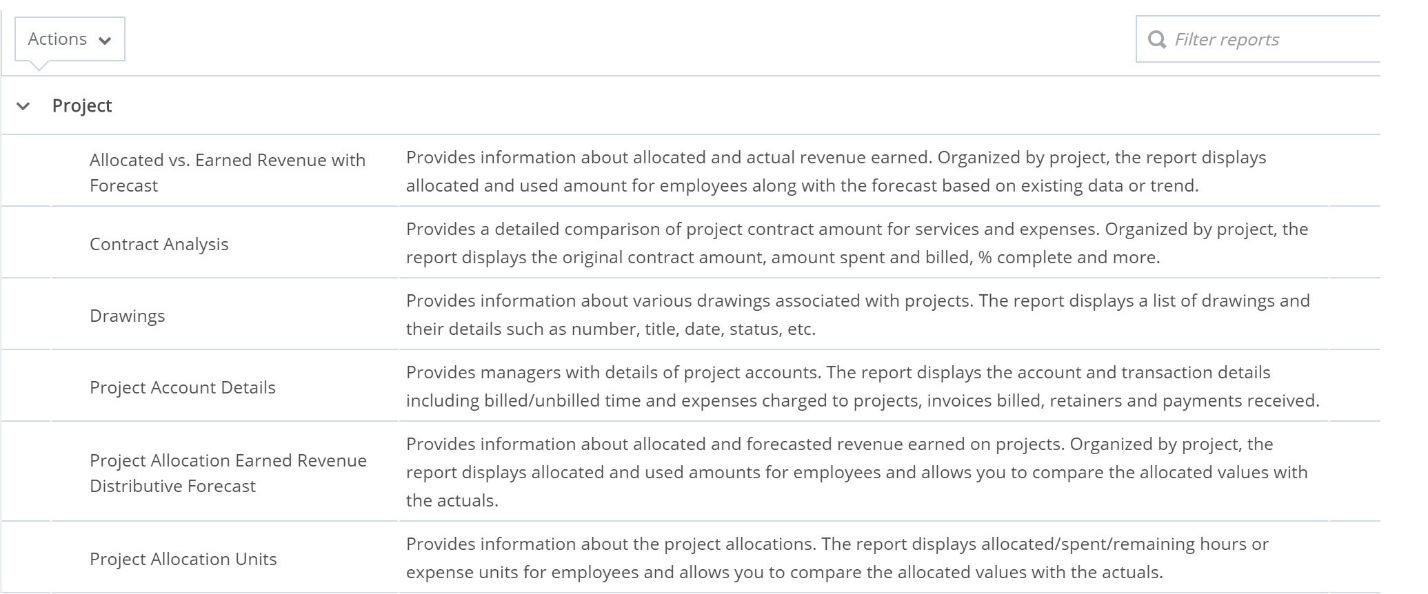 As you are using reports to analyze your projects, you should perform the same two analyses:
Which ones did well, and why?
Which ones did poorly, and why?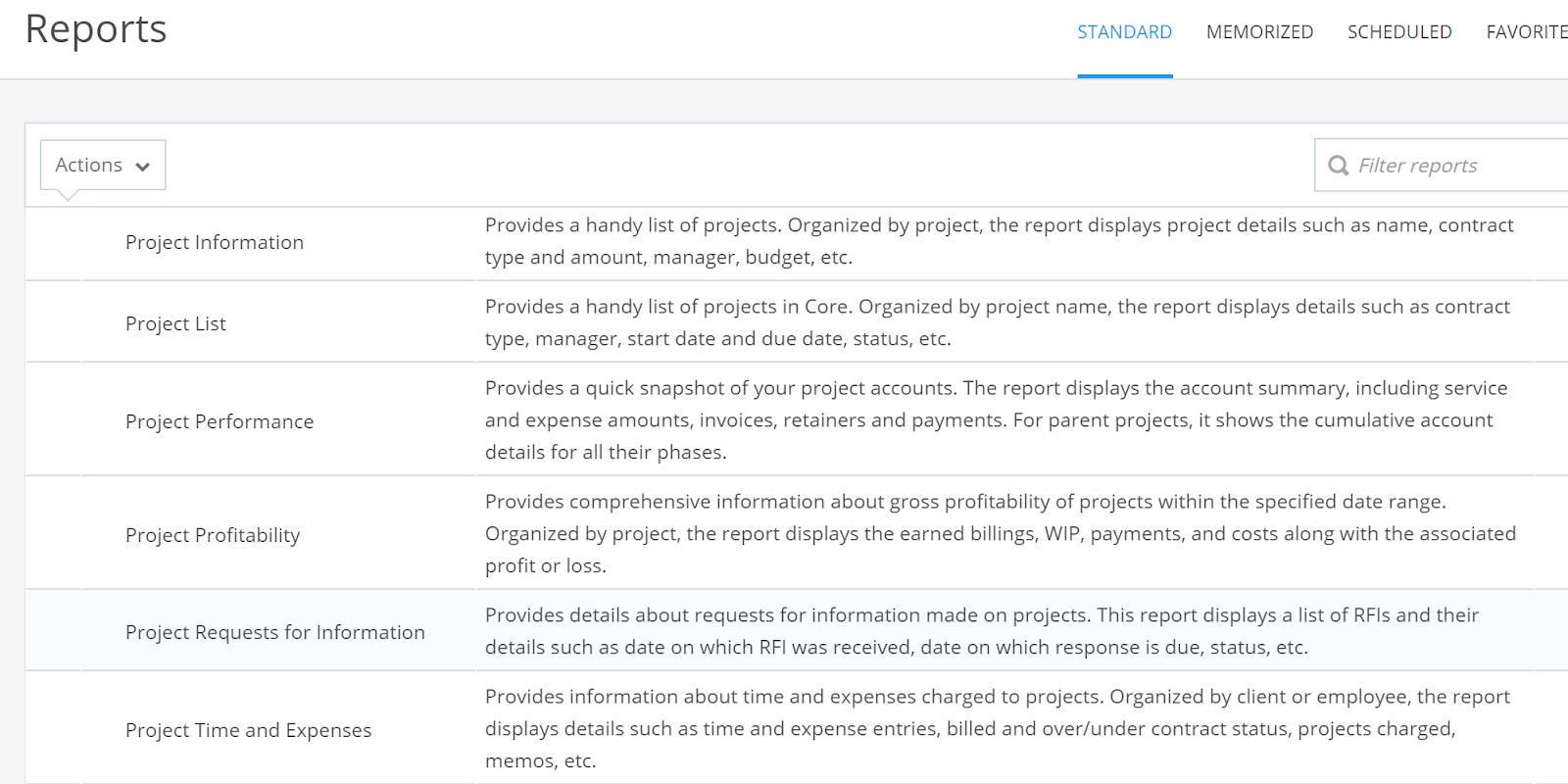 The winning strategy of any company or organization is to evolve your operations to be better, faster, and more efficient. Without the understanding, evaluation, and application of data, managers cannot measure growth or success. Likewise, companies cannot see opportunities to tighten operational productivity and increase profits.
For additional information on project KPIs in CORE, please refer to the CORE Help Center, our video library, or connect with CORE support for guidance. Want your management team to lead at the next level? Schedule an open training session with one of CORE's consultants today.