The management guru Peter Drucker famously said, "If you can't measure it, you can't manage it."
Those words are especially true when it comes to project management in today's fast-moving world.
It might sound like common sense, but all too often projects are managed in a "shoot from the hip and wing it" sort of way. That's why so many run over budget, go past deadline, and give project managers a ton of headaches.
So how does one make sure their projects run smoothly and profitably?
It all comes down to measuring their progress to make sure they're performing well after kick-off.
To help you lay the foundation for successfully tracking and improving projects, we're going to share the 3 things you absolutely need to do for each project.
Choose Your KPIs Very Carefully
While it would be ideal to track every single KPI and metric you possibly can, it's not always feasible (unless you're a large firm with near-limitless resources).
An article from Villanova University says:
"Each project manager typically has different objectives, and metrics that work well for one business might not work for another. For that reason, it's important to tailor metrics and reporting to your business's unique needs."
While choosing the right KPIs to track will depend on your unique business and project goals, here are some guidelines to follow:
The quickest way to determine the right KPIs to measure is by interviewing all key stakeholders to clarify the business benefits they hope to get out of the project. For example, if a manager wants a project to increase profitability, you can track the budget against spend to measure ROI.
This may sound obvious, but make sure to pick KPIs that you can actually measure and immediately eliminate KPIs that you can't actually track because of limited resources or unclear, undefined goals.
Distribute your proposed KPIs to key stakeholders to get their feedback and final approval. This step is critical because it ensures that everyone is on the same page and that you have in fact chosen the correct metrics to track.
Set a Baseline and Target Goals
After you choose the right KPIs to track, you should establish a baseline and target goals so you know whether the metrics are good or bad.
The top three baselines to set would include scope, budget, and schedule. You can look at historical data to come up with accurate expectations for your future projects.
Scope: Speak with all the stakeholders and organize a project kickoff meeting to decide — and document — the project scope. Hugh Glazer, an experienced CFO who has worked with many professional services firms, said in The Business of Architecture Podcast Ep. 269 that "scope creep" is one of the biggest sources of financial problems, especially when it comes to undercharging.
(Related post: 5 Tips for Fending Off Scope Creep)
Budget: A well-defined project scope will lead to an accurate project budget. If you have project management software (which we'll discuss in the next section), you can use a budget management feature to ensure everything is accounted for.
Schedule: This is where historical data will really help. If you've done similar projects before, you should have an idea of how to set a realistic schedule. When creating your estimate, make sure to include a buffer and build some slack into the system to account for changes, miscalculations, and unforeseen circumstances. Capterra, a leading resource for project management software, suggests project managers should "plan at 80% utilization to get 100% of the planned work done on time."
Once you set these baseline and target goals, make sure they cannot be changed without proper approval.
Use Project Management Software
Just as billing and accounting software helps firms better manage and automate their finances and cash flow, project management software can help you manage projects more easily, efficiently, and effectively.
A good project management software will not only help you track and measure your projects with dashboards of visual data, but it'll also make reporting a breeze so you can easily update the key stakeholders of every project.
Once you know which KPIs you want to track and have established baselines and targets, just enter that information into your software and you'll be able to measure and manage your project's performance without any hassle and headaches.
Here are some dashboards in CORE that can easily show you project KPIs and data in real-time: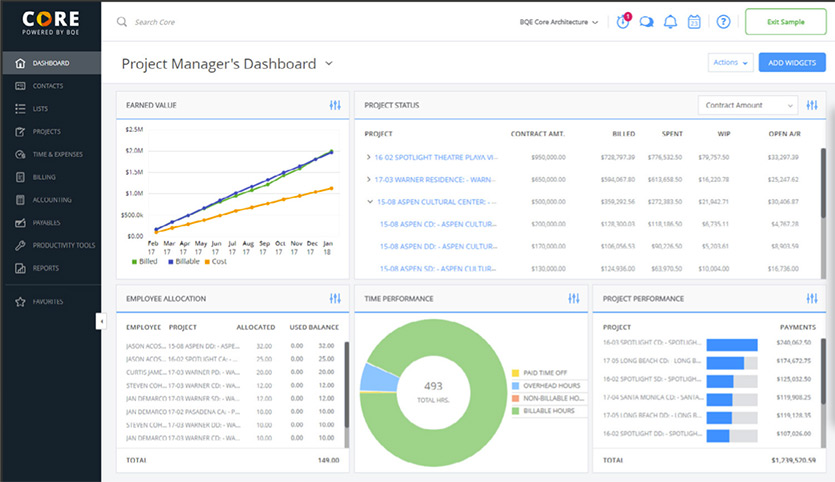 How to Manage Projects with Ease
If you're tired of your project managers guessing where their projects are and learning about problems after it's too late to fix them, then it's time to learn which KPIs matter most. Click below to discover the key financial metrics that can make or break a project.