Business Development
Strategic Guidance - What Do You Do with The Information You Have?
Strategic Guidance - What Do You Do with The Information You Have? - BQE Software
---
You spend a lot of time analyzing reports--or at least you should be. Here's where you may be falling short. You analyze a report, and you think about it, and you form an idea in your head about what to do about it. But where's the action plan? Where is the strategic guidance for what to do with the information you have?
If you're not documenting your findings when you analyze your reports, then you aren't really doing much with them. Keeping the information in your head alongside all of the other 70,000 thoughts flowing through your mind in a given day isn't a great plan. How useful is that?
Here's an example of an analysis I did recently for a client, and how I documented the action that will be taken:

Notice the very wide column on the right with my comment. This is how I document my findings and note what needs to be done. Don't mind the context too much. What I want you to take from this, is the layout and format.
This is where I am a really big fan of spreadsheets.
Taking this to the next level.
Let's say you are looking at a comparative profit and loss statement, this year vs last, for the month of May. Last year you spent $19,000, this year, only $6,000 during the month of May.
Your thought may be something like, "Great, we're doing better!" Are you? With such a significant difference, you have to wonder why or how you did so much better this year. I did. These are my actual numbers as presented in Billbeez, which is the newest app I am using for myself, and every client, soon enough.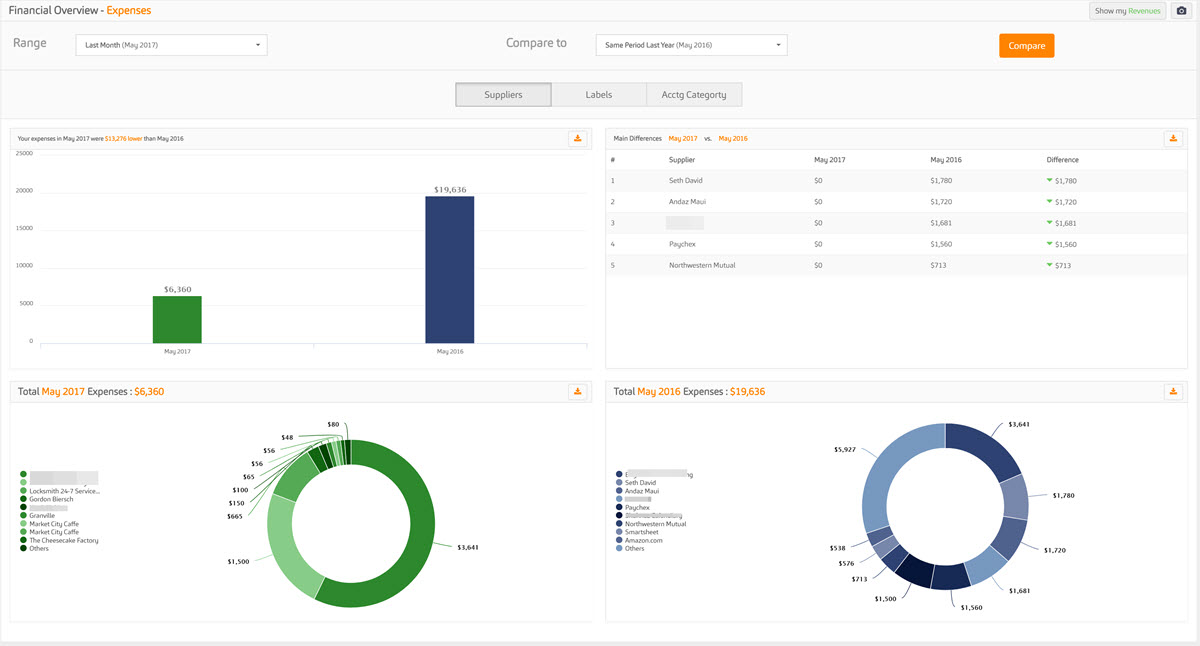 So why did I spend so much more money last May? Turns out there were a few big ones. The biggest difference was I was at Expensify's Expensicon conference, staying at the Andaz, Maui, and I extended my stay for a bit of extra R&R.There was also an annual renewal for my Smartsheet account, some additional payroll, and it looks like I spent about $600 on Amazon. If I just breezed along, and said, "Yeah great, I had a much better month this year, compared with last year," I would have derived almost no value from the time I spent analyzing this information.
Time is the most precious resource we have. We need to spend it wisely. Fewer minutes posting Gif images on Facebook (which is really a lot of fun by the way), and a few more minutes analyzing this information provided me with a lot of value. In about 60 seconds I was on Amazon scrolling my 2016 orders (really easy to narrow down in a drop down). I scrolled to May, and learned that $240 of the $600 was spent on a really good camera lens.
Just because I spend less money, (or so my accounting system says), doesn't mean I performed better. First, there could be missing expenses this year. Did that annual Smartsheet renewal go through this year?
If you run a comparative P&L (and you should), then you should document your findings. That process alone will deepen the insight you gain, but it's even better when business owners and accountants team up.
When you run these reports, in any application, you have the ability to export these to Excel. My suggestion is to do that, and then drop them into Google Sheets. The main reason why you should drop these reports into Google Sheets and document your analysis there is the collaborative co-authoring capabilities. This makes it drop-dead simple to do what I suggested above, and have the review done by the whole team.
The video above will demonstrate this process, using BillQuick Online, as an example.