Business Development
How to Attract High-Quality Clients to Your Professional Services Firm
Here is our guide on how to attract high-quality clients to your professional services firm in 7 different ways.
---
Updated 5/1/2023
"Hey, why isn't this invoice higher? You really saved my business a ton of money." If you're lucky enough to have heard this from one of your clients, would you like to have more of them? It doesn't have to be difficult to learn how to attract clients to your firm.
Attracting clients who are happy to pay handsomely for your services and are hassle-free to deal with doesn't have to be a mystery. It just requires a consistent effort on your part to be on the look-out for these types of customers.
How to Attract Clients to Your Firm
Here are 7 easy ways you can learn how to attract more high-quality and hassle-free clients to your professional services firm.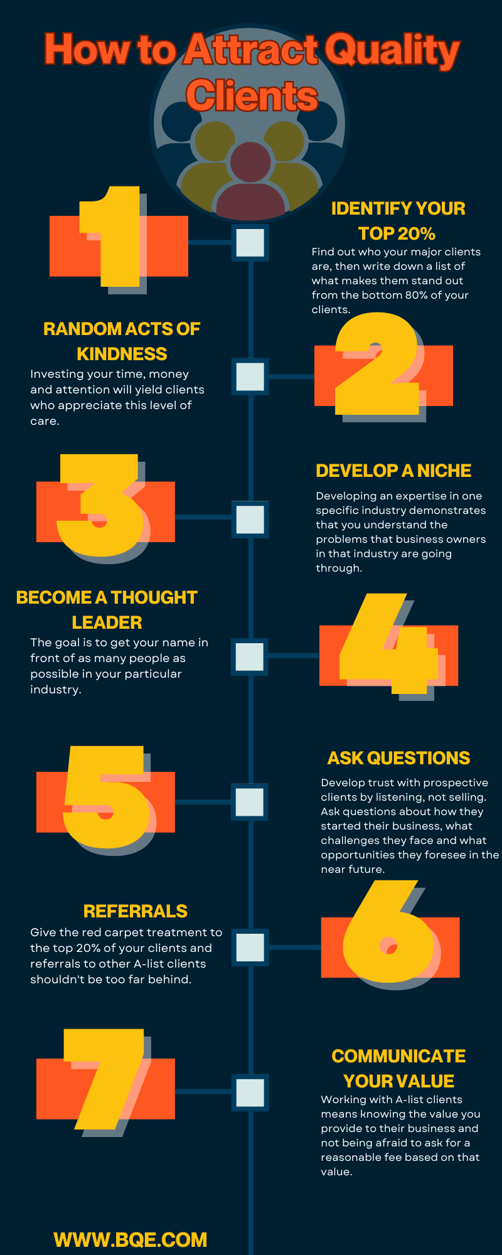 Identify Your Top 20%
This comes from the reliable 80/20 rule - 80% of your revenue comes from 20% of your client base. Find out who your major clients are, then write down a list of what makes them stand out from the bottom 80% of your clients.
Use this list of your best clients' top traits as a handy checklist when deciding if a prospective client is a good fit for your business.
Random Acts of Kindness
Take your clients out to lunch once a year, randomly email them helpful advice, or send two tickets to a concert or sporting event with a short thank you note. These are just three examples of how you can go above-and-beyond with customer service to let your top clients know they're appreciated.
Investing your time, money and attention in these types of activities will yield clients who appreciate this level of care and responsiveness and are willing to pay substantially for them.
Develop a Niche
Business owners want to do business with people they know, like and trust. Developing an expertise in one specific industry demonstrates that you understand the problems that business owners in that industry are going through.
These owners are more than willing to pay large sums of money for you to help them solve their pain points.
When you understand the specific pain points and challenges that business owners face in a particular industry, you can provide targeted solutions that are tailored to their needs. This specialization can set you apart from your competition, making it easier for potential clients to choose you over someone else who offers more general services.
Clients are more likely to work with people they trust and feel confident in, and by becoming an expert in a particular niche, you build credibility and trust with your clients. When clients see that you understand their industry and have a track record of solving the problems they face, they are more likely to hire you and even refer you to others in their network.
Also, by developing a niche, you can often command higher rates for your services. Clients are willing to pay a premium for specialized expertise, and by positioning yourself as an expert in a specific area, you can increase the perceived value of your services and charge more for them.
Developing a niche in your industry is a smart strategy for attracting more clients, building trust and credibility, and commanding higher rates for your services.
Become a Thought Leader
One of the best ways to develop industry expertise is by becoming a thought leader. Think of yourself as a newspaper reporter that writes articles for trade magazines or gives speeches at industry conferences.
The goal is to get your name in front of as many people as possible in your particular industry. You'll soon be seen as an industry expert!
Ask Questions
Develop trust with prospective clients by listening, not selling. Ask questions about how they started their business, what challenges they face and what opportunities they foresee in the near future. Then sit back and listen attentively to their answers.
Developing trust will open doors to a business relationship where your client will rarely question the advice - and invoices - they receive from you.
Referrals
What's the best way to attract high-quality clients? By referrals from other high-quality clients.
Give the red carpet treatment to the top 20% of your clients and referrals to other A-list clients shouldn't be too far behind.
Here are some strategies that firms can use to get more referrals:
Provide exceptional service: The first and most important step in getting referrals is to provide exceptional service to your existing clients. If your clients are happy with your work, they are more likely to recommend you to others.

Ask for referrals: Many firms make the mistake of assuming that clients will refer them automatically. But often, clients need to be prompted to refer. One effective strategy is to ask for referrals directly. You can ask your clients for referrals in person, via email, or through a referral program.

Offer incentives: Another way to encourage referrals is to offer incentives to clients who refer others. For example, you could offer a discount on your services or a gift card to a popular restaurant.

Stay top-of-mind: Clients are more likely to refer you if you stay top-of-mind. You can do this by sending regular newsletters, staying active on social media, and maintaining regular communication with your clients.

Build a network: Another effective strategy is to build a network of professionals who can refer clients to you. This might include accountants, lawyers, and other professionals who work with similar clients.
By implementing these strategies, professional services firms can increase their referrals and attract more quality clients. Referrals are a powerful way to build your business, and by providing exceptional service and building strong relationships with your clients, you can turn your existing clients into your best source of new business.
Communicate Your Value
Have you ever said, "I just saved your business $50,000. What do you think would be a fair fee?" Working with A-list clients means knowing the value you provide to their business and not being afraid to ask for a reasonable fee based on that value.
You'll never get paid like a rock star professional services provider unless you ask your clients to pay you like one.
How to Use BQE CORE to Streamline Operations and Attract More Clients
BQE CORE offers intelligent project management and billing solutions for professional services industries that are designed to help increase performance and productivity through streamlined processes and integration. When you have a strong firm, you can provide fantastic projects that attract the clients you want.
BQE CORE helps you run your firm successfully so you can focus on your projects. The all-in-one firm management software includes project management, billing and invoice, time and expense tracking, reporting and analytics, HR, ePayments, payment processing, and more.
To see how well you can run your firm and attract more clients, try a free demo of BQE CORE today.