Firm Operations
The Importance of Applying a Business-Thinking Mindset in your Professional Services Firm
When you apply a business-thinking mindset to your firm, you will discover what people need and create value in your services.
---
If you're like most of us, you went to school to master your specific craft. It's what makes you good at what you do. However, now that you're running a firm, you may still be relying on those skills alone to create a long-term successful business. And while your talent will bring in clients, is it enough to keep the business side of your firm going?
Typically, when going to school to master your craft, you weren't taught the business skills needed to run a business successfully.
That doesn't mean you can't learn now.
When you apply the different levels of a business-thinking mindset, you will approach your firm with a fresh attitude that will make for an exciting year of change and growth.
Find Passion in Every Facet of Business
Before you can apply a business-thinking mindset, you need to find passion in every facet of your business. Most of the time, the reason you got into the business you're in is because you truly love what you do.
However, passion isn't enough. While, yes, it does take hard work, you also need to find passion in every facet of a business.
We often dive deeply into the facets that will help us get better in our industries and create better projects. However, we will do whatever we can to avoid what we consider the "mundane" areas of our business such as improving firm metrics or creating a strategic business plan. That's because most of us want to get back to working on our projects. By creating projects that satisfy our clients, everything will run smoothly, right? Perhaps for some time but knowing as much as you can about business will make your firm stronger and more impermeable.
While you can't just be a good designer and expect that will make you a great architect without mastering your craft, the same is true of business. You can't simply be a good designer and expect in return you'll have a strong, successful business. You need to master every area of business for that to happen.
A business is about value creation. To have a successful business, you should discover what people need and create value in your firm that delivers what the market needs. When doing this, you will build the greatest firm that reflects who you are.
Business Thinking Mindset
If you've attended business school, this section might be unnecessary. However, many firms, especially those in the A/E and other similar industries, tend to never get this addressed in school, yet it is so important to anyone running a business.
A business-thinking mindset is essential to every professional services firm. When you hear the term "business thinking mindset" you no doubt think of the classic business skills such as market analysis and strategic planning. While these are important skills to know, they're only the beginning. You need to be inspired to learn even more if you want to have a thriving business.
Professional service firm owners are well suited to have a business-thinking mindset. All that is required is approaching problems and decision-making from a perspective that is focused on achieving business objectives and maximizing profits. It involves applying analytical and strategic thinking to evaluate options and make decisions that are grounded in data and focused on achieving specific business goals.
To have a business thinking mindset, it is important to be able to analyze situations and data and to be able to think critically and creatively about ways to solve problems and achieve success.
That probably already sounds like you, doesn't it?
This is pretty much what you do every day as you help your clients with their projects. It also involves being able to identify and prioritize key business objectives and develop and implement strategies that are designed to achieve these goals.
Having a business thinking mindset involves being able to think strategically, to make decisions that are data-driven and evidence-based, and to be proactive in finding ways to improve and grow the business. It also involves being able to communicate effectively with colleagues and stakeholders and to work collaboratively to achieve common goals. Overall, a business thinking mindset is an essential trait for anyone looking to succeed in business.
So, what is the next level of a business-thinking mindset?
The Structures and Systems of Business
When it comes to running a successful business, you need to understand the structures and systems that exist in business. Business thinking gives you an orderly approach to deconstruct the common factors that affect decision making such as leadership, organizational understanding, culture, and change.
As a firm leader, if you exhibit these business thinking characteristics, you can construct new patterns of confidence, trust, and even empowerment.
Often, when firm leaders struggle to earn confidence, trust, or empowerment, it's because there are gaps in understanding, lack of leadership, and overall culture.
When you're able to have clear decision making from a business thinking perspective, you can develop a process that helps you understand clearly and respond to evolving business situations. You will develop clarity that lets you recognize opportunities and take on risks by making trade-off decisions.
If all leadership roles think this way, they can develop the competitive advantages that differentiate the firm and propel it to success.
Once you have all members of your firm's leadership exhibit "business thinking", your company will be able to develop the competitive advantages that differentiate your firm and propel you to success.
Understanding the Business Thinking Cycle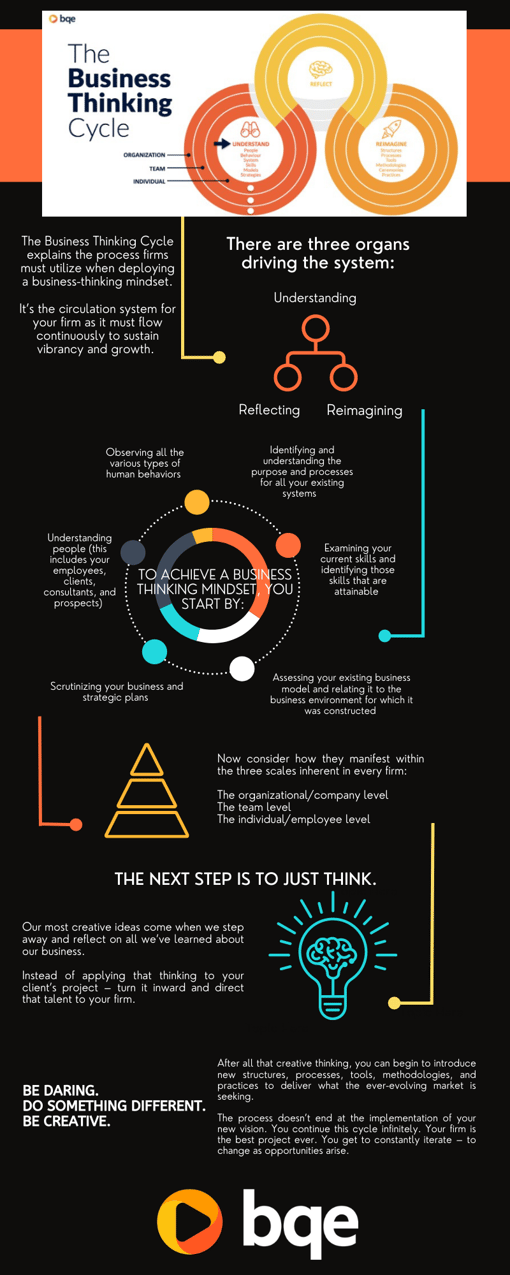 The business thinking cycle consists of three main areas: understanding, reflecting, and reimagining.
To achieve a business thinking mindset, you want to start by:
Understanding people (includes employees, clients, consultants, and prospects)

Observing all the various types of human behaviors

Identifying and understanding the purpose and processes for all your existing systems

Examining your current skills and identifying those skills that are attainable

Assessing your existing business model and relating it to the business environment for which it was constructed

Scrutinizing your business and strategic plans
When you do each of these steps, you want to consider how they manifest at the individual level, the team level, and at the firm level.
Observe, then Think
Now that you're understanding, reflecting, and reimagining in each of these areas, you want to do the final level- think. No matter what industry you're in, chances are most of your best ideas come to you while you're not at work. They may pop up in the shower or when you're out walking your dog. Maybe even as you're sitting down for dinner. As these ideas come to you, no matter where you are, reflect deeply on what you've just been learning about your business.
Now, instead of applying all this thinking to your client's projects, turn some of it inward and direct these new insights and talent to your firm.
You want to be daring and different when it comes to having a business-thinking mindset. Introduce new structures, processes, tools, methodologies, and practices to deliver what the ever-evolving market is seeking.
Now, continue this cycle again. Think of your firm as your best project ever, one that is not concrete and set in stone. You can make changes whenever opportunities arise and evolve as you learn more about your own business.
Apply Critical Thinking
When applying a business-thinking mindset, you want to ensure you're thinking critically all along. Many firms operate at a fast pace that reinforces hasty thinking and rushed business decisions. This can result in costly mistakes. When you and your team apply critical thinking to your business mindset, you learn to slow the pace and gather crucial information before making decisions.
Critical thinking in business brings the following benefits:
Improves communication. When employees think more clearly and aren't driven by emotion, they communicate better.

Enhances emotional intelligence. Teams who possess critical thinking skills are less prone to making rash decisions. Instead, they take time to analyze the situation and make informed decisions while being mindful of the emotional implications.

Encourages creativity. Critical thinkers are open to new ideas and perspectives. This means they're more likely to come up with creative solutions.

Saves time and money. Encouraging critical thinking in your firm, you catch potential problems early, promote initiative, and free project managers to focus on other tasks. This helps your firm save valuable time and resources.
Building a Better Business with BQE CORE
Applying a business-thinking mindset goes hand in hand with getting the right tools to help you put your business skills into action. You want tools that will improve your efficiency, reduce risk, simplify management, and create a more satisfied culture. When your firm picks the wrong tools, you will see cracks in your foundation.
Choose the right tool for your firm with BQE CORE. BQE CORE's firm management software provides real-time insights to help you improve your ROI and eliminate tedious manual tasks through automation.
It's important to invest in the right technology and train your staff in its use. This will ensure your firm has the proper foundation needed to serve any business and strategic plan you conceive.
To see just how BQE CORE can help you put your business-thinking mindset into action, try a free demo today.