Firm Operations
How to Find New Clients for Your Architecture Firm
Steven Burns, FAIA, provides advice based on his experience when it comes to how to find new clients for your architecture firm.
---
As design professionals, bringing in new clients with projects that fulfill your mission is very different from generic marketing techniques that work for non-creative professions. Before we address the tools you'll be using, you have to know what you are trying to build or fix. Just as you don't start constructing a building from your first thought, you take a tremendous amount of time beforehand to think about the concepts and eventually design every detail before putting a shovel into the ground.
Marketing in architecture is unique because it relies heavily on showcasing three elements:

The quality and uniqueness of your work and your firm

Your design philosophy

Your ability to meet and exceed client expectations.
If you are not addressing these pillars within your organization, you'll most likely end up wasting time and money marketing your firm to potential new clients. When the economy is strong, it's generally easy to find new clients.
The demand is high.
However, when the economy is weak, your firm's ability to attract new business is directly correlated to your ability to communicate the three items I described above. When you can achieve strong demand during difficult economic times, you have successfully developed a powerful marketing strategy that ties back to your strategic plan.

How to Find New Clients: First Review Your Strategic Plan

Before you begin to discuss your marketing tactics and how to find new clients, the place to start is by reviewing your firm's strategic plan. This is the document that outlines the long-term vision, direction, and goals of your firm. It serves as the guiding tool for its operations and decision-making.
Here's how you can use your strategic plan to guide your marketing efforts:
1. Understand Your Vision and Mission
Your firm's vision and mission statements are a declaration of its long-term goals and purpose. These should be at the forefront of all your marketing tactics. For example, if your mission is to create sustainable, energy-efficient buildings, your marketing should highlight your commitment to green architecture.

Solidifying your firm's vision and mission statement is like setting a compass for your business. It helps ensure you don't spend valuable resources on marketing efforts that won't contribute to your core goals. You will tailor your marketing to attract clients that align with your firm's mission and vision.

2. Identify Your Target Audience
Your strategic plan should define who your ideal clients are. This could be based on factors like the type of projects they want (residential, commercial, etc.), their location, and their budget. Your marketing tactics should be tailored to reach and appeal to this particular audience.

While this might initially seem like a disadvantage, it's actually beneficial because it improves the quality of the leads you generate. When you pursue projects that are mismatched with your mission, you're not only likely to face greater competition, but you also waste time and money that could be better invested.

Instead, by focusing on the right clients, you increase your chances of project acquisition and optimize resource utilization, ensuring a better fit between your firm's capabilities and the client's needs.

3. Analyze Your Strengths, Weaknesses, Opportunities, and Threats (SWOT)
The SWOT analysis in your strategic plan can help inform your marketing. Strengths and opportunities can be highlighted in your marketing messages. Weaknesses and threats can help you identify areas where your marketing needs to improve or challenges it needs to overcome.
Here are two examples of how a SWOT analysis I've seen that have aided these two different architectural firms in their marketing efforts:
A small architecture firm conducted a SWOT analysis and identified its expertise in sustainable design as a strength. In fact, it was seen as the single greatest differentiating factor for this firm against its local competition. They leveraged this strength in their marketing strategy by positioning themselves as leaders in sustainable design. They did this through mainstream media marketing techniques including news articles in their local papers as well as unusual tactics like roadside billboards. As a result, they were able to attract clients who valued this expertise and saw this firm as best-in-class. This led to significant growth for the firm, enabling them to undertake larger and more complex projects which served their vision statement.
In another example, a mid-sized architecture firm conducted a SWOT analysis and recognized a weakness in its lack of expertise in designing high-rise buildings. Their vision statement imagined the firm breaking into the growing, high-rise market in their city and eventually becoming a local leader. To address this weakness, they hired a senior architect with extensive experience in high-rise design and created a department within the firm that focused solely on this building type. This strategic growth objective was more expensive than the previous example, but it was essential to achieve its strategic vision. The firm made a large investment to improve its capabilities but also expanded its client base by enabling them to take on high-rise projects.
4. Review Your Goals
Your strategic plan should outline specific, measurable goals for your firm. These might include revenue goals, goals for new client acquisition, or goals for expanding into new markets. Your marketing tactics should directly support these goals.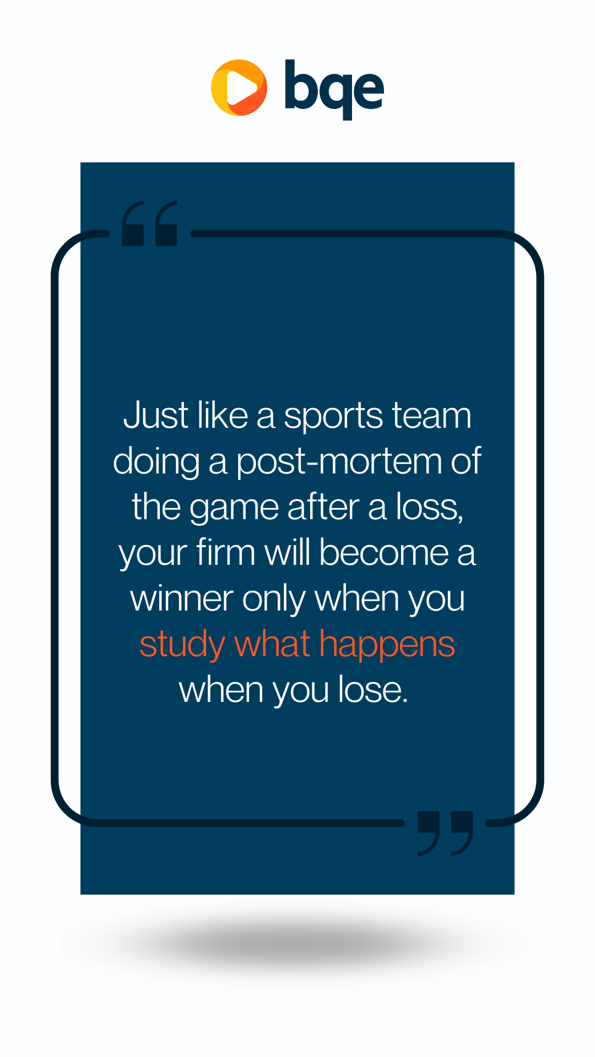 Reviewing KPIs (key performance indicators) that focus on your marketing efforts is essential. This will allow you to regularly review your efforts and determine if they are working or need to be modified. Firms that don't measure their marketing efforts waste precious time and money. Some firms are afraid to see bad news. They all celebrate their wins but don't want to discuss the losses. Just like a sports team doing a post-mortem of the game after a loss, your firm will become a winner only when you study what happens when you lose.

5.

Competitive Analysis
Understanding who your competitors are and what they offer can help you differentiate your firm. Highlight what makes your firm unique in your marketing messages.

Take the time to look at all the marketing materials you can get your hands on from your competitors. The easiest method is to visit their website and deconstruct it as you would when analyzing an architectural precedent.

Imagine a prospect visiting your website and those of your competitors. What does your website do differently that makes you stand out as the industry leader and differentiate you in a positive light?

I have visited literally thousands of websites for architectural firms. It is astounding how many of them look exactly the same and speak to the visitor as if they were another architect, mesmerized by beautiful architecture. Please understand that your client is most likely not an architect. They have needs and questions that are not addressed by showing them beautiful buildings. They need to understand the story from the view of a client.

6. Budget
Your strategic plan should include a budget that outlines how much you can spend on marketing. This will help you prioritize your tactics and ensure you're investing in the most effective methods. Create the budget and review the results monthly.

Have budget line items for the following:
Website Development and Maintenance

Branding

Social Media Marketing

Content Marketing

Email Marketing

Paid Advertising

SEO

Public Relations

Networking Events

Print Materials

Market Research

Marketing Software/Tools

External Agencies or Consultants

In essence, your strategic plan provides the "big picture" that your marketing tactics should support. By aligning your marketing with your strategic plan, you can ensure that all of your efforts are working towards the same goals.

Marketing Strategies to Find a New Client
Now that we've completed our strategic plan and know exactly what we're going to do, let's look at the particular strategies.

Develop a Strong Brand Identity
Your brand is more than just a logo – it's the overall impression your firm makes on potential clients. This includes your architectural style, your values, and your commitment to customer service. Everything your firm does that is public facing is part of your brand identity.

Simple things such as how a phone is answered to what the signature line of an email looks like are part of your brand identity.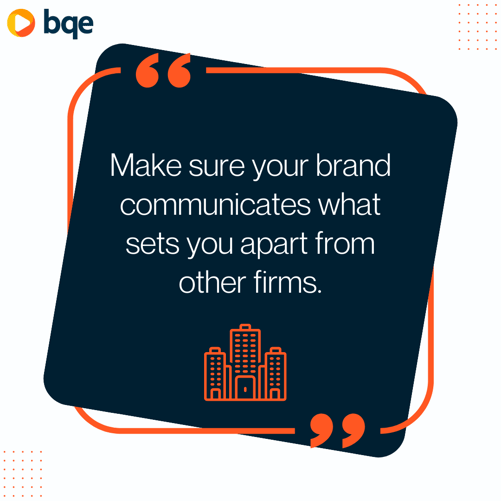 Professional Portfolio Website
Your website is often the first place potential clients will look to see your work. It should be visually appealing, easy to navigate, and showcase your best work. Include high-resolution photos, project descriptions, and testimonials from satisfied clients.
As mentioned earlier, your website needs to remember the visitor is a client who has a problem.
How does your website explain the story in a manner that makes them believe your firm is the one they will make their trusted advisor?

SEO
Optimize your website and blog posts with keywords related to your services and location to improve your search engine ranking. This can help potential clients find you when they search for architects in your area. A professional SEO service can help with this.
With smart SEO effort, your firm will be one of the first three firms listed in any search that directly relates to your strategic plan.

Content Marketing
Regularly publish original content that showcases your expertise and provides value to your audience. This could include blog posts about architecture trends, guides on how to choose an architect, case studies on your projects, and more.
High-quality content will attract potential clients and improve your SEO.

Social Media
Social media is important for finding new clients. You don't have to be a master at it, but sharing will help you get seen by an untapped audience of potential clients.

Use visual platforms like Instagram, TikTok, Facebook, and Pinterest to showcase your work, and professional networks like LinkedIn to connect with other industry professionals.
Regularly post updates, behind-the-scenes looks at your projects, and other engaging content.

Email Newsletter

Collect email addresses from website visitors, and send out regular newsletters with updates on your projects, architecture news, and tips for clients. Email marketing is a great way to keep your firm at the top of clients' minds.

Networking and Partnerships

Attend industry events and join professional organizations to meet potential clients and partners.
Form partnerships with related businesses like contractors, interior designers, and real estate agents who can refer clients to you.

Online Directories
List your firm on online directories like Google My Business, Houzz, and Angie's List. Keep your profiles updated and encourage happy clients to leave reviews. These directories often serve as the first point of contact for prospective clients seeking architectural services, enhancing the firm's online visibility and making it easier for potential clients to discover them.

PR and Media Outreach
Reach out to local media and architecture publications with press releases about your projects, awards, or other news. Getting featured in the media can significantly increase your visibility.

Paid Advertising

If your budget allows, consider using paid advertising to reach a wider audience.
Google Ads and social media ads allow you to target specific demographics or geographic areas.
Client Referral Program
Encourage satisfied clients to refer others to you by offering a referral incentive. A client referral program is an invaluable tool for attracting new clients and fostering growth in an organization. By incentivizing existing clients to refer their network to the firm, such a program utilizes the power of word-of-mouth marketing, widely recognized as one of the most effective forms of advertising. This is because people tend to trust recommendations from those they know and trust, such as friends, family, or colleagues, more than traditional advertisements.
A referral program not only helps in client acquisition but also strengthens relationships with existing clients, as they feel valued and rewarded for their loyalty and support.
Community Involvement
Sponsor local events, participate in community projects, or give talks at local schools or clubs. This can help raise your firm's profile in the community and attract local clients.
Community involvement can significantly contribute to an architecture firm's efforts to attract new clients. This involvement lets you demonstrate your commitment to the community and position your firm as a socially responsible and engaged entity. This visibility and goodwill can generate positive brand recognition and enhance your firm's reputation. This also provides opportunities to showcase your firm's work and expertise, such as through community development or urban planning projects. These initiatives often lead to meaningful conversations, networks, and partnerships, which can subsequently convert into new business opportunities.
How to Find New Clients for Your Architecture Firm
Remember, the most effective marketing strategies are consistent and targeted. Understand who your ideal clients are, and tailor your marketing efforts to reach them. It can take time to see results and find new clients, so be patient and regularly review and adjust your strategy as necessary. If you follow these best practices, you will get your firm out there and grow your brand. If you do nothing, you know how difficult it is to
To learn more on growing your firm and increasing your profitability, visit BQE University.