Project Management
Critical Project Management Skills Every Manager Should Have
Trying to hone your critical project management skills? Read on to learn about key skills required for project management to be successful.
---
A project manager has a hefty responsibility to stakeholders within your company, your clients, and even your team. With the right repertoire of project handling skills, a project manager can instill confidence in success, innovate new processes, and get the best out of every team member, all on time and on budget.
The following critical project management skills don't just magically develop. It takes training, practice, and diligence to be an effective project manager. In this post, we'll look at some of the most critical skills a project manager should have today, and how to strengthen those skills so you continue to improve. Keep reading for the ultimate project management skills list.
Strong Communication with Stakeholders and Team
What are good project management skills, you ask? Strong communication is number one on the list. This soft skill can have concrete results for your project, with 55% of project managers agreeing that effective communication with stakeholders is the most critical success factor in project management.
As the project manager, you serve as the primary point of contact and decision-maker, and you need to be able to effectively communicate your vision and expectations to a diverse group of cross-team collaborators.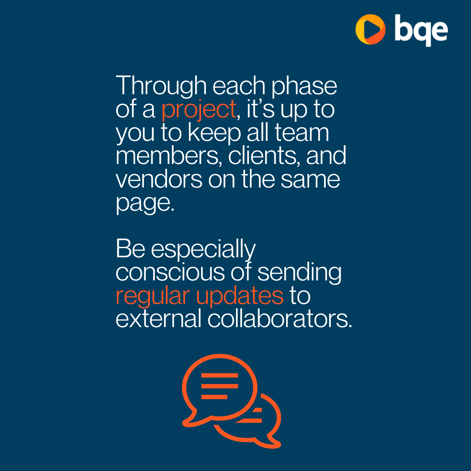 Through each phase of a project, it's up to you to keep all team members, clients, and vendors on the same page, being especially conscious of sending regular updates to external collaborators. This means requesting, reviewing, and sending essential project documents promptly, frequently checking and answering messages, and meeting with people in person.
If you fail to communicate the status of project work, you risk not resolving an urgent issue in time, doing duplicate work, and a team dynamic that lacks trust. Luckily, easily implemented processes hold you accountable for frequent communication and make it easy to monitor team updates.
How to Improve Your Communication Skills
The easiest way to improve project communication is to plan for it.
Allocate time in your calendar and project plan to send updates, even if it's a 30-minute period each day or week, where you respond to emails and send an overview to clients.
You can also leverage tools like shared calendars and project management software that make it easier to get passive updates from team members and automatically send notifications when there's a project or task update.
It's worth investing in improving your communication skills as a project manager — it can even push a project to profitability!
According to a PwC survey on project management, effective communication is responsible for a 17% increase in finishing projects within budget.
Strategic Time Management to Hit Deadlines
Project managers are incredibly busy people, and if you aren't strategic about your time, the day flies by. Improving your time management skills allows you to work more efficiently and hit your deadline and budget every time.
Some examples of effective time management habits include:
Prioritizing

Delegating

Scheduling

Multitasking

Taking breaks

Eliminating distractions

Avoiding procrastination
When you improve your time management abilities, you'll be more organized, have a more evenly distributed workload, meet your deadlines, feel less work-related stress, and provide better support to your team.
How to Improve Your Time Management Skills
To get better at project management, list every task you need to complete and when it's due. This will help you delegate and prioritize work across the team.
When planning deadlines, factor in potential delays and bottlenecks, and add recurring check-ins to your calendar to meet with other collaborators and work through issues together. Shared calendars make it easier to plan check-ins when everyone is available and before a milestone passes.
As you plan out a project's milestones and final deadline, also make a list of the resources you need — employees, business tools, training, equipment, etc. You'll save time down the line if you anticipate future needs during the planning phase.
Budgeting and Financial Management
Project managers are responsible for managing and often creating a project's budget. You need to be skilled at tracking costs, deciding where to spend the budget, and forecasting where cost overruns are likely, so you make pivots before going over. Your communication skills will also come in handy when you have to ensure your entire team is following a budget.
As with managing time, managing a budget benefits from detailed planning, prioritizing, and goal setting. Make a list of all of your expenses, even potential expenses, and look for areas where you can make cuts. Create a plan for how you'll keep project spending under control and simultaneously support steady revenue streams that come in while you're working on other projects.
How to Improve Your Budgeting and Financial Management Skills
We're going to once again recommend that you take advantage of technology to support a project's financial management. Expense tracking and project management software will help you stay on track, with dashboards showing you real-time actual costs against your planned budget, preventing you from going over.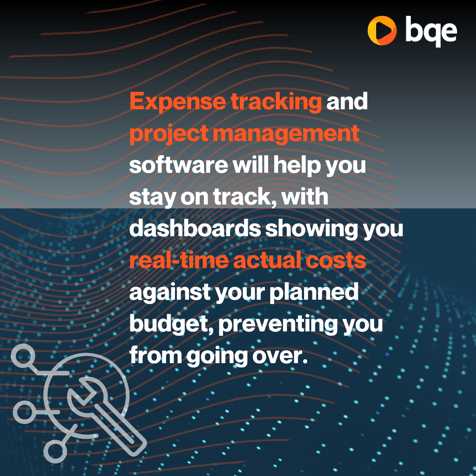 Expense tracking allows you to automatically track and organize all project expenses to analyze spending and identify where to save money. It centralizes this information, so your accounting and HR teams can access it as needed, whether they're approving employee expense reports or billing a client.
Team Management/Leadership
One of the best skills for project managers is the ability to offer professional development on top of all your other responsibilities. After all, for many tasks, you won't be doing them yourself, but delegating to others and guiding them to execution. To develop your team properly, you can plan out onboarding for new employees and lead workshops, seminars, and ongoing training sessions for existing team members.
Another challenging leadership skill you need to develop is the ability to negotiate with stakeholders like clients and vendors, whether that means bargaining for time, money, and other resources. To do this, you need to feel comfortable running meetings, testing constraints, resolving conflicts, and making tough decisions.
How to Improve Your Team Management/Leadership Skills
Being an effective leader calls for a high degree of emotional intelligence and self-awareness. You also need to be confident in your skills to inspire and empower the people working under you. Neither of these happens overnight, it takes years of experience, and in some cases, you must fake it until you make it.
To improve your team management skills, here are some questions to ask yourself throughout a project:
Does my decision improve the project's outcome?

Do my actions solve a problem?

How can I motivate my team?

How can I foster relationships with my collaborators?
Redundancy and Risk Management
This might sound obvious, but decreasing risk levels will increase a project's likelihood of success. With so many factors that cause projects to fail, many of them are within your control. Project managers should do everything in their power to decrease a project's risk level, including researching potential risks ahead of time. Having the foresight to plan against and implement risk mitigation proactively gives your work a strong starting point.
But because issues outside of your control may pop up during a project, have a backup plan for each phase of a project if the worst comes to pass. Setting alternate goals doesn't mean you're settling; it means you're being careful and realistic in the event that your original goal becomes unreachable.
How to Improve Your Risk Management Skills
The most immediate way to get better at risk management is to create a brief risk plan for your project. Brainstorm all of the potential risks and redundancies that could occur on a project, and the probability, cost, owner, and mitigation efforts associated with each. You can also implement a risk management tool to help you identify risks before they become a reality.
Growing Your Technical Expertise
Managing projects sometimes requires a certain level of technical expertise, so it helps if you have a hunger to find the newest software tools. Depending on your industry, you may need skills related to design, coding, or interpreting technical documents and disseminating that information into a brief that others on your team can understand. Even if you aren't tech-savvy, it's possible to improve your technical expertise over time, especially if you try to pay attention to emerging technologies in your field and get acquainted with them.
How to Improve Your Technical Skills
Learning some technical terms and concepts is a great starting point. If you struggle with that, one shortcut is to try out digital tools and software that handle or simplify technical details for you, whether for coding, analytics, or creating precise deliverables. This may mean you adopt several specific tools or a single platform that combines many different technical project areas.
Try BQE Software to Enhance Your Project Management Skills
With only 15% of project managers working on a single project at once — and most working on five to 10 — you need all the help you can get to stay organized and execute profitable projects.
Developing your project management skills and adopting software that automates tasks and makes your team more efficient will help you reduce stress and be successful. Top-rated project management software like BQE CORE enables project managers to save time and maximize revenue.
BQE CORE provides the precise tools your firm needs to automate manual tasks, hit your metrics, and provide better results to clients.
For more guidance on developing great project management skills, check out the rest of the BQE University blog.