Business Development
Report: What Do Your Peers Think About PSA Software?
This report on PSA software explains why a growing number of professional services firms are investing in these systems for their businesses.
---
Professional services automation, or PSA, software streamlines the operations of (you guessed it) professional services firms. While the features of PSA platforms vary, they typically encompass billing, time and expense tracking, project management, accounting, and resource management. To expand our definition even further, many PSA tools are also referred to as ERP (enterprise resource management), practice management, or project accounting platforms.
No matter what you call them, though, they're growing in popularity. The market share of PSA technology will increase from $716.5 million in 2017 to $1,244.8 million in 2022. That's a compound annual growth rate of 11.7 percent!
Why exactly are more and more firms implementing these systems, though? We detailed PSA software's benefits in a recent post, so this time we looked to our audience to see what they had to say.
Before discussing how PSA technologies are applied to solve problems, we first must define what those problems are. When asked what their top challenges of today are, services professionals cited digital business as their chief concern, followed by speed to market requirements, the changing workforce (e.g. the talent shortage, retiring employees, and working with Millennials), and finally, artificial intelligence.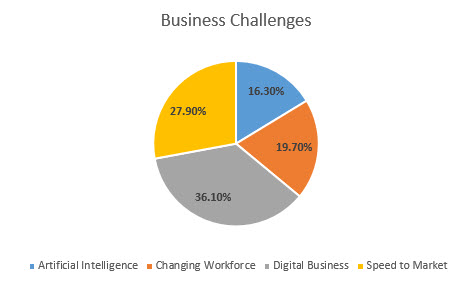 Among professional services firms that are trying to overcome these hurdles, 33.8% said that resource management is the most important feature in a tool. 29.4% chose billing and financial management, while 19.1% selected pipeline management. 11.8% said that having a unified platform to handle everything was the most urgent, and 5.9% picked mobility.
Despite a recognition of the value of these capabilities, many firms are struggling to realize their benefits. For example, 71% of firms don't have accounting software that automatically records transactions via credit card feeds, or don't make use of this feature if they have access to it. Meanwhile, 85% don't employ automated invoicing.
What's the source of this lag in adoption? Lack of funding--the most commonly cited challenge--is a standard issue for organizations, but shockingly, the second most popular response was a lack of awareness that these automation solutions exist!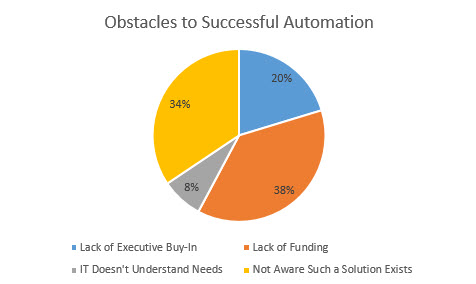 These gaps in technology use are opportunities for you. PSA software is at the point where it's reliable with well-documented value, but it isn't widely adopted yet. While your competitors are in the dark, making the move to PSA software now will give you the agility, insights, and efficiency you need to become a front-runner.