Product Tips and Tricks
BQE CORE & QuickBooks Online Make for an Insightful Integration
BQE CORE & QuickBooks Online Make for an Insightful Integration - BQE Software
---
BQE CORE offers comprehensive accounting capabilities and is, in the words of William Murphy, senior editor at Insightful Accountant, "the next generation of business software designed for the heart, soul and mind of your business."
That said, given that you're reading this post, you probably use QuickBooks and might not be ready to move on just yet. If that's the case, you should know that CORE easily integrates with QuickBooks Online. Doing so lets you enjoy the capabilities of both platforms while avoiding any dreaded repeat data entry.
In fact, the data sync between the two programs is very extensive. It's bi-directional, meaning that CORE both receives and sends data.
To quote Insightful Accountant once again...

He continues, "Map the data exactly you, or your accountant, want in QuickBooks. Link the QuickBooks information you want with CORE to save yourself set-up time. Streamline or expand the data flow as makes sense for you and your organization, as well as your Quickbooks Online users."
Here are all the items you can sync, and their names in the respective systems: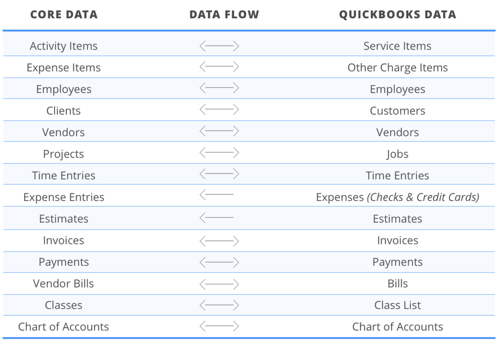 And here's an example of just some of the settings you can adjust…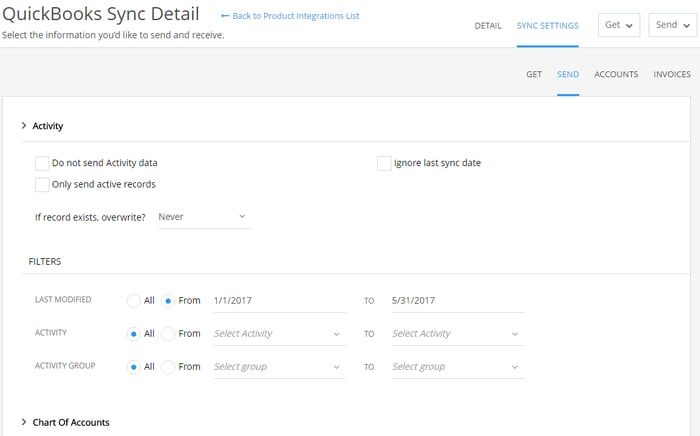 The video at the top of this article gives you a clear overview of how the integration process works, but here's a speedy step-by-step list:
Go to the CORE Integrations screen and add your QuickBooks Online account.

If you'd like, specify the rules and filters that determine which data gets transferred. This is when you can also assign accounts to the various items and invoices you're syncing.

Use the send or get options to start your sync. It's a best practice to follow the order of CORE's menu for syncing data. You can also click all items to get or send all data at once.

When you're done, you can check the transferred data or just start running reports!
It's a simple, straightforward process that gives you tons of flexibility. For Intuitive Accountant's rundown of CORE's integration with QuickBooks, look at part two of this review. Don't miss their general feedback on CORE in part one here.