Business Development
Winning Clients by Tracking Opportunities in CORE
Winning Clients by Tracking Opportunities in Core - BQE Software
---
In order to keep your firm sustainable, opportunities need the same level of management as projects you've won. CORE includes features that make staying on top of opportunities easy and effective, so you can get the projects you want.
A project is a scope of work you've contracted to do. In contrast, an opportunity is a scope of work or project you want to do. Managing an opportunity involves timely communications and providing the right information in your proposal.
Often the information you need is found in past projects. The information contained in CORE's platform includes time and expenses, job cost, prior budgets, and profitability. With it you can deliver not only a quality proposal, but also one that you are confident will generate the desired profit.
Tracking Opportunities
CORE's Projects module is the main area for tracking opportunities. Key project information you'll use includes:
Group

Notes

Marketing contract type

Contract amount

Status

To-dos

Documents/attachments

Budgets/estimates
Depending on the nature of the opportunity, you may also use resource allocation, submittals, RFIs, and drawings.
To start, create a project group called opportunities. As you create project records for opportunities, assign them to the opportunities group. You can filter reports for opportunities by narrowing them down to this group category.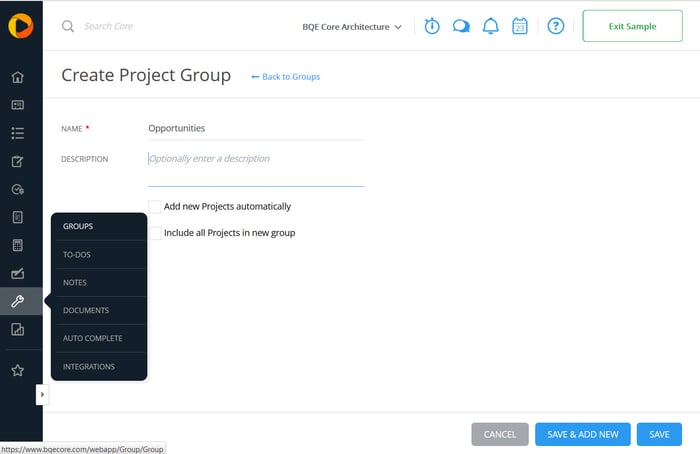 Similarly, create a note category called opportunities. As you add notes from communications and other items that come up, assign the note to the opportunities category. You will have a complete history of issues, conversations, and so on for the opportunity.
In the new project record, select the marketing contract type. This tells CORE that the contract is non-billable. To save time with future opportunities, save it as a project template.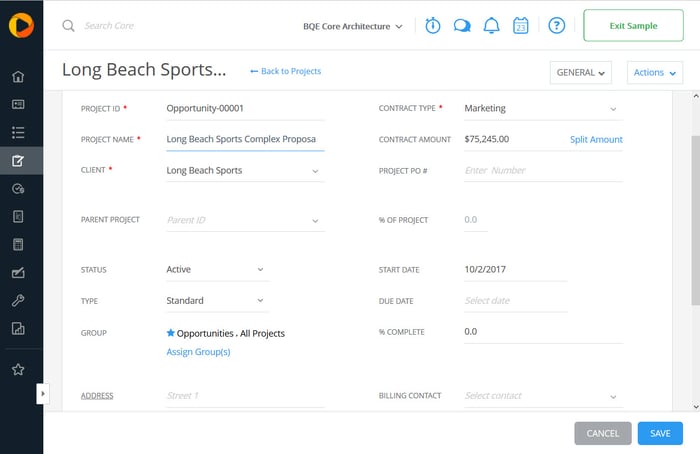 As you conduct research, talk with the prospective client, run calculations, and perform other tasks, you'll charge the hours and expenses to the opportunity. The value you invest may be factored into the proposal. The costs will also be available in the future when you bid on similar projects. Another reason to track time and expenses for an opportunity is to report on how much time you spent working on the business, not just in the business.
The contract amount is your bid total. Once you complete the proposal, enter the value in this field. This adds to your business intelligence when you compare it to costs and other values.
Status is also very important. While working on the opportunity, set its status to active. When you win the project, change it to completed. If you lose the opportunity, change its status to cancelled. Along with group, you can filter cost and other information by status. You can see won and lost opportunities as well as costs, profits, and so on.
Most proposals have a due date. In fact, you have a due date for each task that needs to be done for the proposal. Use to-dos to track each step in the process of developing the proposal. The tasks can be assigned to yourself and to staff (even outside vendors). On your dashboard (and everyone else's dashboards), add the to-dos widget. Everyone can stay on top of the work necessary for the proposal. You can also email a to-do to whomever it is assigned.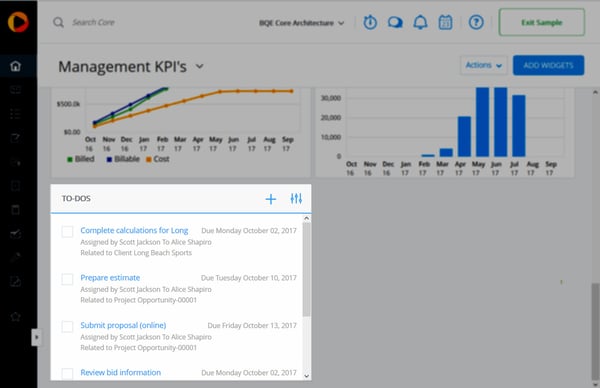 For more complex opportunities, use resource allocation to schedule tasks and time frames for completing the work. In fact, many CORE users who use resource allocation for all their projects also use it for a single-source schedule of all work to be done in the firm. You can view schedules by project and by employee. Vendors can be included if needed. Like to-dos, allocated tasks can be emailed to whomever is assigned the task.
Many situations include documents, drawings, and other materials needed to complete a proposal. Attach these documents to the project/opportunity record. Everyone can review the files when needed. Also, analyzing the attached items after losing a project may provide insights on how to win a similar project in the future.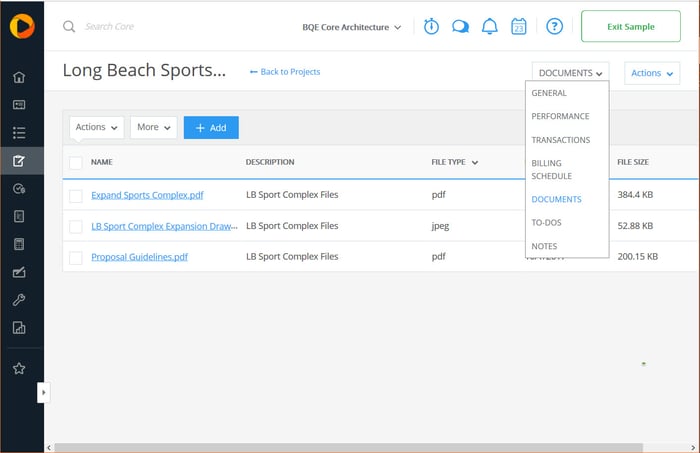 As you and staff work on the proposal, keep notes about issues, conflicting information, conversations and emails with the client, and anything else associated with the work. It is also helpful to add memos to time and expenses. Like other information captured while working on a proposal, notes and memos provide greater insight when reviewing won and lost opportunities in the future.
Finally, when the preparation work is complete, create an estimate for the proposal. In CORE you can create an estimate for services and expenses from scratch . . . or convert a budget from another project into an estimate. When bidding on similar projects, pulling the budget and comparing to actual hours and expenses provides insights for improving the proposal. It also saves a lot of time. With more time you can bid on more projects.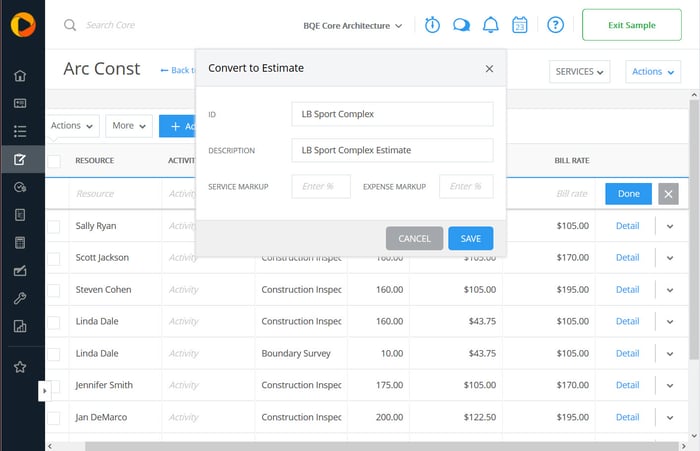 After completing your estimate, use one of CORE's estimate reports and export it to Word or Excel. Drop the estimate into your proposal template and you're ready for final review.
Bottom Line
Effective management of opportunities is as important as managing projects. Having costs and other information available for won and lost opportunities provides deeper business intelligence for developing market strategies and improving firm operations.
Click here to download an overview of this post with screenshots.