Firm Operations
Are You Calculating Overtime Correctly?
Are You Calculating Overtime Correctly? - BQE Software
---
Is it easy to track overtime (OT) and comp time (CT) and avoid a disgruntled workforce? Could there be an simpler way to analyze your staff's time sheets and mark qualifying entries as overtime, double overtime, or comp time automatically with appropriate overtime rates? If you are using paper and pencil, or antiquated punch clock system, then the answer is no!
When have you worked overtime?
Under the FLSA, you have worked overtime if you work more than the standard 40 hours in a week. Some states calculate overtime differently, however, for example, California and a few other states have a daily overtime standard, which makes employees eligible for overtime once they have worked 8 hours a day, even if they don't work more than 40 hours a week.
How is overtime calculated?
A big concern for employees and employers alike is making sure overtime is calculated properly, and that it's kept in check and paid out properly. If you have worked overtime, you are entitled to the overtime premium for those extra hours. To determine the overtime premium, you must calculate your regular rate of pay. This includes all compensation you receive for your employment such as wages, commissions, performance-based bonuses and prizes, and shift differentials.
How the Overtime Calculator in BillQuick tracks it with ease...
Overtime can be very tricky, but if you use the Overtime Calculator in BillQuick, you can relax knowing it's all taken care for you by this smart tool. This Overtime Calculator is a powerful utility that marks time entries as regular, overtime, and double overtime based on the rules configured by you to accommodate most hours and wages rules worldwide.
To track overtime:
1. First, set your employee's Bill Rate, Pay Rate and Overtime Bill Rate in the Employee-Detail screen.
2. Next, set the standard working hours per day and per week for that employee.

Typically, we can use the 'Automatic Overtime' check box to automatically calculate the overtime based on these rates and standard hours. However, to use the Overtime Calculator, leave this unchecked for now.
3. In the Sheet View screen, enter time for that employee, say Mark.

4. Now, open the Overtime Calculator from the Utilities menu.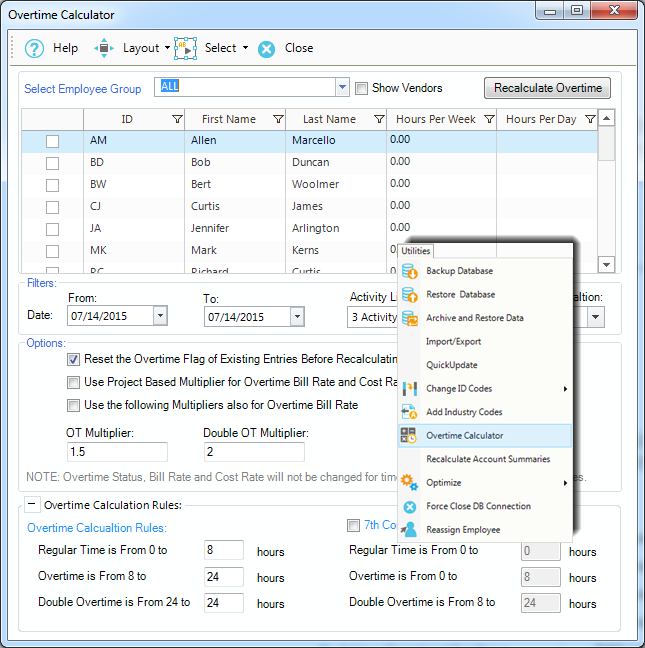 5. Select the same employee on the grid and set the Date Range for which you want to calculate the overtime.
6. Check the appropriate options related to the overtime.
7. Click Recalculate Overtime, if needed. BillQuick analyses all the time entries and prompts you to proceed with the recalculation.
8. Now go back to Sheet View and review these earlier time entries.

Mark's time has been split accordingly with the proper rates applied. For example, 13 hours entered for 8/6/12 have been split into 8 hours regular time at $80/hour and 5 hours overtime at $120/hour. That was very simple!