Financial Health
QuickBooks For Architects – How to Bill Costs Back to Your Clients
QuickBooks For Architects – How to Bill Costs Back to Your Clients - BQE Software
---
Don't forget that QuickBooks Online integrates seamlessly with BQE CORE, the award-winning project accounting platform built for professional services firms. CORE offers business intelligence, project management, time and expense tracking, billing, accounting, and reporting together in one intuitive package. You can integrate CORE with QuickBooks, or handle your accounting within CORE so it's right alongside all of your other essential business processes.
In the previous segment we saw how to assign costs to jobs in QuickBooks. Prior to that we looked at how to enter time.
Now we bring it all together by showing you how to report on those "unbilled costs" and then bill them back to the clients. This is really important for architects who use QuickBooks because much of what you do and spend money on has to be tracked so that you can make decisions about what to bill back and then actually do it. It should be easy, and it is.
Once you're finished here, be sure and check out Part 6:
QuickBooks for Architects – Advanced Reporting Techniques
QuickBooks has a report called "Unbilled Costs By Job" right in the standard reports under "Jobs, Time, & Mileage."
Notice you also have several options for time, such as "Time by Job Summary / Detail".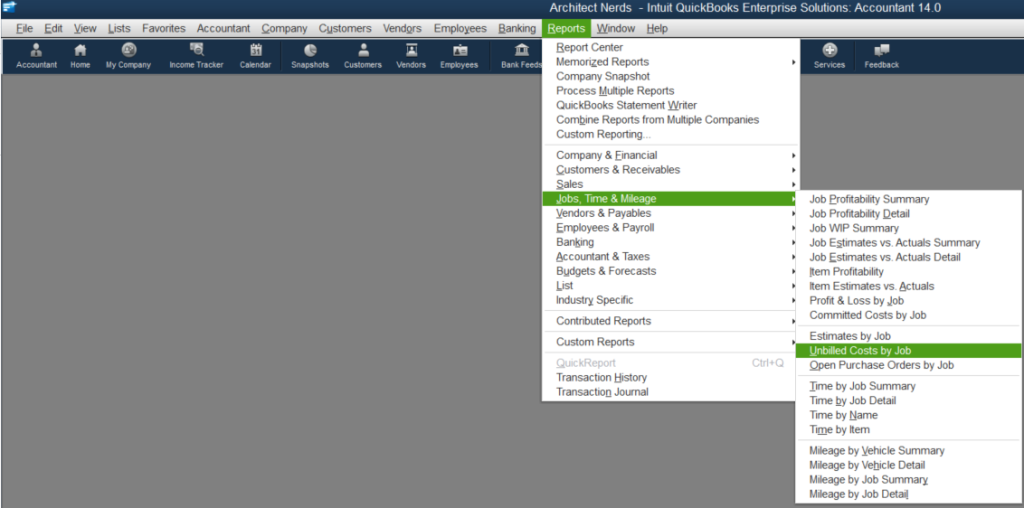 This reporting is especially handy for bookkeepers who are handling the books for an architect. You can run these reports, export them to Excel, and have your boss or client mark off which costs and time should be billed and which shouldn't.
Now we're ready to post the invoice. I am going to leave this part up to the video to show you how this works. There is one main area we need to look at to bring in time and expenses when invoicing clients in QuickBooks.
Let's see what this looks like. Please post your comments and questions below.
Once you're finished here, be sure and check out Part 6: