Do you often find yourself spending hours manually extracting data cutting and pasting to create reports, only to have to repeat the whole thing, time and time again? Consolidating data across sources, crunching numbers and creating reports can be a tedious process. Nobody likes doing the same things over and over. How much better it would be if you could simply automate report generation. There are lots of reasons to automate beyond saving yourself mindless work. Here are some to inspire you to take action:
Be More Organized
Do your colleagues have to nudge you time and again to give them updated reports? Get organized with CORE Report Automation, which is designed to generate reports whenever you need them. With this tool, you'll be able to get through the next reporting period with ease – delivering updates to your clients faster without adding more resources or hiring new analysts.

Deliver More Reports in the Same Amount of Time
Do you envy those people whose organization allows them time for flexibility and creative work? Once you've automated your reporting, you'll have time that you can then spend on innovative projects. What you're now doing manually could be performed by automation, delivering the same results in a fraction of the time. Reducing such a time-consuming and repetitive task will make you more productive, and more efficient.


Create More Sophisticated Reports
No matter how skilled you are, it takes a great deal of time and effort to gather all the relevant data and run reports if you are doing it manually to combat this, you might reduce the level of detail or scope of the report to reduce the effort required. Want to impress your boss by providing detailed, sophisticated reports quickly, and effectively? Report Automation lets you do just this.


No More Working Late Preparing That Detailed Report
Remember the evening that you worked late to put together the report for the client meeting the next day? Automating your report generation means reduced workload, and an increase in time and productivity, letting you focus on more important things – like making money for your company.


No More Typos or Cut and Paste Errors
Broken formulas and macros, missing values and references – does this sound familiar? Updating an old report can be a hassle. Being able to deliver a report quickly is important but so is being able to ensure things are accurate. Automating your reports eliminates the manual errors that inevitably happen from time to time. With reduced errors, you reduce the headaches too, and deliver a much greater level of compliance.


Increase The Frequency of Analysis
In our fast-paced world it seems there is never enough time to get everything done before the end of the day. Your clients rely on the analyses you provide for their business decisions. But if the effort required is too high, some reports only get built once a month, or once a quarter. By the time you see something going wrong, it may have been going wrong for weeks. Which may lead to wasted money on bad advertising or the potential to miss out on sales. If you've automated your analysis, you can run it every day, or every week. Now you catch problems quickly, respond, and optimize quickly.


Scheduling CORE Reports
When you want deeper insights into your business, CORE has an array of reports at your disposal. Reports can be generated directly from the different modules or from the Reports screen.
The Reports screen is where you can see the complete library of reports available in CORE (more than 200). The Reports view consists of a categorized list of reports, such as standard, memorized, scheduled, custom and favorite reports.
You can schedule a report to run in CORE and be delivered to certain people at a specific frequency. When you schedule a report, it will save the filter selections and parameters. These scheduled reports can be made private for a specific user, or can be shared so that other users can alter the schedule or parameters.
In CORE, each report – whether standard, memorized, favorite or custom report – can be scheduled to be delivered at any time chosen by you. The reports are delivered as per the user's time zone (based on the browser and regional settings). You can see all the scheduled reports listed on the Scheduled tab of the Reports screen.
To schedule a report, open the Reports module.
On the Reports > Standard tab, open a report group.
Select a report on the grid, and click

to select Schedule. You can also do so from the other tabs like Memorized or Favorites.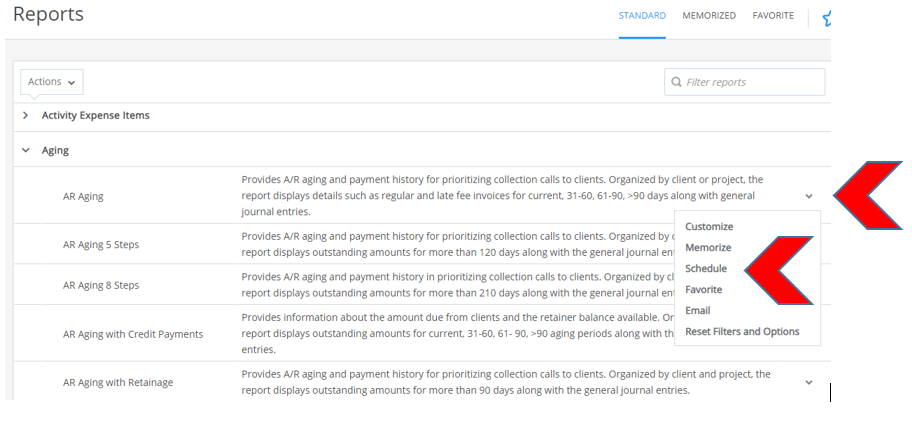 On the Schedule dialog, you can first set your filters and options to view selective data on this report. You can also choose the output format for the report (PDF or viewer) on the Options tab.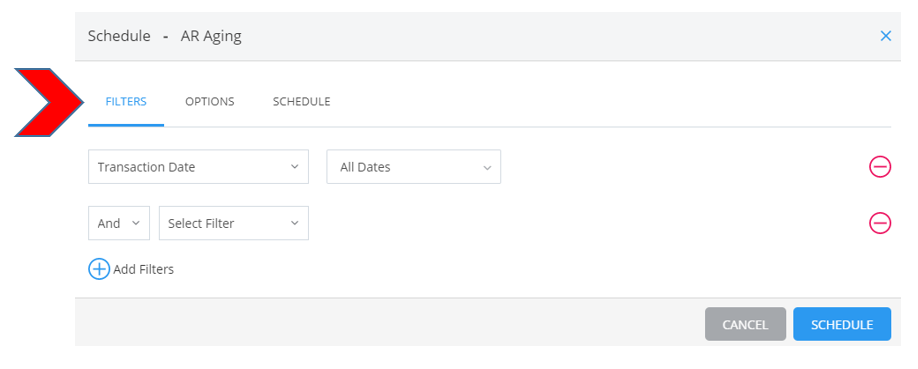 Then go to the Schedule tab and choose your Group option:
Create from Scratch
Create from Existing Group
Choose from Existing Group
Group Name
Start/End Date
Process Time
Based on your selection, enter the required information: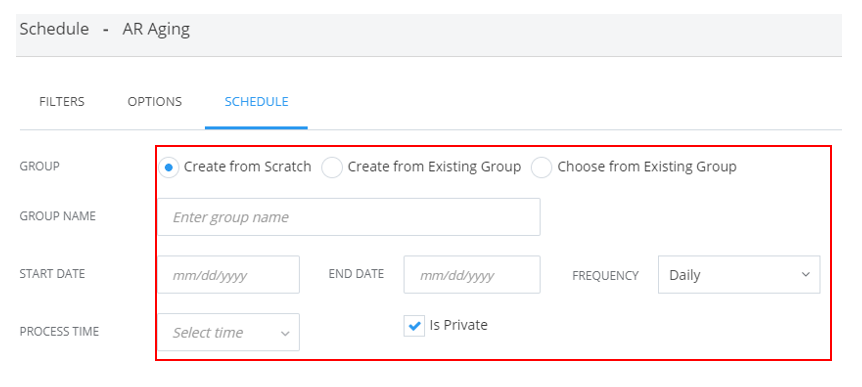 You can email the report to a specific person, employee or client. Select the Email Recipients or search for them from the drop-down list. You can add an unlimited number of recipients and even include groups.
Enter a subject line and message, if needed, and then click Schedule. The scheduled report is displayed on the Scheduled tab.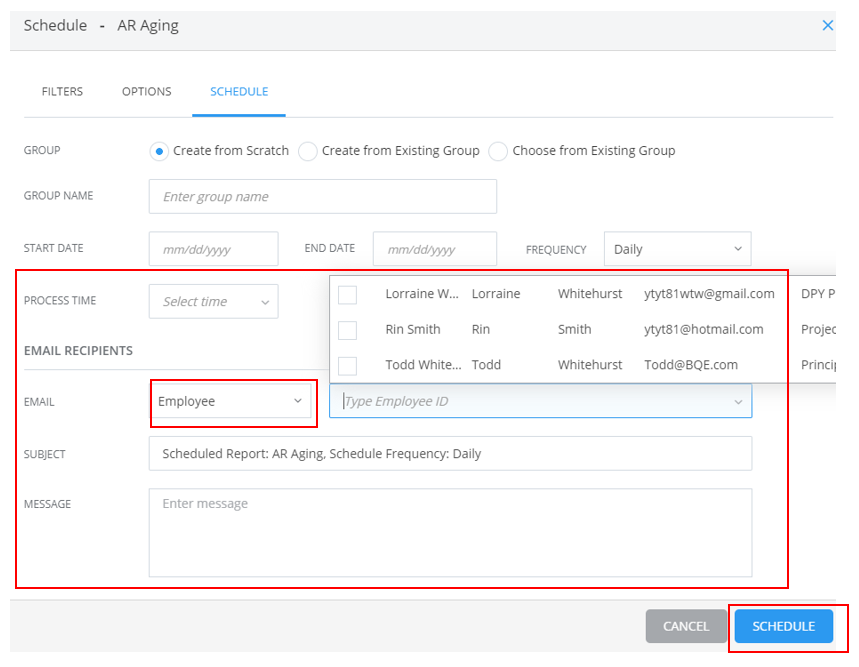 As you can see automating reports can have a great impact on your business by saving time, limiting errors, and giving better analysis. It also allows you to have reports run automatically that are then emailed to specific people who don't have access to that information, which helps them do their jobs better. Why not let CORE do the work for you? Get started with a free trial today!