So you've heard about the wonders of AI, but you're still a bit skeptical to try it?
If you're like most people, seeing is believing. And with such a revolutionary technology like AI, it's no wonder you're a bit hesitant to hop on board.
But the good news is, there are tons of studies on the new technology. And because it's data-centric, results are easy to track. There's no need to take our word for it. Take a look at the studies below and see for yourself how AI is helping firms across the board.
A quick overview of AI
AI utilizes tons of data to perform behaviors associated with human intelligence, such as speech recognition, decision-making, and learning.
One of the biggest benefits of AI for businesses is the ability to automate mundane, repetitive tasks. And for accountants specifically, it can streamline reporting, invoicing, and billing.
The more tasks your firm automates, the more data you have to apply to real business decisions. Coupled with machine learning, the technology can help you make these decisions with more speed than ever before.
Top ways financial services are adopting AI
A 2018 study by McKinsey and Company found that telecom, high-tech, and financial services firms are leading the way in overall adoption. And the results suggest that, when looking across sectors and functions, companies are generally following the money when deploying AI in accounting.
Data from the McKinsey and Company study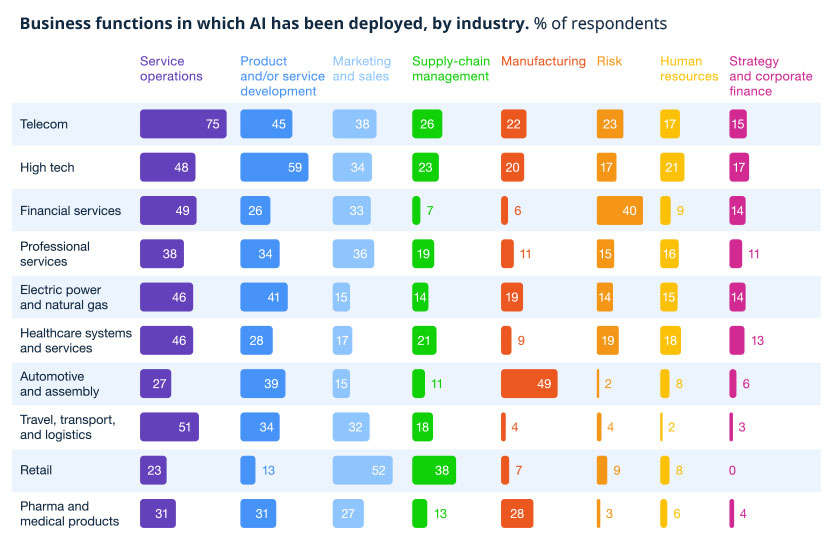 According to the survey, service operations is the top use of AI for the financial services sector. Systems generate a lot of data, and automation is key to improving how services are delivered.
Respondents from financial services said their next biggest application of AI, after service operations, is for risk. Artificial intelligence is a game-changer for risk management. Not all data fits in a spreadsheet, and AI is great at handling and evaluating unstructured data.
The survey also shows that marketing and sales is another major application of AI for financial services. AI can make recommendations based on longstanding marketing strategies, contact your strongest leads and help develop customer-centric campaigns.
Additional stats on AI in accounting
These statistics show that accountants are using AI to identify areas of redundancy and increase efficiency:
68% of wealthy clients preferred having access to both a human adviser and a robo-adviser instead of just one of the two —

Accenture, The New Face of Wealth Management

66% of accountants would invest in AI and 55% plan to use AI in the next three years —

Sage Practice of Now 2018 report

More than 50% of C-level executives in accounting expect the development of intelligent, automated accounting systems will have the highest impact over the next 3 years —

ACCA study

AP automation can save $16 per invoice or more, depending on the size of your company —

Vanguard Systems AP shocking stats

On average, AP automation pays for itself within 6 to 18 months ⸻

Vanguard Systems AP shocking stats

Accounts payable professionals who automate invoice capture and payments save an average of one hour per day —

MineralTree
Consider AI software for your accounting firm
The technology behind AI is intriguing and a bit confusing. But AI is on track to disrupt the norm of financial services.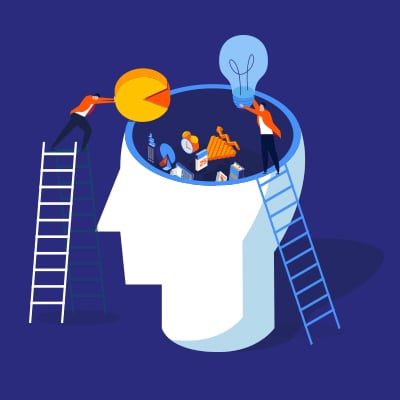 Financial insiders place a high value on the human aspects of their services. It's a profession rooted in a personal approach to dealing with clients. Experienced and knowledgeable providers understand the ongoing, dynamic relationships with their clients.
It's also important for clients to know they're entrusting their money with a person who cares about more than just portfolio optimization. So, it's easy to understand why businesses in the financial services sector are hesitant to adopt machine intelligence.
Implementing AI at your firm can help you in a range of ways, from automation to accuracy. While it's fair to have reservations, it's likely AI will have a significant impact on the future of financial services. Rather than resist the change, look into the potential benefits and play around with the various applications at your firm.
CORE AI gives deeper insights into your business
Users can make smarter decisions and proactive course corrections to ensure ultimate efficiency with CORE Intelligence. It's like giving every employee a personal assistant to increase productivity, at no additional cost.
You can converse with CORE Intelligence about anything, from company financials to project management. And you'll receive deeper insights beyond just answers. CORE Intelligence can inform you about past-due invoices and other insights you might have otherwise overlooked.
If you want to improve efficiency while saving time and money, it's time to embrace the AI revolution. There's no doubt that leveraging AI at your firm will give you a competitive advantage.