If, for some odd reason, you still need to convince yourself (or your boss) that attending BQE Succeed in Vegas is going to empower you and your staff, you're in luck. We've done the heavy lifting and put together some of the top benefits that will come from attending this year's user conference.
When it comes to both your professional success and the future of your firm, going to BQE Succeed is a surefire investment. That said, early bird pricing ends on Tuesday, August 15, so that means it's crunch time if you want to save money on registration.
1. You'll get the product insights you'll need to make your firm more profitable while easing your workload. BQE's expert product developers and trainers will be on hand to show you how to speed up your invoicing process, get paid faster, better account for time, expenses, and resources, and increase cash flow. There'll also be a tech room where you can get truly hands-on experience with our product experts. That kind of one-on-one interaction will make the whole trip worthwhile.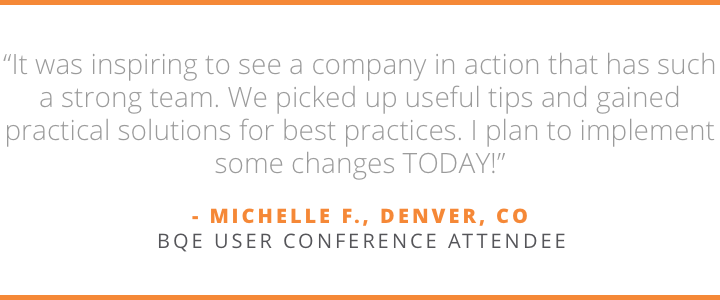 2. Keynote speakers and industry leaders will offer electrifying insights to steer your firm in the right direction. You'll get expert guidance on how to—for example—win better clients and more profitable projects, simplify your business processes with the latest technology, make employees happier while growing profits, and more.
3. You'll learn from and get to know hundreds of other BQE users. Our VP of customer support, Irfan Qazi, notes in this video that every time he works with a customer he sees a new and unique way of using our software. This will be your chance to trade tips!
BQE customers come from a range of professional services fields, including architecture, accounting, engineering, law, consulting, IT, and more. You'll get to mix with other professionals in your area while also expanding your horizons.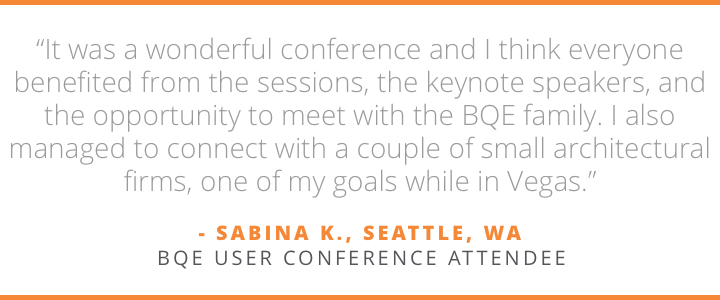 4. And there will be plenty of time to have fun in Vegas! BQE Succeed is happening at the Aria Resort & Casino, one of the most modern resorts in Las Vegas. You are invited to a welcome reception on Sunday evening, October 29, and a grand Halloween costume party on the 30th. Be sure to bring your A-game, dance to music from our DJ, take pictures in our photo booth, and get ready to win exciting prizes. And if you stay in town on the night of the 31st, you'll be sure to find something really, really fun.
If parties aren't your thing, don't worry. We'll have exciting giveaways for prizes ranging from popular BQE t-shirts to gift cards and much more. Plus, the hotel itself is gorgeous and relaxing, with spectacular views, decadent restaurants, a beautiful pool, preferred tee times at the world-famous Shadow Creek Golf Course, a luxurious spa, and even a striking contemporary art collection. Just look at these photos!
[slideshow_deploy id='16794']
All in all, you'll come back from BQE Succeed 2017 relaxed, energized, and armed with the knowledge you need to excel. Plus, you'll save money on registration if you book by Tuesday, August 15th! After that, prices go up, so you should register now!
Still need some help convincing your boss to send you to BQE Succeed 2017? We've created an email for you to make things easier. Send them a message with our template! Or, download the Word version of the message.