Last week we went over 5 project management features that help ArchiOffice users work more profitably. The list doesn't stop there, though! Here are 5 more crucial capabilities and best practices that will save time, reduce errors, and make you more productive when managing projects.
1. Efficiency/Projects Billing Summary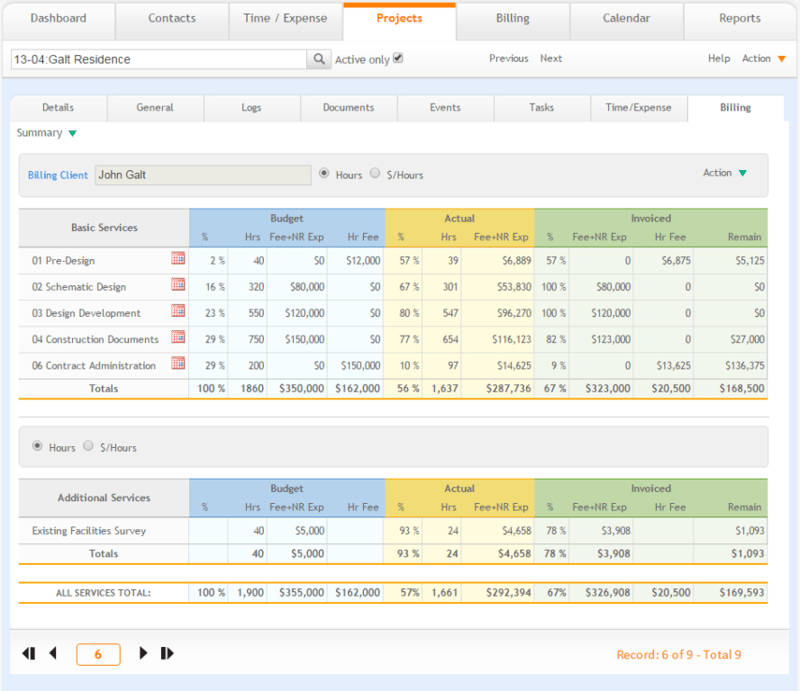 On the "Billing" tab in your project module, you'll see a summary screen that illustrates your project's efficiency. This displays what's been budgeted, what the actual hours are, and what you've invoiced, all measured against your fee.
This makes it straightforward to see what's pulling your project beyond its scope or budget. Then you can make decisions about whether to institute additional services or go back to client to request a budget increase while you're mid-project, instead of at the end when you can't do anything about these changes.
Additionally, you can view this efficiency interface with the average dollars per hour listed (just click the button on the top of the table, next to the billing client). When you compare your average budgeted fee versus your actual one, you'll know if higher bill-rated employees are doing more or less work than anticipated. You can then make decisions about staffing or try to account for the shift in average dollars per hour by getting phases done in less time.
2. Cost Rates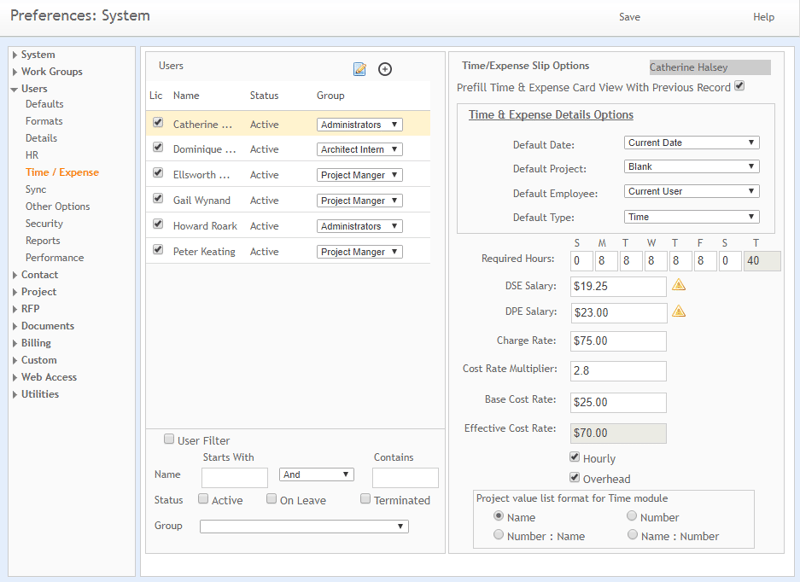 In order to get a comprehensive look at the profitability of your projects, you need to understand the setup behind them. Go to your preferences, then users, then time and expense. For each employee, you can set a charge rate and cost rate. The former is the amount that you bill clients for their time per hour, while the latter is what they cost you per hour, including salary, benefits, and overhead. It's common for ArchiOffice users to only fill in charge rate, but when you do that you're not getting the full benefit of the software. However, when you take the time for cost rates, it's fast and straightforward to see the profitability of your projects.
3. Performance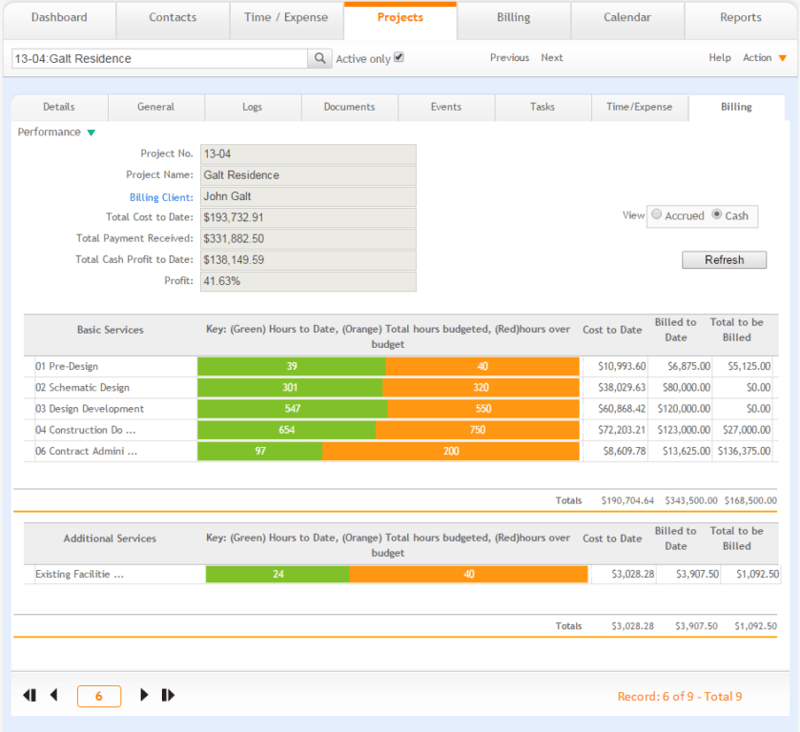 Speaking of profitability, the performance section in ArchiOffice shows you how you're doing from a profitability standpoint. You'll find it in the "Billing" tab in the projects section—click the green triangle next to "Summary" at the top of the section, and you'll see a drop-down menu where you can choose "Performance." There, you'll get a view of your project cost to date, which includes your aforementioned cost rates for employees, as well as expenses. Each phase is split up to show you the actual cost versus the budgeted, as well as how far you've gone over budget. You can view performance on an accrued basis (e.g., the profit based on what you've billed) or on a cash basis (e.g. profit based on what the client has paid you).
4. Reports
ArchiOffice's reports are the culmination of all the information you've entered into the system. You should use them to get an aggregate view of your projects and evaluate them. Some vital reports for projects include…
A) Project List with Phases and Codes: This report of projects, phases, sub-phases, and codes gives you an overall view of how each job is set up. You can sort by project number, name, type, principal, leader, or client, and filter your results. If you're, for example, a principal, this is useful to spot-check projects to make sure they're set up correctly.

B) Submittal List: Your submittal list shows all of your submittals along with details like project, submittal date and number, notes, status, and more. You can sort the list by client, assigned employee, or project name. This is useful for multiple circumstances, like making sure submittals for multiple projects are on track, or if you suspect that a certain staff member made multiple errors across different submittals or projects.

C) Master Project Checklists: This report shows all the default tasks that you've set up in your preferences. It also functions as a project checklist and you can search by project number, name, type, principal, leader, or client, and filter your results. Everyone has their own task requirements—some people want to see the budget, some want to see the actual, and so on. This gives you the ability to see what you want.

D) Budget vs. Actual Report: This illustrates your budgeted versus actual services. Like many other reports, you can run it by by project number, name, type, principal, leader, or client, and filter your results. It's a great pre-billing report, as you can see what's ready to be billed and the percentages of what's been billed and what's remaining.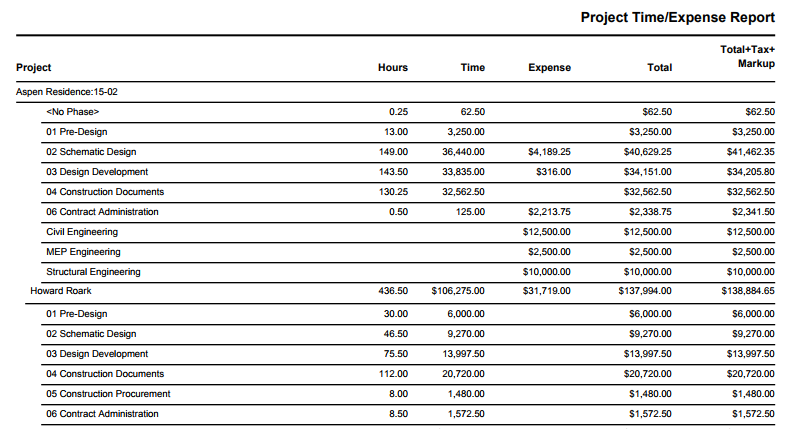 E) Time/Expense Report: With this report, which is found in the projects section of the report module, you get an overview of the work completed and expenses charged to projects. Check different boxes to see the cost of employees, projects, phases, or job codes. You can sort it by employee, service type, project, or expense type. It's instructive in seeing what's taking up project resources so you can better plan for the future.
F) Profitability: Of course, cost is tied to performance. We recommend you also look at the four profitability reports: profitability - accrued, profitability - accrued with expenses, profitability - cash, and profitability - cash with expenses. You'll see the profitability of your projects in either summarized or detailed formats based on either cash or accrual methods.
5. Customization
Customization is one more way to increase your project management profitability through ArchiOffice. You can customize reports or the application itself. For example, if a project manager wants to be notified when there's a status change on an RFI or submittal, you can work with the BQE customization team to create a custom trigger. This instant notification would save time, as the PM wouldn't have to constantly go in and check on their own.

With these different project features, reports, and tactics, you'll be well on your way to saving time, centralizing information, reducing errors, and consequently increasing profits.