Registration is now open for the BQE Succeed 2017 conference at the Aria Resort & Casino in Las Vegas, and there are some very, very good reasons to consider attending. From education to relaxation, here's why you should join us.

1. Crucial Tips and Best Practices Training for BQE Products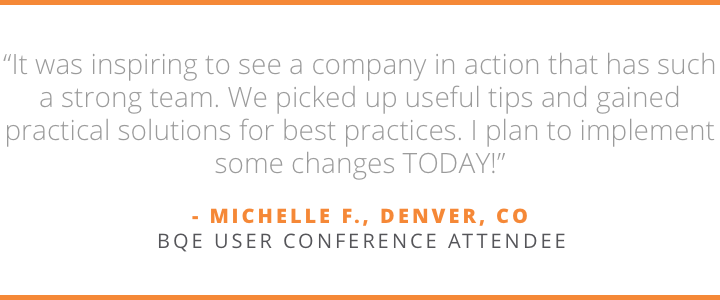 BQE Succeed will help you get the most out of your software investment. Our sessions are designed to give you personalized advice that will sharpen your skills, including best practices, shortcuts, and novel ways of utilizing reports.
With in-person sessions alongside other users, you'll learn in an engaging, high-energy environment. After applying expert tips, you'll accelerate your time tracking, billing, project management, and accounting processes, thus saving even more time and getting even deeper insights.
2. Meet the Experts Face-to-Face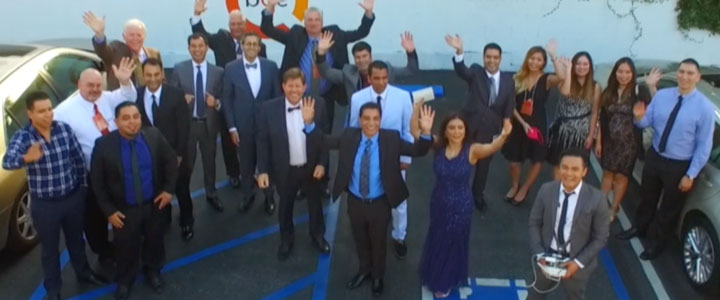 Whether you've been in touch with a trainer, consultant, or support agent for years, or haven't yet connected with someone on the BQE customer service team, this is your chance to meet us. After all, BQE isn't just a software company. We're a group of experienced professionals here to help you succeed. Go ahead and register now—we can't wait to see you in person!
3. Network with Like-Minded Peers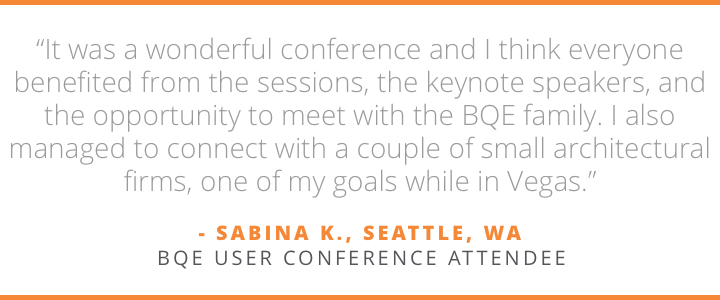 One of the biggest perks of any conference is the chance to step outside of your immediate social circle and meet your peers from across the country. BQE users with years of experience in fields like architecture, engineering, accounting, consulting, law, and more will be at Succeed 2017. You'll be able to swap ideas, make friends, share tips, and hear about what's on the horizon for your industry from the people who are making it happen.
4. Big Ideas and Conversations from Industry Experts
BQE Succeed will be filled with illuminating keynotes from industry influencers. You won't just hear about important trends and insights pertaining to your field. You'll also get inspiring, big-picture advice about how to excel in your professional life and make your firm more profitable.
5. Be Heard and Make a Difference
For us at BQE, customer feedback is of the utmost importance. While we always want to hear from you—via phone, email, Facebook, or any other way—this is a great opportunity to tell us in person about what you need so we can make it happen. After all, some of our best innovations come from customer suggestions!
6. Invest in Yourself
BQE Succeed is a place to enhance your skills both relating to our software and your profession in general. Moreover, by making the commitment to go, you're proving to yourself that you and your career are highly valuable. Show your colleagues that you mean business by registering now. You'll pick up vital insights and use them to make a difference at your firm.
7. Have Fun and Recharge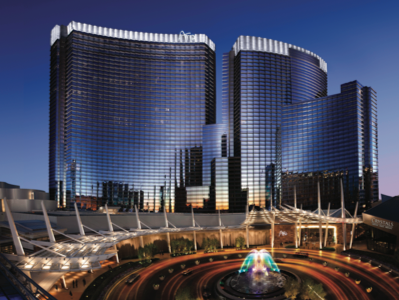 At BQE Succeed, you'll enjoy the luxurious Aria Resort & Casino in Las Vegas has to offer. Swim in the lavish hotel pool, savor five-star meals, take in a world-class fine art collection, and relax in your deluxe room. Of course, Vegas being Vegas, you'll also have a bevy of lounges and casinos to explore.
An added benefit of taking some time away from your regular schedule is that you'll come back to work energized and ready to take on new challenges. Book your discounted room at the Aria now before they run out!
Bonus! Early Bird Pricing
If you purchase your ticket by August 15th, you'll also enjoy a special early bird discount. Save $100 on an individual ticket, or $150 per person if you buy them as a group. Don't miss out!
Still need some help convincing your boss to send you to BQE Succeed 2017? We've created an email for you to make things easier. Send them a message with our template!