When I run a google search on "Accounting for Law Firms", I get a lot of pages from various places on offering accounting and bookkeeping services. Not much on teaching people how to set up and maintain the books for a law firm. Why not change that? I would like to see more content on accounting for law firms aimed at helping people instead of selling them. I'd like to see content on accounting for law firms with QuickBooks Online. Then I would like to see accounting for law firms with BillQuick Online. In fact, let's combine the two so that you can begin to see the power of working on accounting for law firms in the cloud!
Who better to do that job than me? I'm sure there are many others, but since it seems apparent that no one else has thought to show tutorials online for how to set up accounting for law firms. Therefore, I will step up and take one for the team. While we're at it, and since it's May 2015, might as well think forward and start thinking in terms of how to set up accounting for law firms in the cloud.
I am a very big fan of creating efficiencies and cutting down on IT costs by going to the cloud. Accordingly, I want to take a look with you here at setting up a law practice based on performing accounting for law firms in the cloud with QuickBooks Online and BillQuick Online.
BillQuick Online syncs seamlessly with Quickbooks Online. Between the two programs, you can manage everything you need to for professional services firms. BillQuick Online will be your project management software, or as the "Case" might be, your case management software.
Before we can get into how this all works, we need to get you set up. You'll need to take an account with QuickBooks Online and then one with BillQuick Online.
When you set up your company in QuickBooks online, you will walk through a brief interview. Choose Law Firms for the type of company. This means that QuickBooks will create your chart of accounts as well as your products and services based on what is typical of a law firm. Of course you can always change this later, but it saves time over setting everything up yourself.
Next (or first, it doesn't really matter) you'll want to set up BillQuick Online. Go to the site www.BillQuickOnline.com and start a new account. If you already have an account, click account and click "Add Company."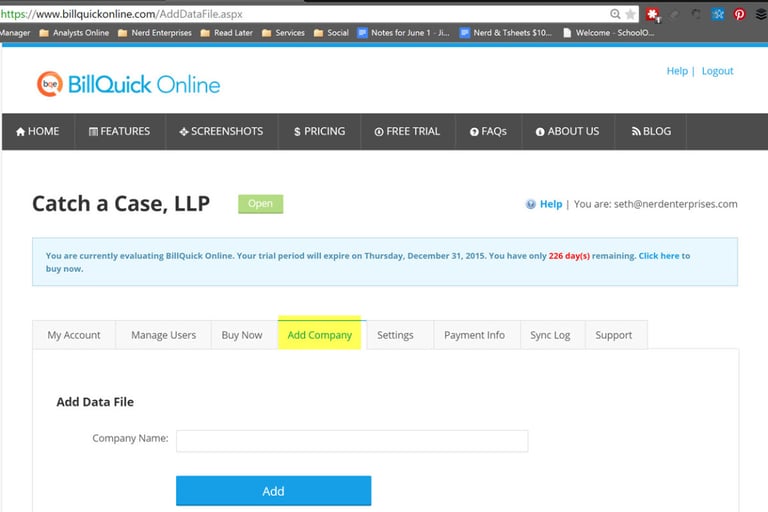 Once you have your company set up in both BillQuick Online and QuickBooks Online, it's time to link them. The easiest way to do this is from within BillQuick Online. Hover your mouse over the Home option in your main menu and you'll see a drop down that shows you how to link BillQuick Online to Quickbooks Online. This is the key to getting started with accounting for law firms in the cloud.
Want to see what this looks like? Watch the video and as always please post your comments and questions below.