Once you have your bookkeeping engagement set up with a budget in place. You're ready to track progress and generally manage the bookkeeping engagement in BillQuick.
There are a few housekeeping items I wanted to highlight that make BillQuick a powerful tool for managing a bookkeeping engagement.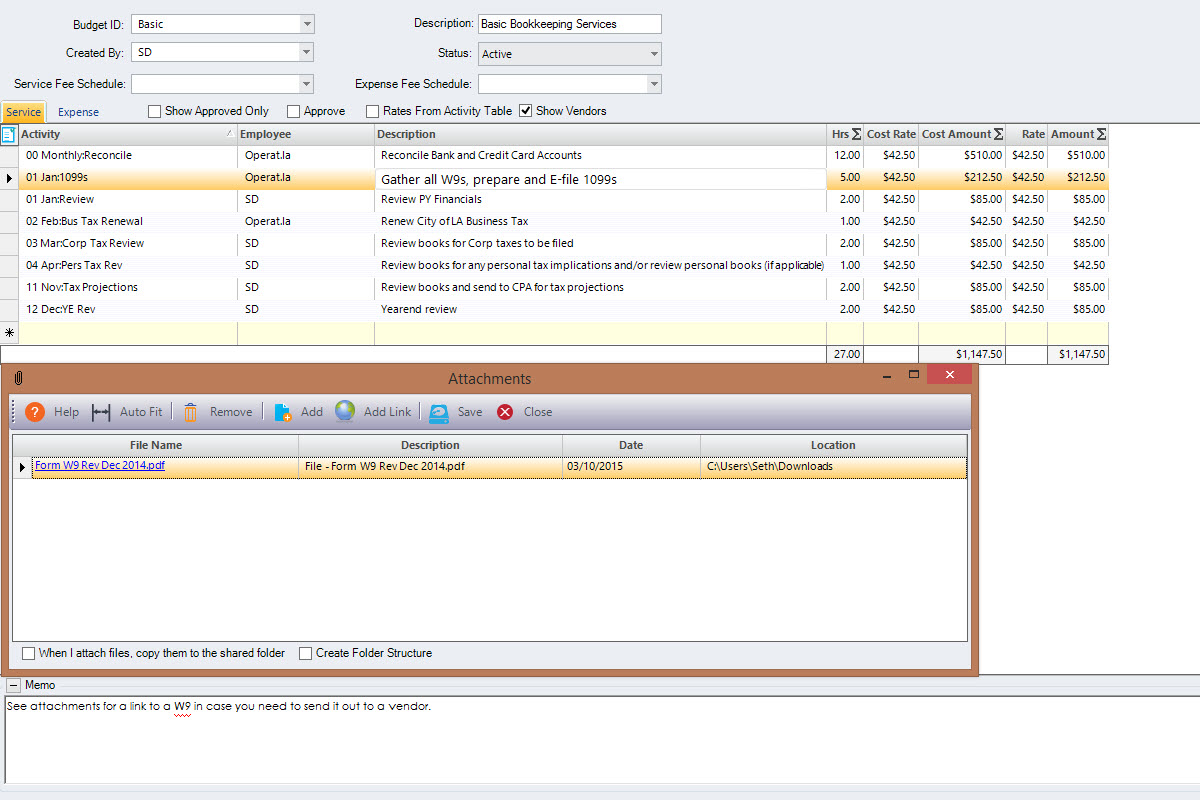 To Do Items
If you go into the engagement, there are "To Do" items which can be created and assigned. The basic bookkeeping engagement budget almost starts to take on the form of the to do list because you are creating and assigning "tasks" for the purpose of tracking the cost of those tasks. What I would do here is have the budget open and set up the "To Do" items based on the bookkeeping engagement budget. For example, I have Monthly reconciliation as a single budget item, based on the monthly cost times 12. Now I would create the 12 to do items with the start, end, and reminder dates. Then I'll assign the "To Do" items to Jeff and he will mark them completed on the date he completes them.
Attachments
Another thing I noticed as I was setting up the budget for this bookkeeping engagement was that even on a budget item I can add attachments. How can this help? Let's take the 1099 budget item for example. While performing this task you are likely going to need to send out W9's. Why not attach the blank form here so that you don't have to go looking for it when you need it? If you have an excel template for the tax projections this is another great way to use the attachments feature. The idea here is to keep everything you need organized based on the context in which it's needed. This is how you increase efficiency so you can get more done in less time.
In a value pricing model for a bookkeeping engagement, the more efficient you become, the more profitable you come. These little details matter a lot.
Memo's
Memo's are probably obvious, but all too often we overlook the obvious until someone points out the obvious. Enter me.. now pointing to the obvious. Here it is. In your bookkeeping engagement "To Do" item list you will see the memo option just above them. This is a contextual dialogue so you are looking at the memo for the selected "To Do" item. In your bookkeeping engagement budget you have memo's below the list. Again these are contextual. I can't stress enough how important it is to use this stuff. I write notes to my future self all of the time because I have had the experience, all too often of trying to figure out what I was thinking in the past. It's when I write these kind of notes to myself that I find myself thinking, "Sometimes I do things to make my future self, fall in love with my past self."
Time to see what managing a bookkeeping engagement in BillQuick looks like. Go watch the video if you haven't already and please post your comments and questions.