It's no surprise that the ArchiOffice Document Management system – the most powerful part of the application—is garnering accolades from the users. Helping you to create new documents and manage the existing ones is what it does best.
The Document Management feature makes it easy to share and access the documents with users across the network. This potent system revolutionizes the management of information and provides the ability to create, retrieve and duplicate the documents in your repository. It helps by enabling users to quickly create new documents from existing project templates, thus increasing the efficiency and productivity of the staff.
Primarily, there are two main features that come along with Document Management in ArchiOffice:
70 pre-built templates and
capability of attaching other existing files
ArchiOffice provides various document templates for common architectural needs. These are located in a Templates sub-folder found within the ArchiOffice Documents folder on your file server and can be customized to suit your needs. You can also use your existing company templates by attaching them to ArchiOffice. In addition, your templates can be customized with ArchiOffice fields so that the contact and project data is automatically merged when you create the documents.
You can use any of the desired document templates in ArchiOffice. The system comes with a variety of standard template categories.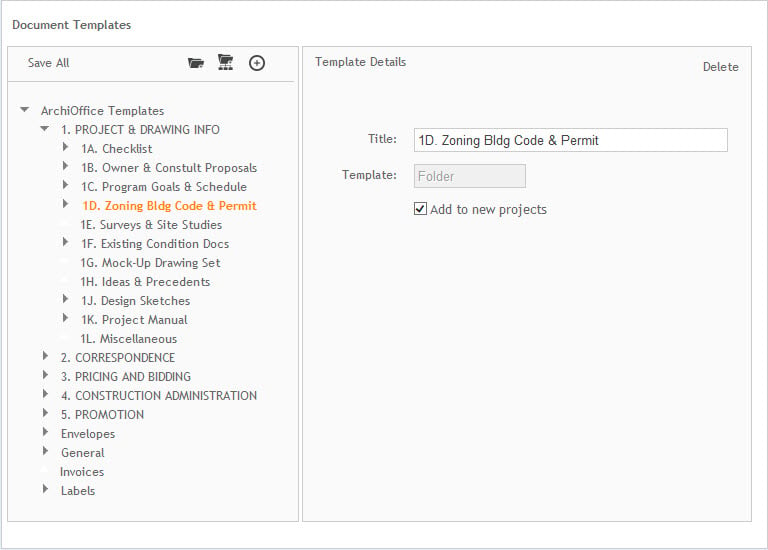 Another powerful document management capability is that you can take your existing document files and folders, and attach them to a project or contact record. This helps integrate your existing document management structure seamlessly with ArchiOffice.
The documents can be created for any contact or project. They appear on the Documents portal of the Projects and Contacts screen, which lists the chronological history of all files and is accessible to all users if security permissions permit that. You can use powerful filters to efficiently find particular documents within the portal.
Document management has been around for a while but never before has it been so easy to create new documents from professional templates or by attaching existing files, thus ensuring that all the documents for your contacts and projects are organized in a central location on the file server. This comes with the huge benefit of eliminating the error of saving files to your local machines and misfiling documents on the wrong project folders.