The Project Center is a comprehensive project management tool that gives you a complete view of your projects, making it easy to manage all of them from a centralized place. While the Project screen allows you to create and maintain a profile of each project, the Project Center allows you to manage and track their progress. You can view highly critical information, key metrics, status and to-do tasks of your projects on this screen. While tracking the financial health and history of your projects, you can easily detect the problematic areas, if any.
Here is how to use it:
1. Access the Project Center screen from the Projects menu in BillQuick.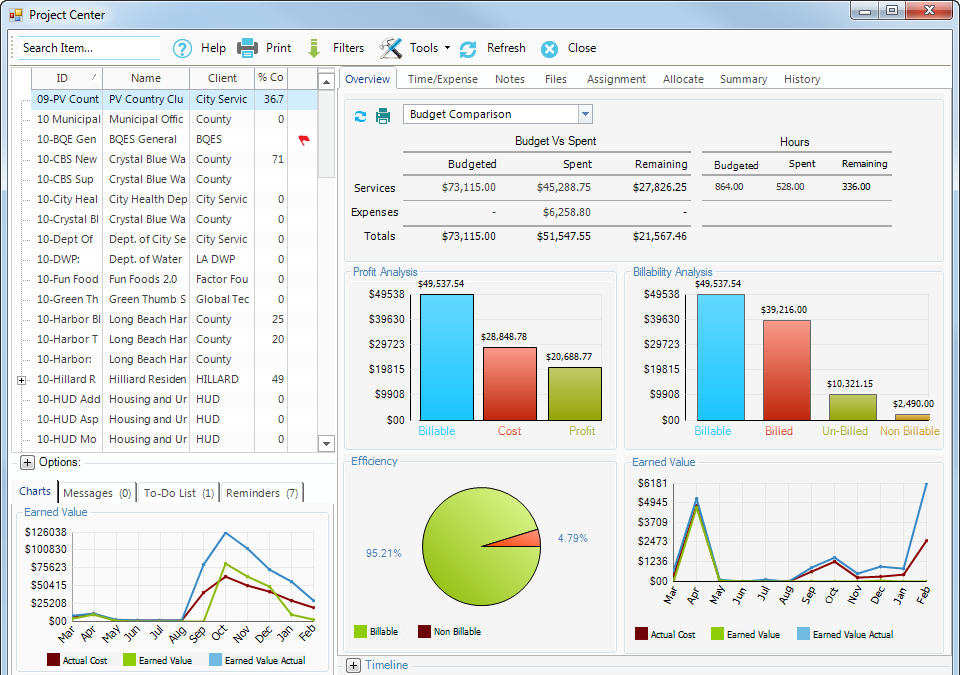 2. You can view the project list on the left based on three criteria:
The system will flag any project (red dot) that needs attention because
Their profitability isn't what it should be
They've gone over budget
They've gone over the contract amount
These flags change depending on the option you choose.
3. You can also filter the list to focus on projects of certain Project Managers.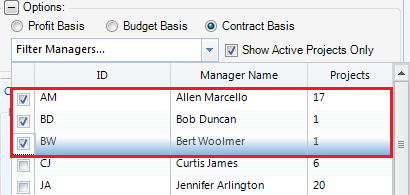 4. The chart at the bottom displays:
Earned Value of all the projects
Messages for the person or manager logged in
To-Do List items
Reminders
5. On the right panel, you can view key data for the selected project.
You can choose to see either a Contract Comparison or Budget Comparison using the drop-down menu. You can see the contracted/budgeted amounts in terms of services and expenses versus the actuals, along with the remaining values.
The Profit Analysis chart totals up all the billable time worked on the project, cost of this billable time and the profit on that.
The Billability Analysis chart totals up all billable time, billed time, unbilled time to be invoiced and non-billable time worked on the project.
The Efficiency pie chart shows percent of work done for the project that is billable and non-billable. You can hover over a piece of the pie to see the actual dollar amount.
The Earned Value chart shows the Actual Cost (cost to your company), Earned Value (amount of billable work) and Earned Value Actual (amount of billable work actually invoiced) per month. You can see the dollar amount simply by hovering over a point on the chart.
6. The Project Center provides access to other areas of the system, making it easier to manage your projects from one place. E.g., Time/Expense, Project Journal, Files, Assignment, Allocation, Account and History.
This features saves you a lot of time and effort by gathering all the critical pieces of project management and allowing you to make sound project-related decisions.