'Progress Billing' has varied meanings depending on who you talk to and their career experience. So, let's start by clarifying the term for BillQuick:
Progress Billing is the process of creating a project invoice when hours worked by staff and managers are late or not approved, or your billing strategy is different. In BillQuick you simply enter the Net Bill Amount. In the second part of the process, you link approved entries to the invoice. BillQuick handles any write-up/downs and updates the cost side of project profitability.
But what about late expenses?!?
BillQuick 2012 takes care of the situation. Whether your staff and managers are late with hours or expenses, you can continue billing and not hamper your cash flow.
Like any progress bill, you start by deciding how much to charge the client. It might be an estimate based on talking with your staff. Or perhaps based on the percent complete of the contract. Or it might be a value-billing based amount. However you decide the bill amount, process the project bill into an invoice. Keep your cash flow flowing!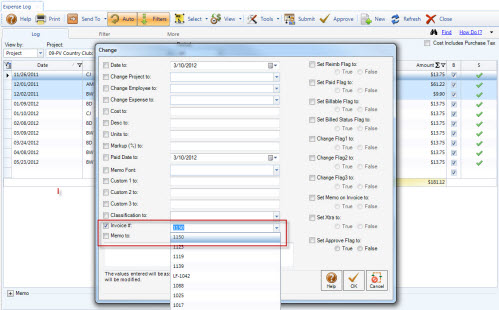 After staff and managers record their time and expenses, and they are approved, you can link the entries to the invoice already sent to the client. For expenses:
Open the Expense Log screen.
Choose View By Project and select the project you billed.
Highlight the late entries.
Click the Tools button and select Change.
Check the Invoice # box.
Select the invoice to link the expenses to.
Click OK.
Cha-ching! Done in 20 seconds!
The process for linking late time entries is the same. Use Change on the Sheet View screen.
Bottom Line
Nothing should get in the way of your cash flow. Add-on modules like Agent monitor time sheets and automatically remind tardy timekeepers. BillQuick Mobile and other modules make it easy to capture hours and expenses. But sometimes approval may be delayed, or perhaps as a business strategy, you need to Progress Bill clients now. BillQuick makes it easy to invoice and then later align time and expenses with the bill.
Progress Billing and linking of time and expenses to invoices
are available in all BillQuick Editions –
Basic, Pro and Enterprise.