After meeting with an appointment or after completing a task, what do you do to capture the minutes or hours spent? Write it down in your time sheet (when you get around to it)? Wait until the end of the week or month and then scan your calendar to see what happened?
What about emails. . . How many emails did you read, respond to and write today, this week, this month? How many 1 minute, 3 minute and 5 minute emails did you handle? Did you capture the time spent?
Whether this activity is billable or not, it's important to know the cost of delivering services and winning new projects from clients and prospects. It is amazing how much it costs to manage emails alone! The good news is BillQuick's Outlook Add-In reduces the capture of this time to a few quick clicks.
Here's a quick example - Sending an Outlook appointment to BillQuick:
1. Open your MS Outlook Calendar.

2. Right-click on the appointment you want to send and select 'Send To BillQuick'.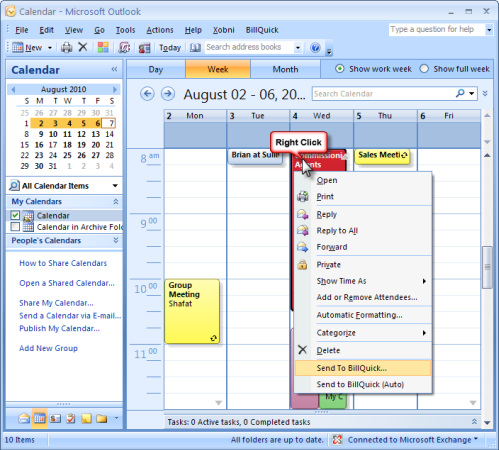 3. On the 'Send Appointment to BillQuick' screen, the duration of the appointment is the Hours portion of the entry. You enter or accept the "guess" project and Activity. The notes for the appointment move to the Memo. You can add or edit this text as needed.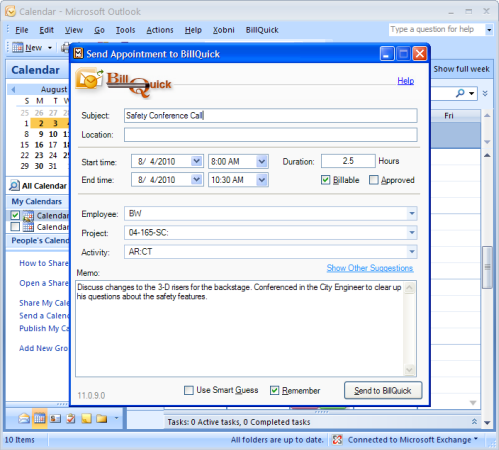 4. Click the 'Send to BillQuick' button to save the selected appointment in your BillQuick company file.

And you are done! You follow the process to turn tasks and emails into time entry: Just right-click on it. You can also left click to select it and use the BillQuick menu.
Outlook Add-In installs inside Microsoft Outlook. (You need BillQuick installed and licensed on your PC.) You can turn an appointment, task or email into a time entry and save it in your BillQuick company file. Outlook Add-In's Smart Guess saves time by intelligently matching your appointment, task or email information with project, employee and activities. It uses sophisticated rules to learn your patterns. Over time the appointment-to-time-entry process takes less time because BillQuick is able to intelligently guess the right items. You can also have Outlook Add-In remember the last three projects and activities.
To see Outlook Add-In action, watch the video.