Schedule Reports
Problem #1: How do you get the right information at the right time without putting everything on hold?
Problem #2: How do you get the right information at the right time without adding pressure on profits?
Problem #3: How do you get the right information at the right time wherever you are?
You're busy, constantly distracted by project and company activity. With Information you can leverage experience rather than depend on it in a 'shoot from the hip' style. With the right information, you can proactively manage rather than be a firefighter. Also, information at your fingertips helps you grow your reputation among clients and within your company.
Delegating to support staff is a common solution. Typically one person is responsible for running and delivering reports. An ad hoc environment in which a report is requested when needed can be chaotic at times. Developing a workflow in which scheduled reports are delivered on certain days of the week is better. However, both workflows depend on availability and organizational skills to be effective. People go to lunch, get sick and usually have 100 more support tasks to do. This is particularly frustrating when you're away from the office.
Another issue is the cost. In addition to payroll and overhead costs, there is usually a significant opportunity cost. Could the hours support staff spend producing reports be more productive – maybe even, billable? Even with shortcuts in BillQuick, running reports eat 10, 25, 100 or more hours company-wide every month.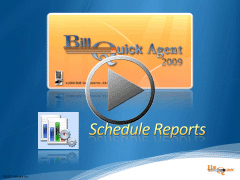 BillQuick automates the workflow. Using Agent Workflow Automation you can schedule standard and customized reports to be run daily, weekly, biweekly, monthly, and so on. Memorized report can be scheduled too. Report filters pare down the information to your needs. You can also add a start and end date for any report.
As part of the workflow, scheduled reports can be printed or emailed. Agent automatically converts reports to PDFs and sends them to whatever email addresses you chose. When you show up in the office on Monday morning, printed Budget Comparison, Project Contract Spent, Project Time & Expenses and Project Profitability reports are waiting on the printer. Or when you open your laptop in an airport, hotel room or your truck at a job site, the reports are in your email Inbox.
Staff can be redeployed to more productive and billable activities.
-----------------------------------------------------------------------------------------------------